Happy Tuesday y'all!
Have you been watching all the exciting new product releases at the Creativation 2018 trade show?  I know my Facebook feed has been full of inspiration and videos showing the booths and fabulous new products… lots of drooling going on here!  It'll be fun to see new stuff arrive in the store in the coming weeks & months!
We just finished having a big snow storm over the past week here in NC, and I was going to share a snowy card with you… but right now, flowers are more appealing!  So, I've got some art journal pages that started out at the Dina Wakely class I took several months ago instead 🙂  Dina showed us this technique (supposedly a background, but I can't bring myself to cover it up) for abstract flowers, all about being loose with your brush & paint and letting the flowers come to life without over thinking the design… it's harder than it sounds!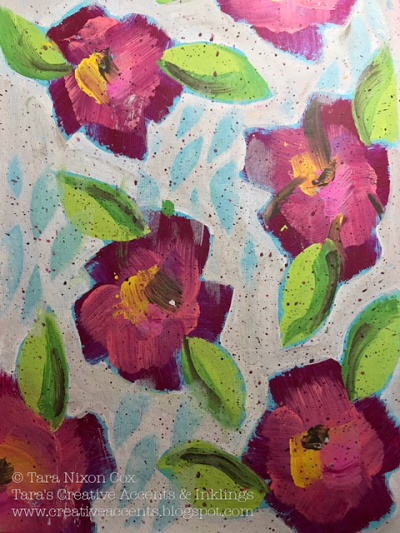 I started with a solid blue background, then roughly painted my darkest layer with a wide brush.  I added a lighter layer over it (notice the fabulous streaks I got painting over the wet layer) and finished with yellow centers.  I added leaves the same way, going from dark to light green, then brought in some umber for accents of brown.  Around the flowers, I added a layer of white-ish paint (loosely mixed bits of elephant and umber into it) and while that background was still slightly damp, I removed some of the color through a stencil with a baby wipe.  It adds such a fun texture- I love it!  I discovered that Scribble Sticks are simply AMAZING for adding splatter to a project… seriously, just flick the tip of the crayon with a wet brush and you have this awesome, vibrant splatter spots!  I love it, so of course I had to finish off the page with a good splattering!  (And did you see… theres a new set released! Yay for more colors!)
Here's a closer look at the textures on this page with just some simple, abstract painting… this is on one of the handmade watercolor paper pages in the Media Journal.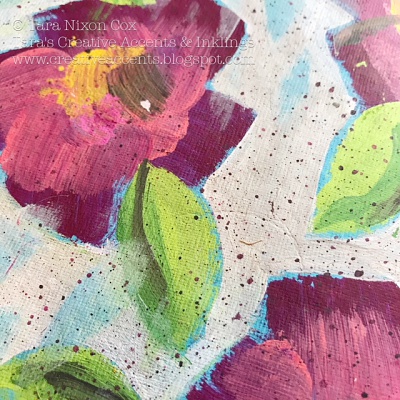 As I worked on my page, I started wiping off my paintbrushes on the facing page in the journal… then picked up leftover paint on my palette (aka the craft sheet that was my work surface) and filled in the entire background with random bits of color, then added a few details and a word… and eventually a completed page was born!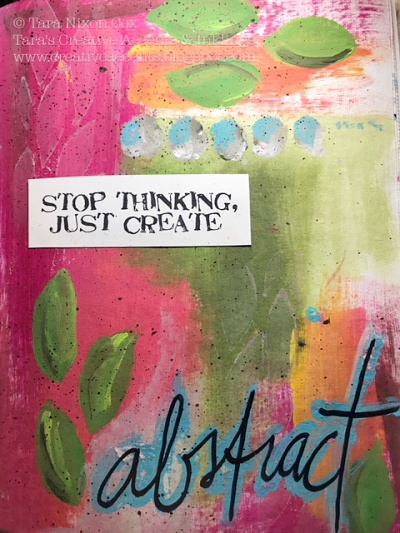 And here's the two pages as they sit, side by side, in my Media Journal: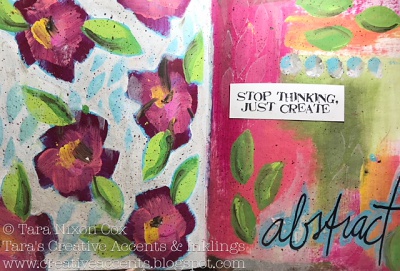 I had fun creating these abstract florals.  To be honest, I didn't love it at first… but it's definitely grown on me, and I've been playing around with different brush sizes for a completely different look!  I hope you like it, and maybe it'll encourage/challenge you to stop thinking and just CREATE something.  Try abstract florals… they're kinda fun!  And keep an eye on the store to see some of the new products available for pre-order!  There's so much exciting new stuff coming up, it's going to be a creative year!
Inky hugs,
Tara
Materials Used:
Dina Wakely Media Scribble Sticks
Dina Wakely Media Journal
Dina Wakely Media Brushes
Dina Wakely Media Paints (assorted- can't wait to get the new colors too!)
Dina Wakely Splatter Girl Stamp (stop thinking just create)