Happy Tuesday & Happy New Year!  It's my first Tuesday with Tara for 2022… it only seemed right to bling things up a bit and celebrate!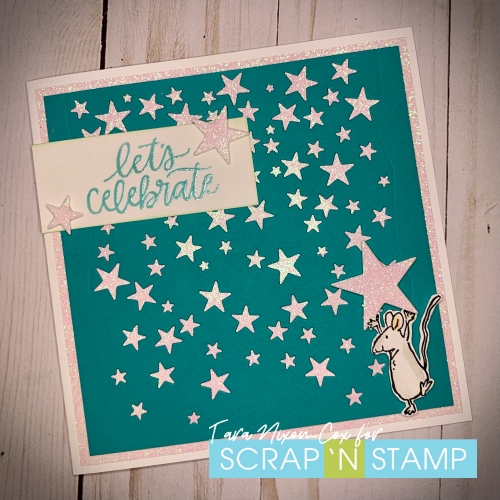 I love glitter paper for maximum bling with minimum mess, and the 6×6 pads by Memory Box give so many colors in one stack!   I've paired it with a solid Cardstock layer with the falling stars die by Tim Holtz cut from it, as well as some of the additional stars cut from the glitter paper itself.
I kept this card really simple, with an embossed sentiment by MFT and a little mouse who snuck in to help out with the sparkle, lifting a star as high as he can!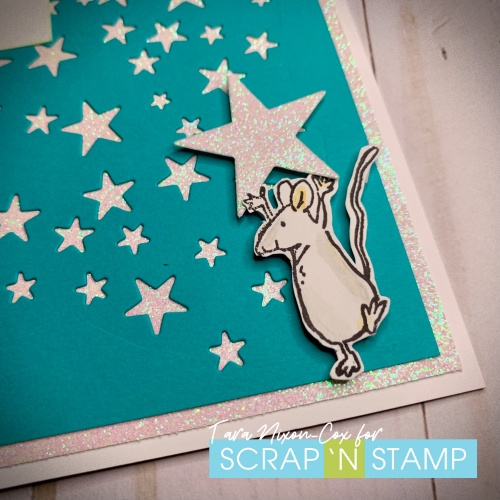 I had two things in mind when I was making this card… but I tried to keep it neutral enough that it could perhaps be used for a variety of occasions!  First, of course, was a card for the new year!  I try to make one every year and I tend to forget to send them to anyone, so… lol.  I think this will also be a cute card for a new baby or any other celebratory occasion!
It's a pretty simple card overall, but it carries lots of punch with all the glitter!  I hope you like it and I hope 2022 is a year full of creative days for all of us!
Inky hugs,
Tara