Happy Tuesday!
Today I'm sharing a simple card that showcases a fun little mixed media bird from Tim Holtz's Feathered Friends die set, all ready to build a nest.  There are two birds in this die set and I love them both!  If you haven't seen yet, I've used the larger bird on my beach scene card for our June Perfect Pearls Blog Hop.  (Check it out HERE– and be sure to visit the rest of the blogs too, there's some great inspiration from our fabulous creative design team!)
I honestly just grabbed some scraps I had on my work space to die cut this cutie and added a bit of ink.  I love the combo of colored card stock, kraft & book print for her.  The 'twig' in her mouth was also a scrap I had from another project, I just added a few touches of perfect pearls to make it shine a bit 🙂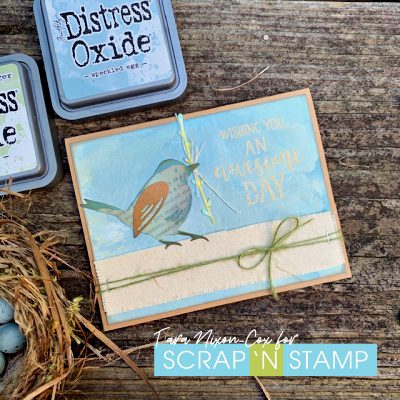 The background layer from my card was an inky mix of Speckled Egg and Old Paper Distress Oxide, mixed together on the same surface that had bits of turquoise Perfect Pearls left on it…  I love how the smooshing gave a bit of a marbled effect with the shimmer.  It's subtle, but it shines when you hit it with the light!
A piece of frayed canvas gave me both a surface for the bird to stand on and some extra threads for it to carry.  Perfect little additions for a card that is on it's way to my Mom (Happy Birthday Mom!).
I finished the card off with some heat embossing in a powder that is similar to kraft.  The color is almost too subtle to really pop in a photograph, but I still think it works!  My sentiment is by Gina K.  It's a beautiful but simple script that works with so many designs.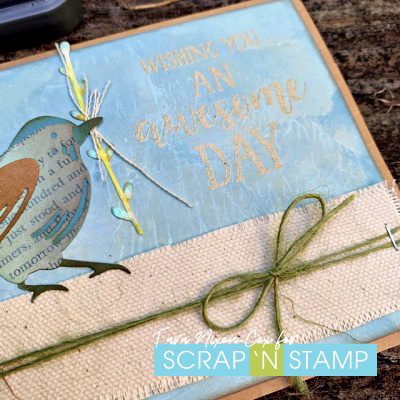 I hope you like my little feathered friend!  Have a fantastic week 🙂
Inky hugs,
Tara