Happy Monday! Today's Random Acts of Cardness prompt is SWEETS, and I chose a big stencilled birthday cake!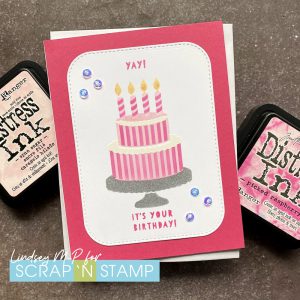 The Cake Maker stencil from Simon Hurley Create has all kinds of options for creating different styles of cakes, and as long as you keep a few things in mind, it's fun and easy to use. The main thing to remember is MASKING! The stencil has a lot of different images quite close together, so masking all around the part of the stencil you're using is important. And you know how I figured that out, lol. Making this particular cake, I also discovered using smaller blending brushes – such as the smaller Picket Fence brushes – helps to keep ink in control.
I started with the candles, using spun sugar and picked raspberry distress inks along with squeezed lemonade and carved pumpkin for the flames, then masked them so I could add the cake base in spun sugar. The stripes are picked raspberry. Next I added the cake stand in Colorbox silver and embossed it with Wow clear sparkle embossing powder. Finally, the white icing was added with Versamark and Wow detail white powder.
I wanted a fun font for the sentiment, so picked this pair from Concord & 9th's Birdie Talk turnabout set, inked in Versamark + Memento rose bud, and embossed with the same sparkle embossing powder as the cake stand. I die cut my panel with a stitched die and found some bright pink cardstock in my stash for the card base. For the finishing touches, I added some sequins from my stash with Stickles in the centre, and some shimmer to the candle flames.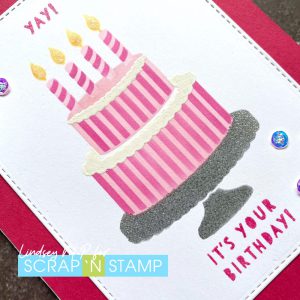 Phew! I think that took longer to describe than to make! I hope I've inspired you to make some paper sweets today!