Happy Tuesday!
Confession time.  I make cards.  You probably know that much… but I'm terrible (I mean really terrible!) at sending them out to the intended recipient.  So naturally, I gravitate towards any sentiments that apologize for the LATE card I'm sending.  I was delighted to find one such sentiment in the Busy Beaver stamp & die set we used in our Canada Day blog hop! (Side note… we've got another blog hop coming up!  Watch for details coming soon!)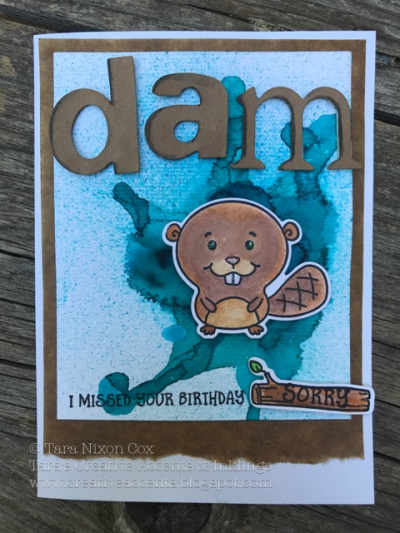 I took the sentiment and broke it up a bit, choosing to highlight the humor with a giant die cut word 'dam' and the (very Canadian) 'sorry' stamped onto the cut out log 🙂  I colored my little beaver with a mix of watercolor pencil crayons and some sepia color burst.  I brushed the same Color Burst over the die cut letters, which were already a kraft color but this warmed them up a bit.  I also added a subtle black edge to the letters with a watercolor pencil.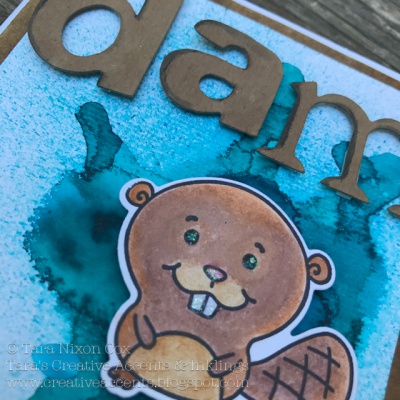 For the background, I spritzed a puddle of water onto watercolor card stock and dropped some Color burst into it, then spritzed again for a splattered look.  I then lifted and tilted it a variety of directions to get the drippy, splattery look you see on the finished card.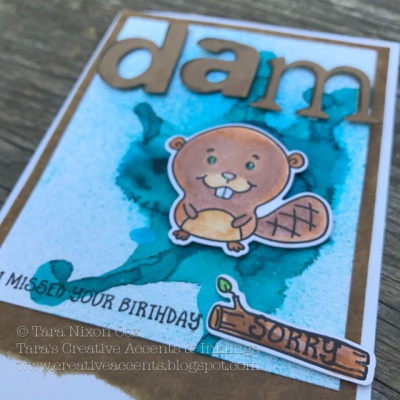 I mounted all the die cut elements with foam tape for a bit of dimension, and used some Nuvo Glitter drops on the beaver's face for a bit of shine.  It's simple… but whimsical and fun.  And hopefully will be an acceptable apology to whomever gets this late birthday card!
Inky hugs,
Tara
Materials Used:
Watercolor Pencils
Nuvo Glitter Drops White Blizzard
Tim Holtz Sizzix 'word play' alphabet die