Happy Almost Halloween. Nancy F on the Scrap'n Stamp blog today with a fun little easel card inspired by the classic Peanuts book, "The Legend of the Great Pumpkin". For this card, which should have been two but I had a little oops along the way, I am featuring the Lawn Fawn Stitched Pumpkin dies, as well the amazing Tim Holtz distress oxides from Ranger Ink.
I am going to share the close up of the cards here and link to my blog for the full description of the process.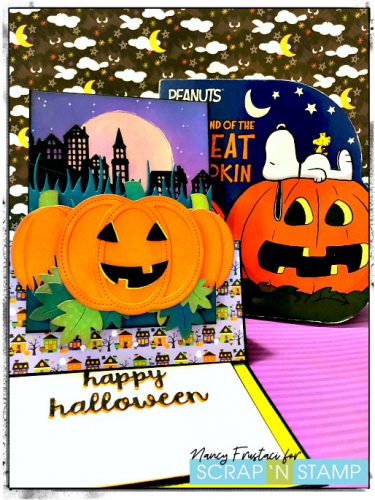 My inspiration as I stated above was the classic Peanuts book, "The Legend of the Great Pumpkin". I had it sitting in my room thanks to my little monkeys. I knew that the Lawn Fawn Stitched Pumpkin dies would be perfect to try and recreate the cover of the book and that I could continue with the distress challenge when creating the backgrounds. These inks are my go-to for everything the last few years, they are just so versatile.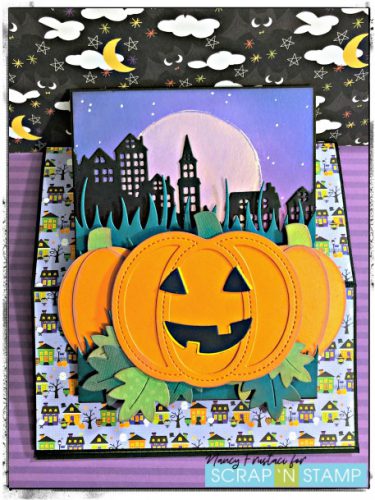 I created the night's skyline with more colours than I think I needed by the time I assembled everything, lol. I used mustard seed, carved pumpkin, seedless preserves, wilted violet chipped saphire and blueprint sketch.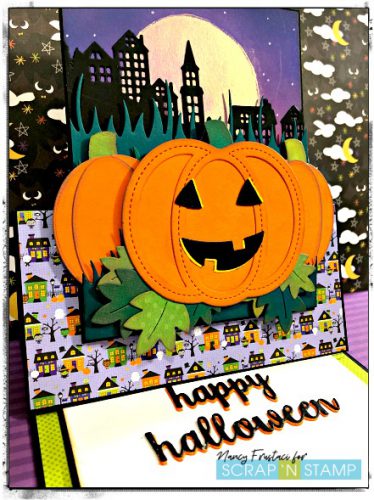 I die cut numerous pumpkins and leave from the Lawn Fawns Stitched Pumpkin and Stitched Pumpkin frame dies, which also have the little face, leafs and stems included. I also die-cut grass from another Lawn Fawn set and created my own stencil for the moon using a circle die and acetate.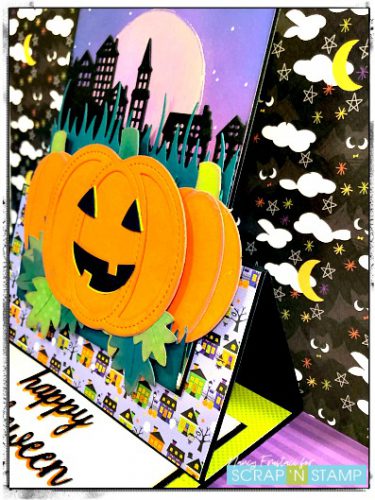 I decided to create an easel card to switch it up a little as I have been getting bored with the same old thing. I hope I can inspire you to try something a little different
For more of an in-depth look at how I created the card please head over to my blog.
Hope you have a wonderful week and a fantastic and safe Halloween.
Nancy F