Happy Saturday Friends!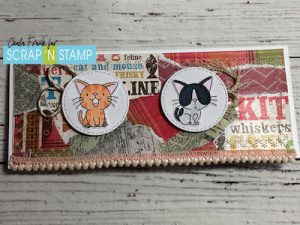 I hope you are all doing well!  Sorry my post is late…I had some technical glitches…But, I am back to share my take on the Facebook Challenge word "Pets".   When I saw the word I just knew I wanted to use the super cute Cat-astrophe stamp set from MFT.  These little cat images just make be giggle.  Keep reading to find out how you can giggle along with me!!  But, I have been struggling with a bit of creator's block lately and even though I knew what stamp set I wanted to use, I still had difficulties deciding what I wanted to do.  I really enjoyed the slimline look from our blog hop earlier this month, so I kept with that size for my card base and I had the papers all pulled out.  But I just couldn't seem to put an idea together….
Recently I did an exercise for my personal blog (yet to be posted…but stay-tuned!) on creative block and paper stash busting and that's when it dawned on me….do the technique for this card!  Card Cat-astrophe averted!  lol!
I began working with the patterned paper….ripping them into odd shapes.  "WHAT!?  WHY!?" You say! Stay with me…..I ripped them into odd strips and shapes and began adhering them onto a slimline card panel with some clear drying glue.  It was awesome.  I was embracing my inner kindergartener again!  lol!  You will think it looks like a hot mess, but trust the process! When it is finished you will be pleasantly surprised!  Once I had the base covered with the paper I painted a thin coat of glue overtop to ensure all the strips were glued down and to give it a bit of a gloss look.  I recommend using a craft mat or glass media mat to do this to save your work surface from getting sticky!
While everything was drying I stamped the cat images with Memento Tuxedo Black ink, cut them out with my Brother Scan'N Cut (which by the way kicks ass and then some!!!) and did some quick Copic colouring.  I pulled out a few smaller stitched circle and square dies as well as some ribbon that I thought would coordinate well.
Once the "decoupaged" panel was dry I trimmed each of the sides down by 1/4″.  I even quickly pulled out my sewing machine and did a decorative stitch around the edge to create some interest and then adhered it to the card base with some Scor-tape.  I popped the stamped images onto the stitched die cut squares/circles.  I then adhered these along with some ribbon onto the card.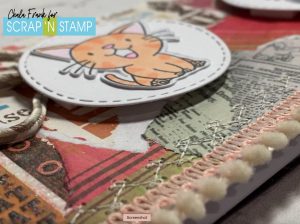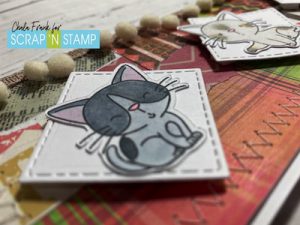 It's a pretty simple technique, but I really enjoyed how they came out.  I thought about adding a sentiment strip on the outside, but opted to stamp it on the inside instead with Versafine Clair Nocturne ink.
Here is the video of the process and some photos of the finished project!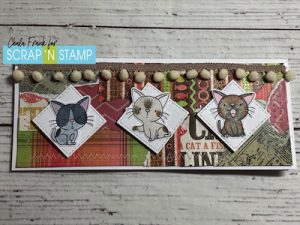 I had so much fun with today's project that I decided to do a giveaway!  I have an extra MFT Cat-astrophe stamp set ready for one lucky crafter!  Here is what you need to do…
 Head over to my YouTube video linked above and leave a comment; and
If you haven't already, subscribe and hit that notification bell!
It is that easy!
Remember to share your creations over at the Scrap'N Stamp Facebook Challenge Page.
I will announce the winner in the YouTube comments on January 31, 2021.
Thanks for spending time with me today!
~Chala
xoxo