It's Chala and I am back with another turnabout stamp from Concord & 9th. I thought I would even embrace the "Christmas in July Challenge" as well from the Scrap'N Stamp Challenge page! Make sure you head over there to check out what others have created as well as share your cards (one entry per day until July 31) for your chance to win a $50 Scrap'N Stamp Gift Card!
I am using the Deck the Halls turnabout stamp. This stamp is gorgeous! The details and images are perfect to mass create cards for the holidays and that is exactly what I am going to do today!
Using the jig I created for the July turnabout blog hop and my Tim Holtz Stamp Platform I start off by using Versamark Watermark ink and stamp it onto 6″ x 6″ red cardstock and heat emboss with gold embossing powder. Gold and sliver embossing powders are one of my recommended must haves craft items! So, if you don't have some….get some! I treat the cardstock with an antistatic powder bag, stamp and heat emboss with my heat tool each time and then turn my jig. I will continue this process for the full 4 turns. I will also do the same process with Silver Tinsel embossing powder. To see the stamping, please watch the YouTube video. Here is the final result of the stamping.

I set these two pieces aside and grab some distress ink cubes. I want to create some stamping with different colours to show you the full capabilities of this stamp and to create some non-traditional Christmas Cards! The colours I use are Victorian Velvet, Seedless Preserves, Peacock Feathers, and Salty Ocean. I ink up the entire stamp with the first ink, stamp it down and turn. Remember to clean your stamp off well each time. I will then pick the next colour, ink up the stamp, stamp it down and turn. Repeating this process two more times. Again, remember to clean your stamp off in between each colour. I will do the same process again, this time using Festive Berries, Forest Moss, Candied Apple and Peeled Paint. Here are the amazing results.

Now I can begin to create cards out of the fabulous backgrounds. I will start with the last background I created. I use my stitched rectangle dies along with my stitched circle dies taping them down with some purple tape and running those through my Gemini Jr.

I can now create two cards from these pieces. I start with the rectangle piece and attach it to some green cardstock. I will then pull out my Big Joy Sugar Script die and cut the outline from vellum and the "joy" from red cardstock. I will apply a few dabs of Tombow Mono glue to the back of the "joy" sentiment and let it dry a bit. This glue dries reposition-able and I can then attach it to a scrap length of card stock to create a handle so I don't burn my fingers when I heat emboss. Check out my video for this technique! I will then apply Versamark ink onto and add clear embossing powder. I will do this process twice giving it a nice shiny look! I set that aside to completely cool. I will adhere the Vellum and the "joy" sentiment down in the open circle portion of the card. I also use some left over liner paper from my large score tape roll and with my Nuvo crystal drops in Autumn Red and Woodland Green I create my own embellishments that look like enamel dots. I will set those aside for several hours (Ideally, 24 hours) to set.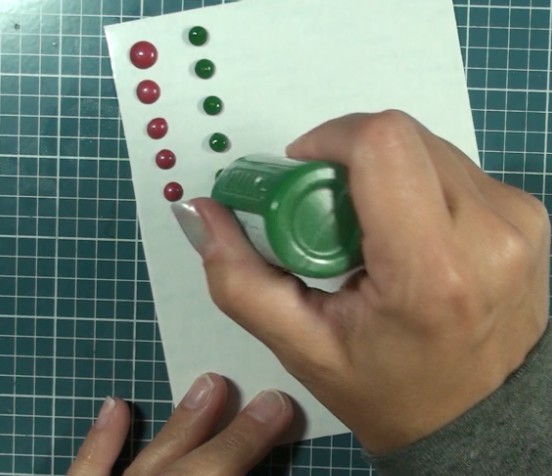 While those dry, I will move onto the next card, using the circle portion that we die cut, I attach some ribbon I had on hand running vertically down the left side of an A2 size panel and will secure it with Be-Creative Scor-tape and then adhere the die cut circle on top. I die cut two "Merry Christmas" sentiments, embossed one with gold glitter embossing powder and stack them together with liquid adhesive. I realize that it didn't fit how I originally had planned so, I turned the panel horizontally and adhered the sentiment underneath, I will add some of those embellishments that we created with Nuvo drops later. Years ago my mom created some amazing poinsettia embellishments. They are actually made out of a piece of bread and glue, then she painted them. I am hoping to show this technique on my personal blog closer to Christmas…so stay tuned!! I thought these poinsettias would work perfect for these two cards. Here are the two finished cards. I still need to finish creating cards with the first one I stamped…but, I ran out of time and steam! lol!

Now, this is a pretty lengthy post and I have several cards that I created out of these panels….so, I am going to jump ahead and show you the other finished cards. However, if you want to see the process, go ahead and click on the YouTube video to check that out! For the next two card I used my Silhouette machine to die cut the sentiments as I didn't have any on hand that would fit. I added some sequins to embellish the blue card and kept the red one simple by trimming the 6″x6″ panel into strips so that I can create even more cards!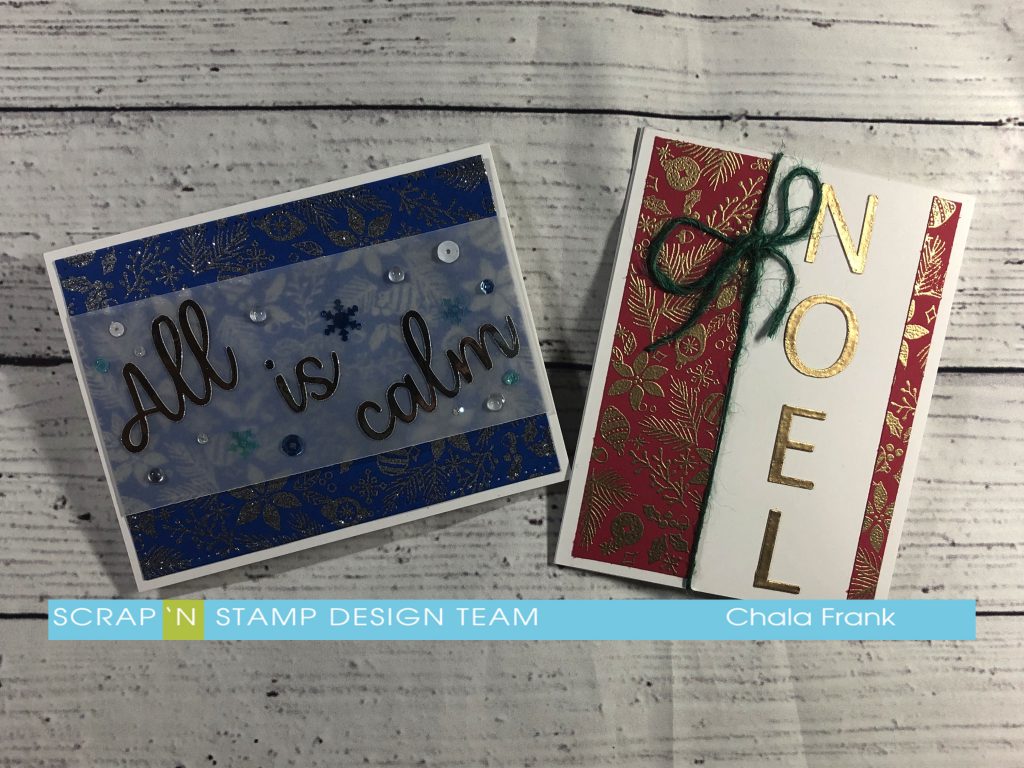 The next cards were created last year…but I wanted to share them with you again as they are more non-traditional in nature and to show you that with this stamp set it is really fast and easy to create sets of cards!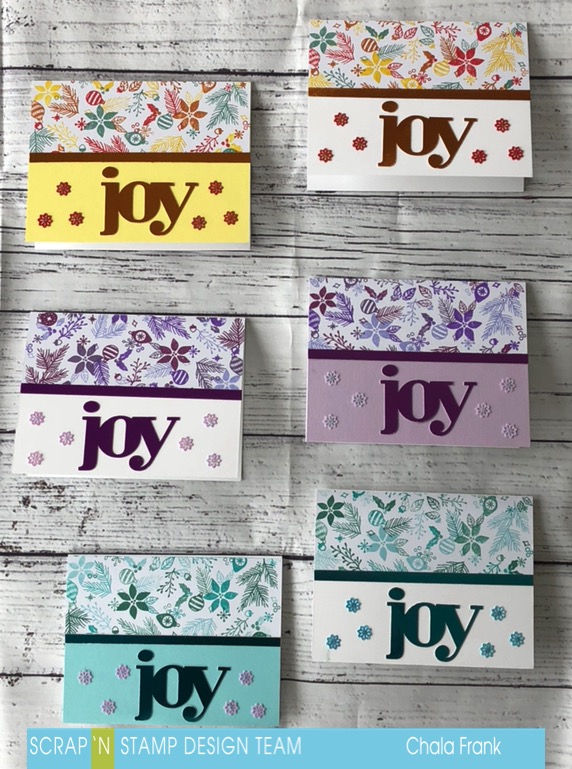 I hope that this post has inspired you to find your Christmas in July spirit and to get your own Turnabout stamp set! Remember Concord & 9th is our featured brand of the month! Take advantage of coupon code CCD15 to save 15% off Concord & 9th turnabout stamps as well as their new products at the Scrap'N Stamp Store! NOTE: This coupon code is only good for the month of July!
Enjoy the rest of your week!
~Chala, xoxoxo