Happy Tuesday!  Today I've got a throwback post to share, and it features our challenge theme for June 16- RIBBON!
I'm a big fan of what I call crinkle ribbon, which is hand dyed (I typically use distress ink sprays, ink pads or reinkers) and left crumpled in a ball to dry, which gives it a crinkled pattern and texture  it's fun & easy!  I love to make up batches of it when I'm facing a creative block!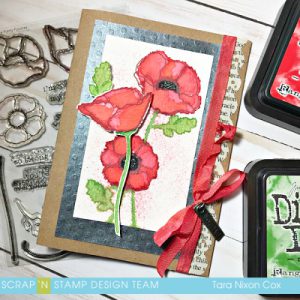 I've used the Delicate Pretty Poppies by MFT again, this time I went with a Distress Watercolor painting on watercolor paper.  It bled a lot, but I was looking for a loose painted look… I stamped my images in Distress Ink (Festive Berries & Mowed Lawn) and painted in the color with the same ink and a water brush.  Once it was dry, I stamped it again in a slightly darker color to reinforce the lines of the images.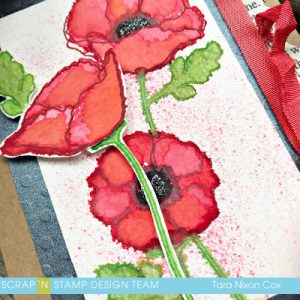 I added some splatter on the background by rubbing ink on a damp toothbrush and flicking it.  A bit of stickles finishes off the flowers… and a small story stick (by Tim Holtz) tied to some crinkle ribbon to add texture.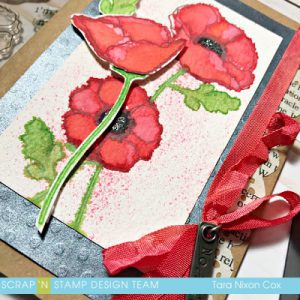 It's pretty simple… but I like it.  I planned to add a sentiment, but decided to include one inside instead.
Inky hugs,
Tara