"Goodwill" seems like a good theme for the last card I'm sharing here in 2020… it's been a year like no other and I can only hope that each of us finds some goodwill to share as we end this year and brave our way into the next one.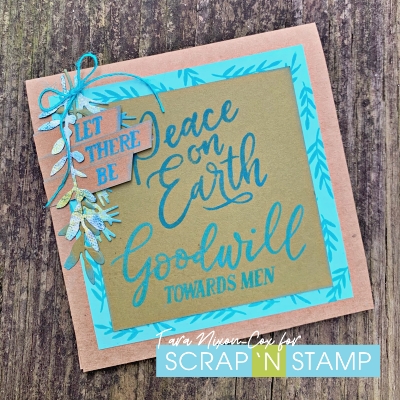 My cards today are simple, and I'm sharing two because honestly I wasn't crazy about the first one I made!  I do love this Peace on Earth stamp set by Concord & 9th, though.  It has such a lovely script that was fun to use with a variety of shades of Distress Oxide Ink.  I love how bold it stamped on colored card stock for this card (green & blue is always a favorite combo of mine).   I decided to try the two main sentiments on a square card, which meant a bit of experimenting with the 'let there be' part of the sentiment.  I cut the words apart (yes- the actual polymer stamps) so I could play around with arrangement and then ended up stamping them individually on strips of Kraft card stock for the result you see on the finished card.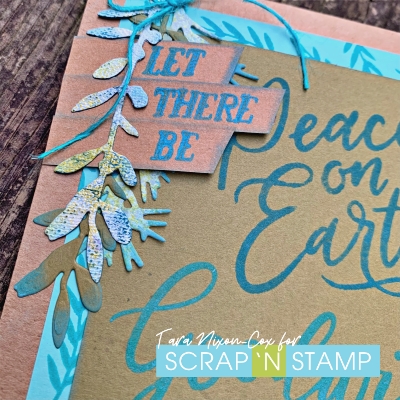 I embellished this one simply with a few pieces of die cut greens from two different Tim Holtz Sizzix sets (garden greens & holiday greens).  The stamping in the background layer is a couple of the greenery stamps that came with the Peace on Earth stamp set.
This next card is not my favorite… I think I liked it better before I started adding extra stamps & embellishments to it, but I guess I know for next time! My concept was to use several different shades of green for a fun mix of colors.  I used some of the secondary stamps from the set around the text and decided to use die cut poinsettias instead of the floral stamp in the set.  These little cuties are by Dee's Distinctively and the die cuts multiples of three different sizes of flowers as well as some individual leaves!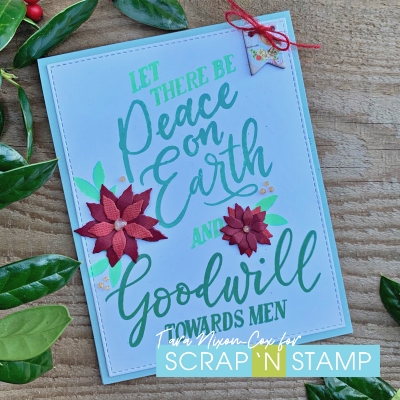 As much as I love the little dies, I think they are what I don't like about my card… or maybe it's just the placement of the small flower. Oh well, sometimes our makes just seem a bit 'meh' and we have to just roll with it 🙂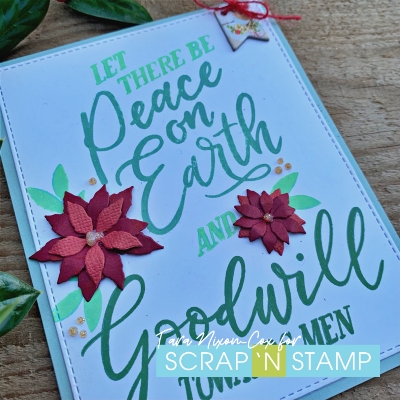 Thanks for stopping by!  I'd love to hear if you have a great idea for what would fix my card layout for next time.  I hope the last few days of 2020 are good ones for you, and that you can bless others with a bit of goodwill!
Inky hugs,
Tara