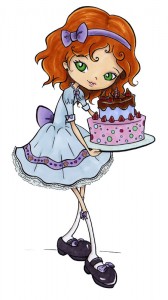 Hi everyone and welcome to Day 1 of our Digital Stamp &  Colorables Blog Party.
The big day is finally here and I have so much to share with you that I don't know where to start! I need to tell you about our new line of digi stamps and the fabulous designers that have created them. And then there are Colorables – a totally new concept that we came up with that will appeal to anyone that loves coloring. See what I mean…I have soooo much to tell you about so I'd better get started.
First I'd like to introduce you to our very talented new designers Mara Coman and Christine Eberle, the creative forces behind Paper Plums. Mara & Christine will be designing an exclusive line of images for Scrap 'n Stamp and we are very excited to be working with them. Welcome ladies!
Currently living in the Vancouver area, Mara and Chris first met while attending high school in Kelowna where they became friends and discovered a mutual passion for the arts. After graduating from the Center for Arts & Technology with Classical Animation Masters Diplomas Mara and Chris have been actively pursuing their art careers.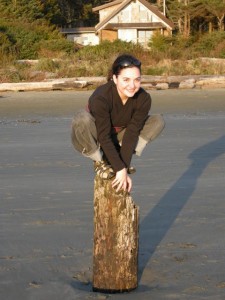 Mara has been sketching and drawing since she was in elementary school. Her love of horses soon translated into a desire to sketch them and then she found herself drawing all types of animals and characters. Today Mara is a skilled illustrator and comic book artist but her real passion is animation and one day she hopes to be part of a team of animators that creates one of those unforgettable animated characters that everyone remembers.
Currently Mara is working on several comic books and has just finished a poster for an upcoming Japanese festival.  Her images show quite a range of styles, from classical to whimsical or cartoon-like but they all have a fresh, current appeal.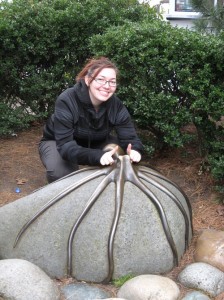 Christine has been sketching and drawing from a very early age. In school, if there was an art class Christine took it. In fact she thought she was headed towards a fine arts career but later decided to pursue animation instead. Always sketching and doodling, Christine says that she is happy as long as she's got an artistic outlet. She enjoys painting with acrylics and has dabbled in mixed media. Christine loves learning new crafts and enjoys travel and learning about the art and culture in other countries.
Christine's style is fun and whimsical and her images reflect her joyful approach to sketching.
And now for all the details about all the new stuff we are releasing….
Today we are releasing 22 original designs from Mara and Chris with some special images for Valentine's Day since it is just around the corner. Each digital stamp comes as a high resolution image in both . jpg or .png format. They can be resized, flipped and overlayed to fit your specific project. That's one of the things I love best about digis – you can make them any size you need from teeny tiny to really big. Try doing that with a rubber stamp! And they take up no space at all in your craft room. LOL!
All the Valentine's Day images that we are releasing today have two bonus sentiments with them that are also saved in .jpg and .png formats so you can use them just like a stamp and resize them really easily.
And here's some really, really big news!!! All our Digital Stamps will also be available as Colorables.
Okay. So are you curious? What the heck is a Colorable???
Well, Colorables are digi images that we have professionally printed for you on ultra-smooth cardstock. So, if you like our digi stamps but don't know how to use them then you are going to love our Colorables. Each image is ready for you to color with Letraset ProMarkers or other alcohol markers, colored pencils, watercolors, Memento or LePlume II markers, gel pens or with a combination of any of them. The images won't smear or bleed and the ultra-smooth cardstock makes it easy to lay down and blend colors.
Colorables come in packages of four (of the same image) on 4 1/4″ x 5 1/2″ sheets.  Many of the images are sized so that you can die cut them with a variety of popular dies from Spellbinders, Sizzix Framelits, Nellie Snellen, Cheery Lynn and more. And at just $1.99 per package Colorables work out to only 50 cents per image. It doesn't get any better than that!
Here are links to our Digital Stamps and Colorables so you can browse through all the new images. They're going to make you smile!
So what are we going to do all week during our Blog Party?
Well, every day we will feature a different image from Mara or Christine on the blog that they have colored with Letraset ProMarkers and we will include a list of the colors they used and some tips to help you with coloring our images. I know that I've picked up a lot just watching Mara color over the past couple of weeks so I asked her to share some of her little tricks with us because little things can make all the difference in your final images.
And you won't want to miss this! On Tuesday there will be a step-by-step tutorial showing you how to color Tori from start to finish with Letraset ProMarkers.  Hair can be one of the hardest things to color but I think you will find it less intimidating after you see the tutorial. Whether you are new to the world of alcohol markers or more advanced I think you will find Mara's tips and instructions very helpful.
Now, let me introduce you to Jenna – an original design by Mara Coman.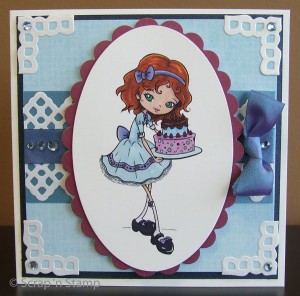 Isn't she sweet? I just love those eyes and that pretty little dress!
Mara's Tips today are all about paper. Here is what she recommends…
1 – Use as smooth a paper as possible like Bazzill Simply Smooth cardstock. This makes the markers glide over the page without catching and causing extra ink to spurt out. Some markers are more moist than others and are more prone to leaving little splatters. Just make a note of them and be extra careful when using them.
2 – Always test the colors if you are using a new paper to see how the paper and markers react. Some papers absorb markers faster than others. This can affect the way the colors blend together, the drying time and how much the markers bleed. Glossy paper will change the color and how you apply the markers significantly.
Here's a list of the Digi Stamp or Colorable & Letraset ProMarkers  Mara used to color Jenna:
Jenna (digi stamp)
Letraset ProMarkers – Blush : Putty : Baby Pink : Lilac : Lavender : Blossom : Pastel Blue : Slate : Powder Blue : Grass : Pine : Tan : Prussian : Ice Grey 4 : Cocoa : Henna : Carmine : Poppy : Crimson
Well, that's it for Day 1. Thanks for dropping by. I hope you get a chance to stop by tomorrow to meet Taryn – she's all ready for Valentine's Day.
PS We'd love to hear what you think about the new digis & colorables so leave a comment for us and we'll enter your name in a draw to win the digi or colorable of your choice. Let us know what your favorites are or just leave some love for the designers – either way you might be the lucky entry and win a freebie.