Happy Tuesday!  We are gearing up for our July Blog Hop, which will be a few days early since we wanted to celebrate Canada Day!  Plan to stop by tomorrow, July 1 for the fun!  Today I'm sharing two "throwback" cards with you, which I firs introduced for a blog hop back in 2017.  The theme for today in our 'Random Acts of Cardness' Challenge is PAINT and that's what I used to create these fun flag inspired backgrounds.  I hope  you enjoy!  First up is my Busy Beaver Card: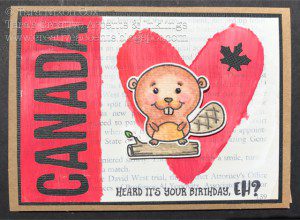 I created a background using some book print paper coated with white gesso, I then used a heart stencil (this one is by Dina Wakley) and some Distress Paint in two shades of red, Barn Door & Festive Berries, to create part of my 'Canadian flag' background.  I like combining two shades of paint for some subtle variety and texture.  I used the 1″ Alphanumeric Dies by Tim Holtz & Sizzix to cut CANADA out of my background as well, I love how easy it is when there are multiples of each letter to work with!  The rest of the card is from the Busy Beaver stamp & die set– I stamped on watercolor paper and used watercolor pencils to color this cutie up.  The maple leaf die is from a sweet little tag that was a gift with purchase (sold out years ago- sorry!).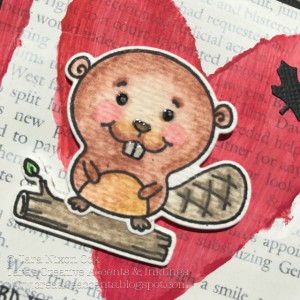 Here's a closer look at the stamp set- it comes with some sweet sentiments 🙂  This adorable Busy Beaver Stamp & Die set was created by Raya's request to help us celebrate Canada's big 150th Birthday!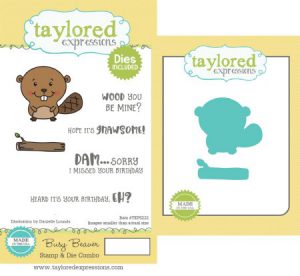 My second card uses the same background as the first, but instead of the beaver I added the 'kind is classy' sentiment by Concord & 9th.  I also use that cute little maple leaf tag!  This sentiment seemed perfect for my Canadian card, since kind is definitely a word that describes most Canadians I know!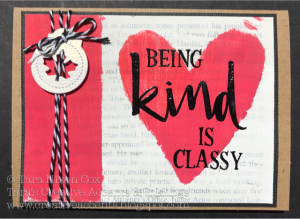 Here's another look at both of my cards together- I really love the imperfections of the painted background!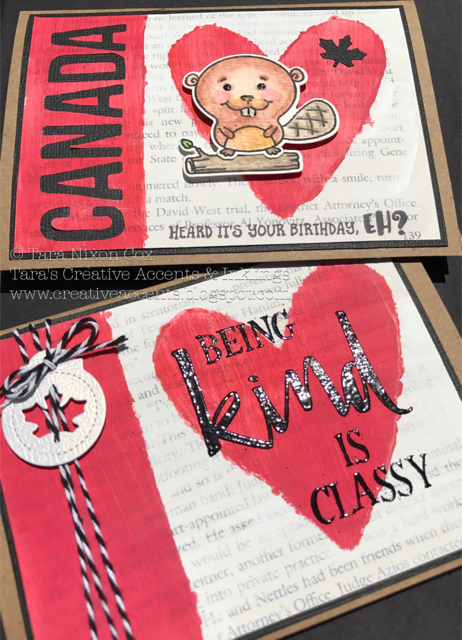 Inky hugs,
Tara