There's nothing to pick up your spirits like a card from a friend, in your mailbox! A bright & cheery one is even better. I think I combined these elements in these pretty cards that are perfect for a friend, at any time. And of course, I worked it in for the Scrap 'N Stamp word prompt of 'friends'!
DOODLE FLOWERS BACKGROUND
Everyone in the Scrap 'N Stamp design team recently received a box of goodies to play with! I have to admit that I didn't wait – I dove right in, so you'll be getting a sneak peek today of some new  products that haven't hit the shelves yet! I was actually so excited that I created 2 cards, using the same products. Just because I could! I wanted to see the pretty new embossing powders on a white, and a dark background. Here they are!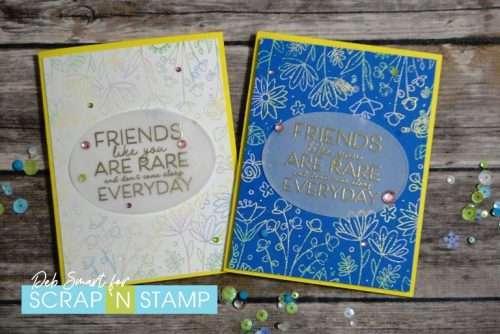 I had started with the white background, but them immediately how how gorgeous the colours would stand out on a darker background! They're still pretty on the white, but really pop on the blue!
CARD DETAILS
Start with your panel of cardstock – light or dark. I found it best to set up the cardstock and Taylored Expressions Doodle Flowers Background stamp in my stamp platform. Next, cover the stamp with Versamark ink, and press firmly on the cardstock. Repeat if necessary. Now the fun happens! Seriously, I felt like a kid in kindergarten again, I had such fun. I used the coming soon Embossing Powder set by Hampton Arts – you're going to love! There's a total of 16 different embossing powders, each colour has 2 – one matte, one glitter. To start, I sprinkled the matte green around the edges of the stamping, basically to colour the stems green. Remove any excess powder, and then add  your next colour. For the flowers, I chose to use the glitter version of the colours – pink, violet, yellow and blue.  I didn't bother to shake off the excess of each colour as I went along – this meant that the colours mixed beautifully ! When you do shake off the excess powder, you can keep the resulting rainbow, and use it on another project. Here's a close up look at the pretty results.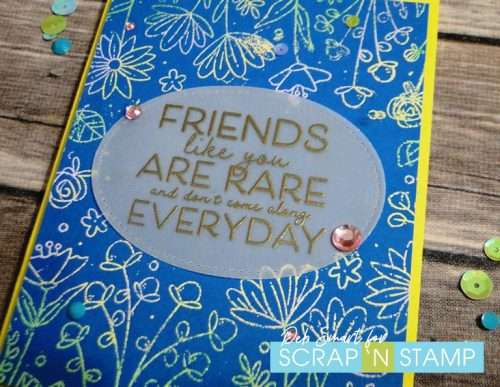 This background stamp leaves a wonderful oval in the middle, perfect for a sentiment. Stamp your chosen sentiment onto vellum with Versamark ink, and then cover it with gold embossing powder. Use a heat tool to set, and then die cut with an oval die. For my sentiment, I used one of my new stamps – again by Hampton Arts, but I'm not sure of the name! It's a wonderful sentiment set, though.
Attach your embossed card front to a bright card base, and then attach your sentiment oval. Add a few embellishments to the card front for some sparkle, and to hide your glue behind the vellum. Again – I used new self adhesive gems from Hampton Arts, and sequins from  Studio Katia.
SNEAK PEEK!
In the photo below, you can see the vials that the new embossing powders come in, plus the new gems.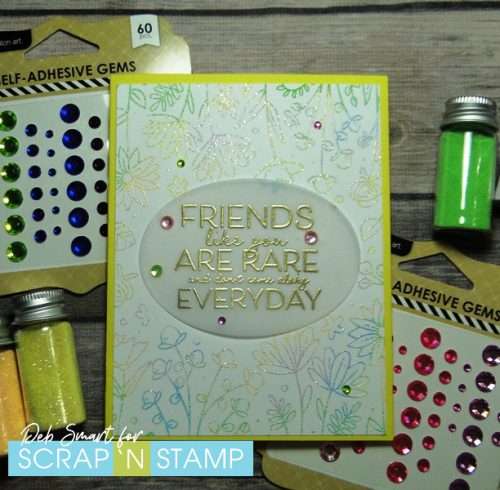 KEEP CHECKING THE STORE
The new products will be arriving in the Store soon, so keep checking back! CLICK HERE to see the newest arrivals – right now you'll see the newest Lavinia stamps, Lawn Fawn cardstock, Catherine Pooler inks, Buttons Galore embellishments and more! This page is updated as new items are added.  Remember to use my Discount Code of 10DEB at checkout, to save 10% on your total order!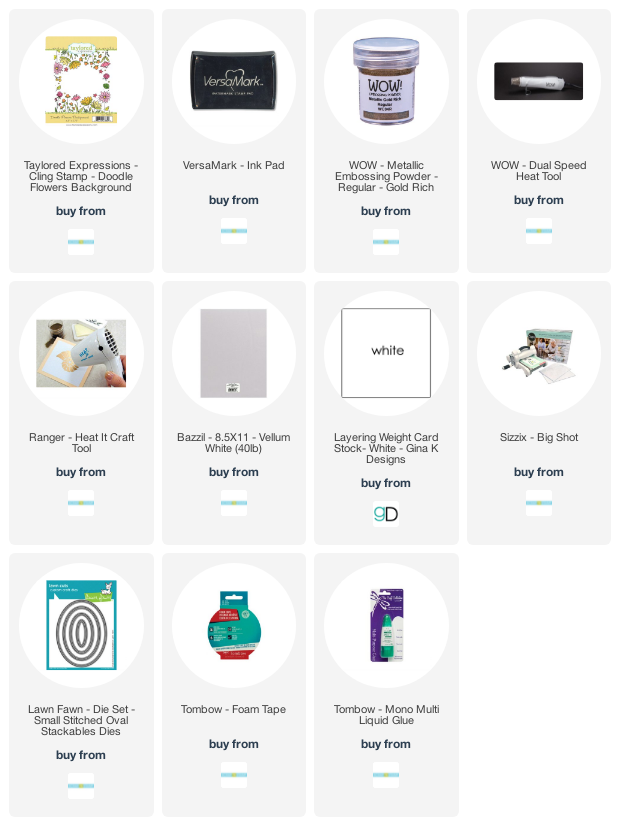 Affiliate links are provided, at no cost to you. When you choose to use my links, I receive a small commission, which helps me maintain my blog & keep creating. Thanks in advance!