Happy Tuesday! Today's card is one for which I didn't really see the end result when I started… which is not normally the way I roll when I'm creating! Usually I have a general idea of which products I will be working with and what my layout will be. For this card, I had a new stamp set "Bee Kind" by Flora & Fauna, some shades of yellow Distress Oxide (Wild Honey, Fossilized Amber, Squeezed Lemonade) and a honeycomb stencil I figured would work nicely together!
I started with a white card and a Life Changing Blender Brush, applying the inks from darkest to lightest randomly on my paper. I worked my way in from the bottom left and top right corners, leaving some white space. I then selected a honeycomb stamp from the set and filled in some of that white space with it. I grabbed the 'bee kind' sentiment and stamped in in Nocturn Versafine Clair, placing it so it was framed nicely by the stenciled background. I added a single bee stamp above the sentiment and the card sat like this for a while, before I finally decided what it needed and came back to it with this bold floral from Tim Holtz's Wildflower Stems #1.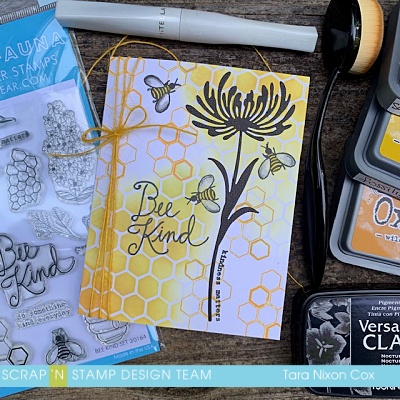 Once I had my focal point (see how backwards my technique was on this card!?) I finished the rest easily- adding a couple more stamped bees and the delicate "kindness matters" text along the stem (I love that you can curve clear stamps to match the line you are stamping them next to!)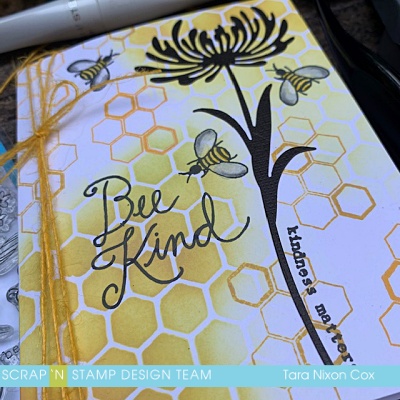 I added a bit of shading on the bees with watercolor pencils (and a touch of Wink of Stella glitter pen) and a simple wrap of twine to finish everything off.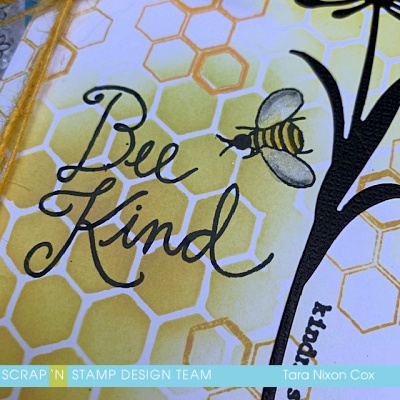 There's a few smudges here and there, but I'm pleased with the end result on this one! I also can't wait to play with the rest of the stamps in this sweet little set- there's some very cute ones!
Inky hugs,
Tara