Happy Tuesday!  I was pretty excited this week to be able to do a curb-side pickup of some books at my local library and bring home some summer reads.  As I tucked the checkout receipt in as a bookmark after reading a few pages, I decided I should create some fun tags to keep my place.  Today I'm sharing one of the tag bookmarks I created, inspired by today's 'Random Acts of Cardness' Challenge theme- geometric!
I've used a few Tim Holtz/ Sizzix dies on this tag, with a focus on the new hexagon stacked tiles set.  It's a great little set which includes 5 each of 5 different sizes of hexagon dies.  I spent a bit of time the other day cutting hexagons from a variety of scraps of cardstock, inked & embossed backgrounds that I'd never used for anything yet.  I also had a variety of tags that had been inked or painted and never finished… this bookmark is what I assembled from those bits and pieces!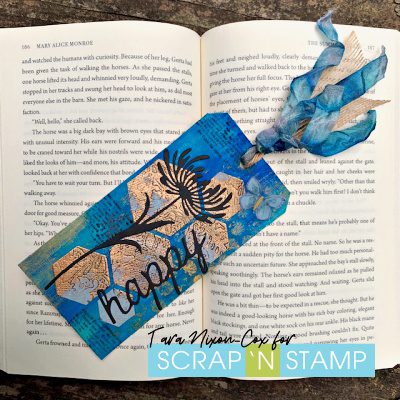 The hexagons I selected for this bookmark were all cut from a piece which I had debossed & painted with metallic rub.  I also spilled some Speckled Egg Distress Paint on it… which ended up looking pretty cool on this piece (not so great on the original project I was working on!).  I chose these pieces because the tag I was building on had been painted in a variety of shades of blue Dina Wakley paint and then stamped onto with her metallic 'penny' paint on some bubble wrap.  The gorgeous punch of metallic was a perfect match for these hexagons!  I stamped a few bits of text print into the open spaces to anchor the black elements I was going to be adding.
Once everything was laid out, I selected a wildflower to die cut in a bold black, along with a simple sentiment from a shadow script set.  The butterfly was already cut out in my little scrap box as well, but I added a bit of stamping, paint & metallic marker to help him blend in.  Everything was glued down with some Nuvo Deluxe Adhesive which I am finally trying out, after hearing so many people rave about it!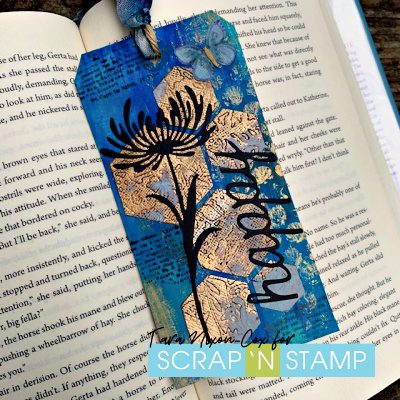 I'm pretty pleased with how this bookmark turned out- it somehow is both bold and soothing at the same time.   I love how it lays perfectly flat, yet has a lot of visual texture.  It doesn't hurt that it serves the purpose of saving my spot in my next summer read!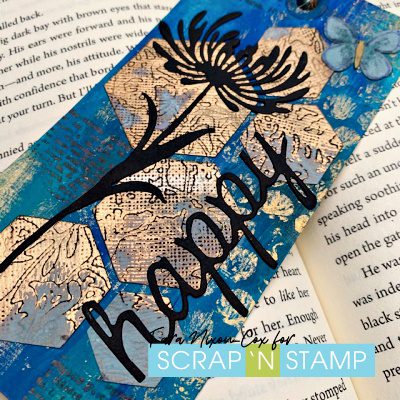 Hope you like it too!  I can't wait to see what you make & share in our facebook group for our geometric theme today!
Inky hugs,
Tara