Happy Tuesday!
Today's card is an autumn inspired 'pocketful of posies'- a simple gift card holder/card combo that you can put together quickly and easily using die cuts like these vintage inspired botanicals by Tim Holtz!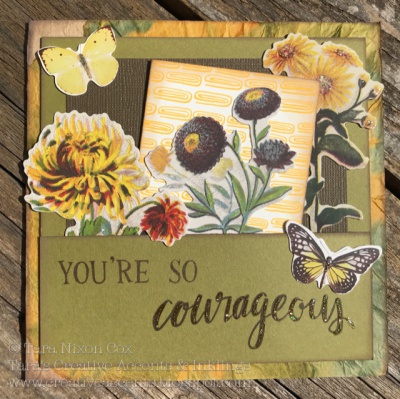 I started by stamping text from the 'kind is classy' set by Concord & 9th on olive card stock and highlighting the script 'courageous' with my fave Honey Gold Nuvo Glitter Drops.  My card background is a fun coffee filter paper I created way back at Easter, and I used it as my color inspiration.  I cut a large square layer of olive, added a smaller brown layer and adhered the stamped piece on three sides to function as a pocket.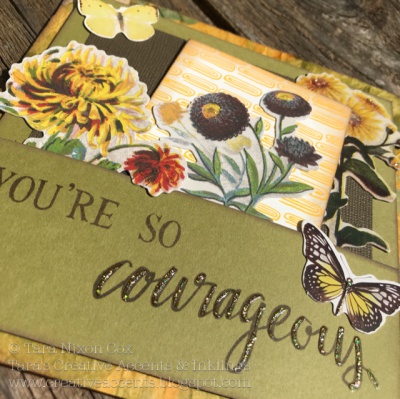 I pulled out a variety of yellow florals & butterflies from the Botanicals Layers by Tim Holtz and played around with the arrangement until I was pleased with it.  I wanted the gift card folder (which was an old one pre-printed from Starbucks) to blend in nicely, so I adhered one of the die cuts so it could slide behind it.  I wanted as much variety and texture as possible, so made sure to adhere the die cuts at various angles and with a bit of overhang at the edges.  I also added a bit of those Nuvo Glitter Drops to the pieces to tie it all together 🙂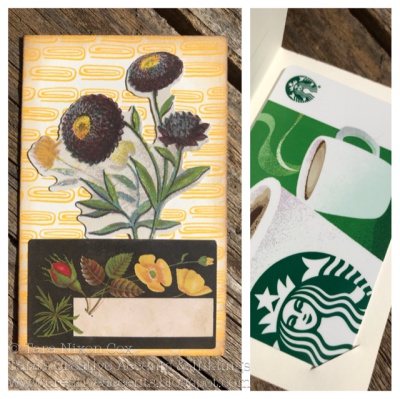 Here's what the card looks like when the gift card folder is removed.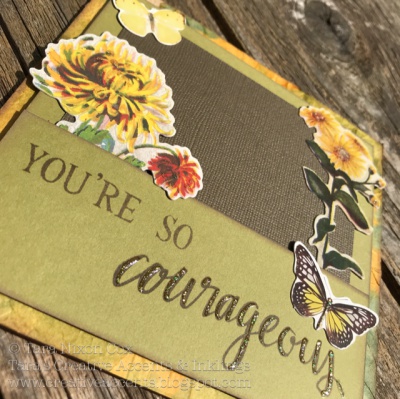 Because most of the pieces for my card were pre-cut and pre-printed, this card was assembled very quickly once I settled on a design!  Stamping, adding glitter and edging with Distress Ink are all touches that allow me to feel like I didn't cheat when I made this simple card 🙂  I love the 'pocketful of posies' concept and would like to try it with some other color combos from this set of die cuts– there's a LOT of shapes in each package, making it a great value!
Thanks for stopping by, I hope something here today inspires you to get creative… or at least inky!
Inky hugs,
Tara
Materials Used:
Kindness is Classy Stamp Set by Concord & 9th
Botanicals Layers Die Cuts by Tim Holtz
Olive & Brown Cardstock
Brown Distress & Archival Ink
Starbucks Gift Card & Paper Folder (or create your own!)
Background paper- mine was tie died making Easter Eggs!