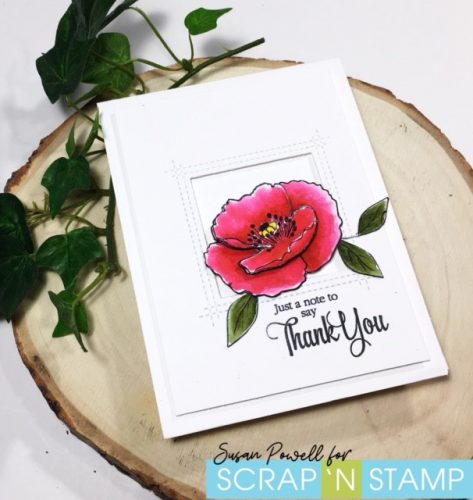 Hi Everyone!  Happy Thanksgiving to all that are celebrating this weekend. We did our dinner on Saturday and even with a power failure during part of the evening it was fantastic. Our daughters and their boyfriends were all here, we ate turkey, drank wine, played games and laughed a LOT.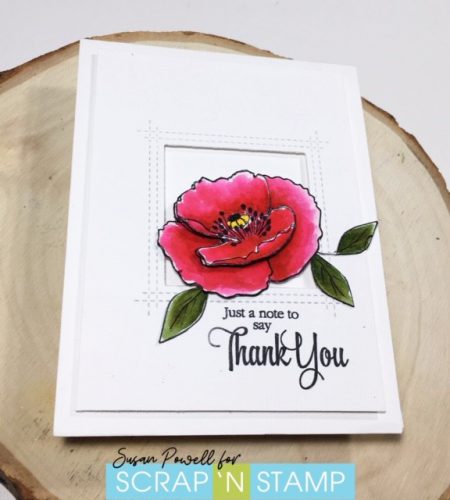 The word prompt for today is Thanks and seeing as we're celebrating Thanksgiving in Canada I thought it was appropriate.
My card is really easy to do. For those of you that say watercoloring is too hard you need to check out the Zig Clean Color Real Brush Markers – they make it so easy. I started by stamping one of the flowers from MFT's Painted Poppies stamp set with Versafine Nocturne ink twice. Next I chose two red markers and added the darker one to the base of each petal – about 1/4 of the way up. I grabbed the lighter red and overlapping where the darker color ended I added the lighter color and pulled it out further – about 1/2 of the way up the petal. I finished off the petal with a small wet paintbrush pulling the color the rest of the way leaving a little bit of white at the tips. I did this to both of the flowers. On one of them I added a yellow center.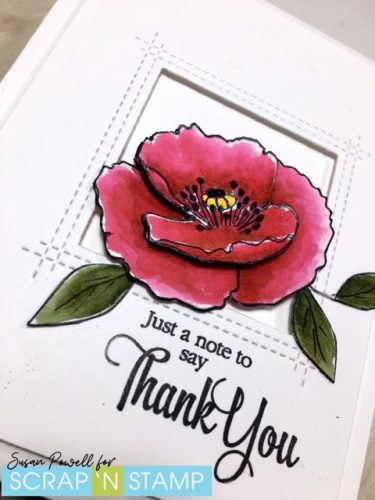 Next I stamped out the leaves, colored them in with two shades of green marker and drew in some fine lines in the center. I fussy cut everything out. The flower with the yellow center I cut around the top two petals and layered it on top of the other flower with some craft foam. I adhered the  it all to a panel that I had die cut with MFT's Square Peek-a-Boo Window Die. The sentiment is from Penny Blacks Sentiment Collection and is stamped with Versafine Nocturne ink – this is one of my favorite black inks. I added craft foam behind the panel and the flower and added it to a white card base.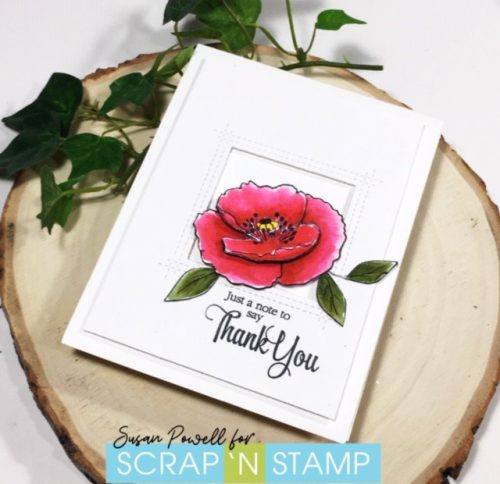 The layers on the flower don't show that well in the pic but it sure adds some detail in real life.
Where ever you are today and if you're celebrating Thanksgiving or not I hope you'll join us in today's challenge and share it with us over on the Facebook Challenge Page.
Happy Stampin'
and thanks so much for visiting!
Stay safe everyone!!
Susan
Shopping list:
Below are links to all the goodies I used, just click on the icon to be taken to where you can purchase the product.
If you use my affiliate links when shopping there is no additional cost to you, I want to say thank you and that I appreciate it and you very much