Hello Friends!  Chala here!  I thought we would do something a little different for today's prompt word "Flowers".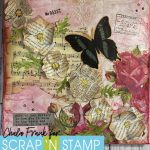 I thought it would be fun to do a little mixed media art.
What I love about mixed media art is it is all about feeling the art and doing what looks/feels good in the moment.
Join me on my journey by clicking the link below to watch the video!
Materials:
Lawn Fawn Pretty Poppies die set – https://bit.ly/3259JeT 
Art Glitter Glue – https://amzn.to/3dVKkK6 
Waffle Flower Mini Media – https://shrsl.com/2wlo0 
Scattered Straw Distress Ink – https://bit.ly/3t9k3yx 
Forest Moss Distress Ink – https://bit.ly/3g1gPcw 
Peeled Paint Distress Ink – https://bit.ly/3sa0BQH 
Vintage Photo Distress Ink – https://bit.ly/3a2uYCl 
Victorian Velvet Distress Stain – https://bit.ly/3tdY3Cv 
Ranger Texture Paste – https://bit.ly/3wPrm0g 
Copper Liquid Pearls – https://shrsl.com/2wlww