It's a new month, which means we've got a new BLOG HOP for you and we are kicking off a new theme over on our SNS Challenge Page on Facebook as well! For the hop today, we are all sharing Pop Up Box Cards! Today I'm using one that was pre-cut and ready to assemble by The Paper Cut, which you can purchase in the online store. On Facebook we challenge you to make 3D Cards: Cards that POP this month! Should be fun to see how everyone interprets it 🙂
As usual with our hops, we have a giveaway as well- a winner will be randomly chosen from those who leave comments along the way to receive a $50 gc for the online store! Yay!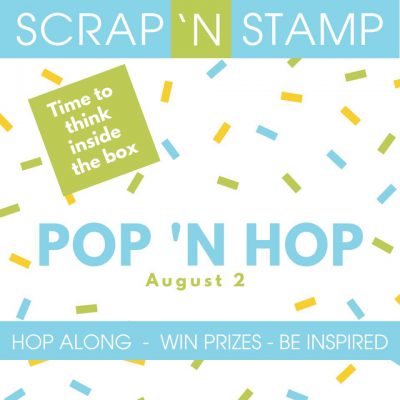 I chose to use a mini box together with this cute little Rock Monster stamp & die set by Mama Elephant. The stamps are pretty small, around 1.5″ tall, so it was perfect in this mini box which folds to fit in a standard A2 envelope! I dug through my stash of 6×6 paper pads and found one by Simple Stories (circa 2013… never even opened. oops) and used it as my color palette to color these little cuties with my Copic Markers. The coordinating dies worked great, and I love all the sentiments that come with the set as well! I planned to send this card to my dad (he is amazing on guitar and will always be a rockstar to me!) so combined a couple of the sentiments for the front panel of the card.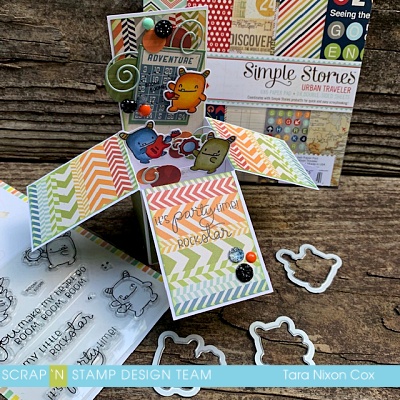 I measured, cut and glued patterned paper onto the individual panels and then I hit a little road block… I wanted to add more to the card, but since this is not my usual style I didn't have other stamps or small dies to combine with the images. I ended up finding a swirly flourish by Memory Box and a few old school circle punches to kick things up a notch. A bit of bling finished it off. These 'cards' are kinda tricky to photograph… so I went overboard a bit to capture a few different angles!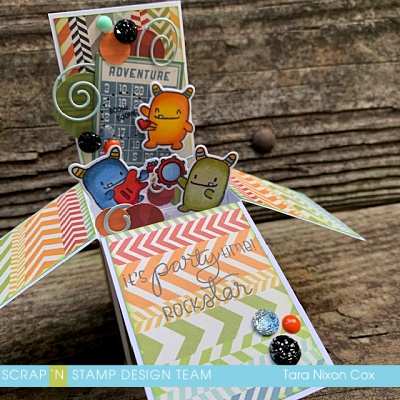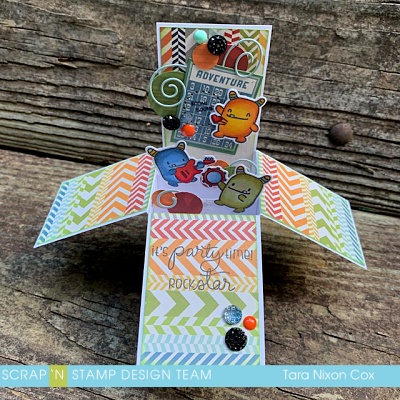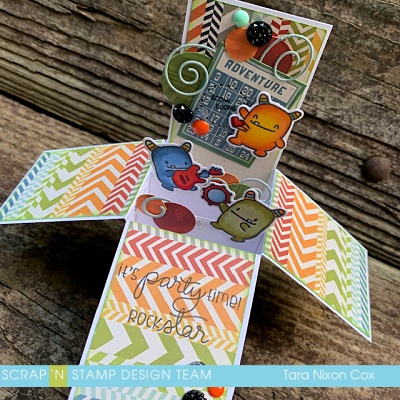 As I mentioned, this little box folds down to fit in an A2 envelope. Here's a look at the folded card as it would be when the recipient opens it…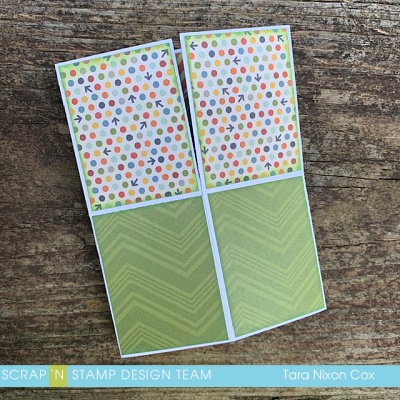 I think I'm going to write on the green panels, working my way around the card. This is my first time doing one of these so I'm not really sure what you are supposed to do 🙂 Here's how it looks as it starts to unfold…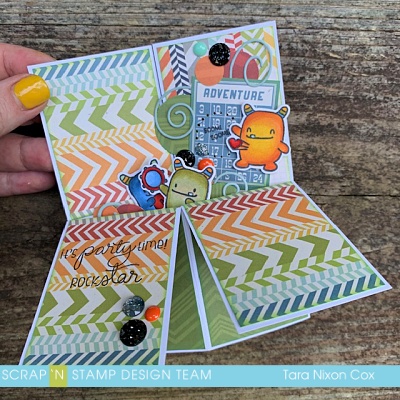 … and finally, a close up of my little Monster Rock Band!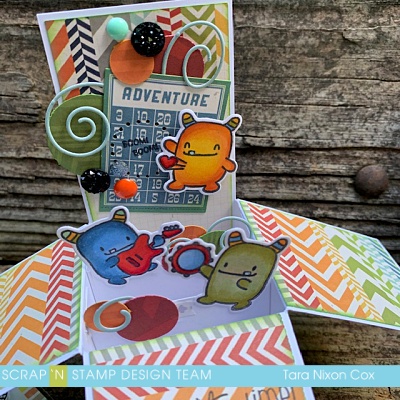 The kit comes with three rows to be included inside the box, but I chose to just use two of them for this little box. It was a lot of fun to make, I'm going to be looking through my stamps & dies to see what other ideas I can come up with! And I'm sure to be inspired by the design team and their projects!
Next on the hop, you can head over and check out Susan's card! The full order is listed below if you get lost anywhere along the way. Happy Hopping!
Tara
Susan
Chala
Nancy E
Laurie
Nancy F
Sandi
Kia
Deborah
Inky hugs,
Tara