Happy Tuesday!  I've always had a sort of soft spot for celebrating St. Patrick's Day- I feel like it doesn't get enough credit from those of us who aren't exactly beer drinkers! LOL. Today's card is inspired by the challenge theme about the prize at the end of the rainbow… GOLD.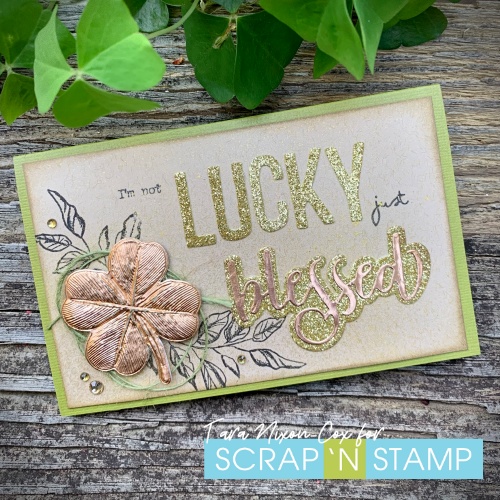 If I had the inside scoop, I would have loved to have told you the theme was inspired because of the new Foundry Wax release and those delicious metallics, but I am just as anxious to play with those as the rest of the Tim Holtz fans out there!  They look amazing!    Instead  I worked with a combination of Rose Gold foil paper (mine was an adhesive backed foil by Sizzix, similar to this one by Ranger) & Yellow Gold Glitter card stock.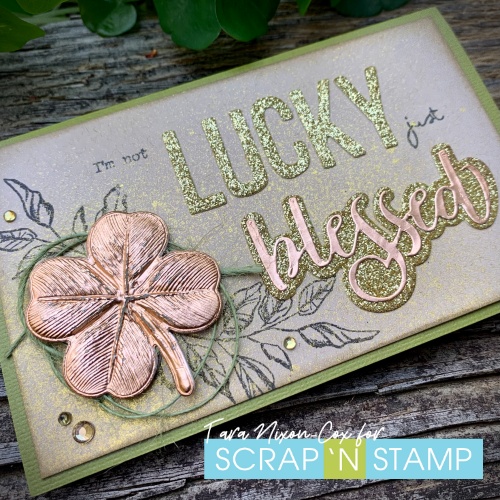 I'm once again using the Lucky Love 3D Embossing/Cutting Folder by Tim Holtz & Sizzix (It should be the last time you see it for a while though!  LOL). I paired it with the 'blessed' word by Honey Bee Stamps and LUCKY cut from a basic alpha (discontinued Tim Holtz alpha- but there's so many great ones available now!)
I completed my sentiment using parts of a couple different sentiment stamps- I knew which words I wanted, just had to dig through my stamps until I found them to make it all work!  The stamped greenery behind the clover is from a Christmas stamp and gives just the right feel I was going for, paired with my words.
Finishing touches include a bit of distress ink around the edges, some gold shimmer spray (this is a discontinued Pearfect Pearl Mist in Sunflower Sparkle, but any gold spray would be lovely!) and a bit of gold bling.  Lastly, I added a bit of green twine to match the green mini slimline card base.
I hope it brings a smile to your face… and helps you to count your blessings this week!
Inky hugs,
Tara