Happy Tuesday!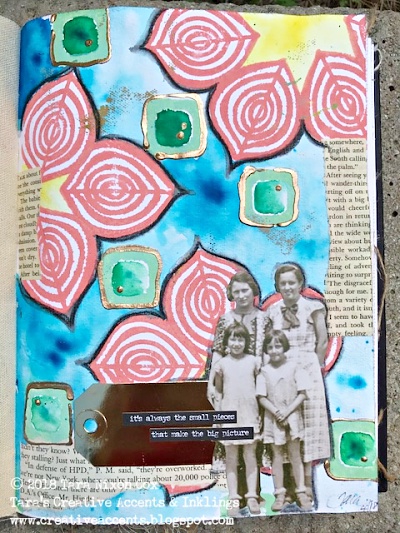 Today I've got another Art Journal page to share with you!  I've been trying to make use of my art journal when I have a new idea or technique I want to try or when I want to experiment with the way different mediums work together… and that's how this page came about!  I stamped the large flowers with some Dina Wakley stamps (each petal is individual) and I was curious how Distress Oxide and Color Burst would play together… so I started by stamping these bold images into floral shapes with Abandoned Coral ink on the cotton watercolor paper in the Mixed Media Journal.  The square outlines are also from that same stamp set, inked with Cracked Pistachio.
Once my basic background design was set, I pulled out my Color Burst and a water brush.  I wet the area I was coloring with the brush first, then added some sprinkles of color and blended it out.  I deliberately tried to have variation in depth of colors… I love how it ended up with a sort of batik type feel!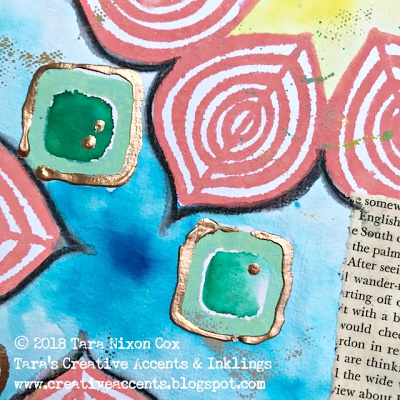 This page in my journal falls behind a burlap page, and since I had some paint bleed through in a metallic color I decided to pull that into my design.  I started with a metallic gold tag and some die cut Paper Dolls… the sentiment seemed like a great fit since I'd used so many small pieces to make this page, and the background in particular!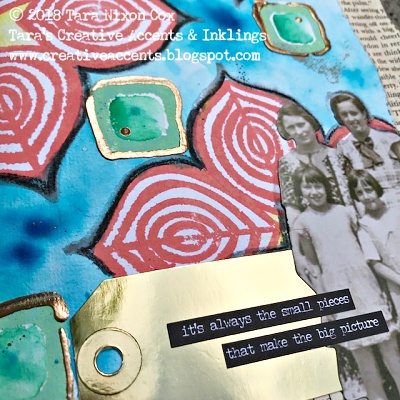 From there I pieced together my collage in the lower corner of the page, adding some torn book paper across the page (covering up some not so pretty spots in some instances!) and a bit of outline with a black stablio pencil.  Finally, I did a bit of detailing on the green squares with my Gilt Paint.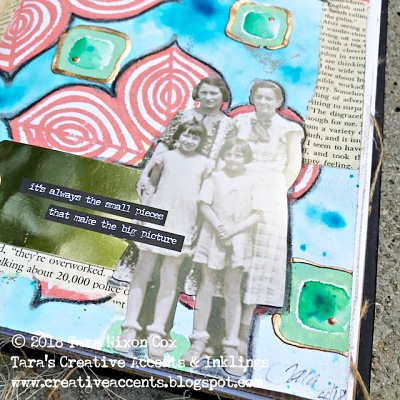 I wasn't sure where this would go when I started working on it, but I really love the funky, warm feel of the finished page!  I'm having a lot of fun with my Media Journal by Dina Wakley, it's such a fun way to experiment with art journaling since there are so many great textures and types of pages in it.
Have a creative day!
Inky hugs,
Tara