Happy Tuesday!  Today I'm bringing some birthday JOY to the blog with this cheerful, glittery card that just happens to be a perfect fit for my sister, whose birthday is this week!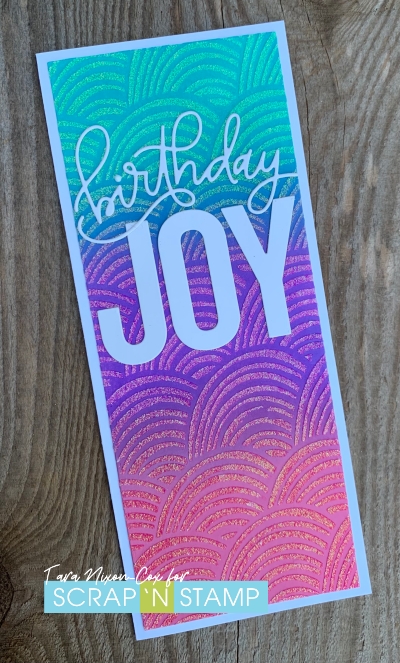 I wanted to have as much glitter as possible on her card, so I decided to ink a fun rainbow in her favorite colors on a slimline card front and cover it up with glitter paste!  I've used three colors of Distress Oxide Ink for the blend on this card- Peacock Feathers, Wilted Violet & Picked Raspberry.  I've used a fun Picket Fence Slimline 'rainbows' stencil and scripted a clear glitter paste over it (this is moonstone by Nuvo), and I love how it really accentuates the color blends on the card!
I've done a bit of mixing and matching again with the die cut sentiment on this card.  I wanted to keep it simple and bold by cutting in white and this mix of the scripty birthday and bold joy is really fun (especially since my sister's name is Joy!).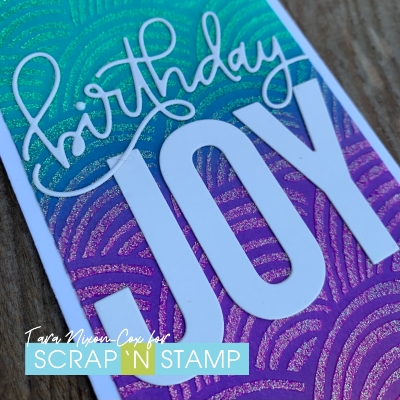 I used the smaller slimline panel die from Picket Fence to cut out my background, which gave a nice crisp cut on this glittery piece.  I don't know if this qualifies as a 'clean and simple' card, but I'm gonna claim CAS on this one. LOL.  I hope it makes the birthday girl smile!  (Love ya loads sister dear!)
Inky hugs,
Tara