Wow. These new embossing folders from Sizzix that were designed by Basic Grey are absolutely gorgeous! We have been anxiously waiting for them to arrive and they finally arrived yesterday. Yippee!!
The embossed images were inspired by their Eskimo Kisses paper collection and we still have some of the 6″ x 6″ paper pads left if  you want to coordinate everything.
There are eight (8) new sets and each set includes two (2) A2 embossing folders that are slightly larger (4 1/2″ x 5 3/4″) than the Cuttlebug A2 embossing folders so that your embossed design is actually 4 1/4″ x 5 1/2″ – the exact size of an A2 card. Definitely a plus when you are embossing the actual card front and want the design to go right to the edge. Some of the designs are definitely just for Christmas but others will work anytime. Let me show you….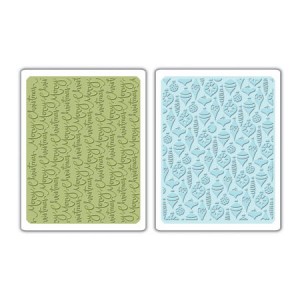 This set is called Christmas & Thin Ice. Both of these backgrounds will work beautifully on all kinds of holiday projects – cards, gift tags, scrapbook pages, decorative boxes….the possibilities are endless! I love the contemporary script text.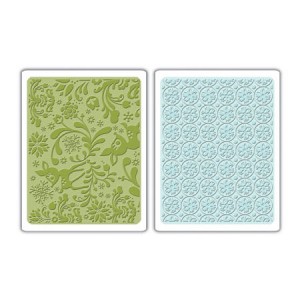 Called Dearly & Frost this set includes one folder that is definitely more of a winter/holiday theme but the other (Frost) could be used anytime.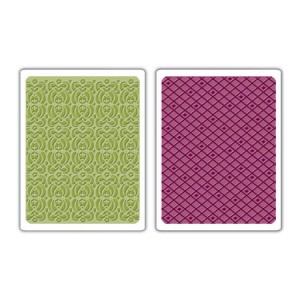 I think this set, called Diamonds & Snow Cap is terrific. It could be used for so many different types of projects and definitely doesn't scream Christmas. Very versatile.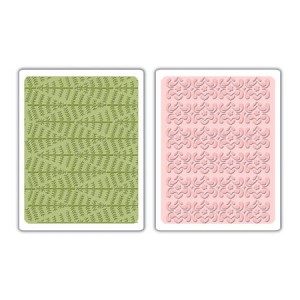 Here's another set, Evergreen & Snow Flowers that has one folder that is very wintery and the other that could be used for any occasion.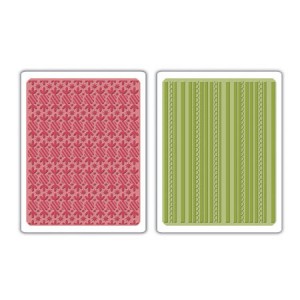 Called Peppermint Twists & Scallops this set is so cute. I think you could use these backgrounds on holiday projects as well as birthday cards, gift tags, party favours and lots more.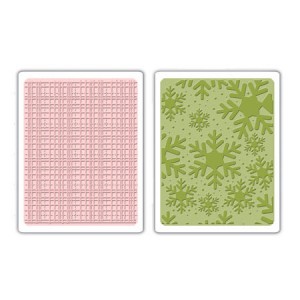 Plaid & Snowflakes is the name of this set and I think both of these folders are awesome. You can never have too many snowflakes for your holiday projects and the plaid is just a great all around texture that I'm sure you would use again and again.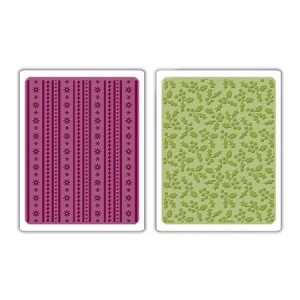 Called Powdered Sugar & Snow Globe this is definitely one of those sets that works for the holidays but you could also use the folder on the left for all kinds of other occasions. You could even cut the embossed design into strips and just use part of the image.  The holly and berries will definitely be a favourite for Christmas projects.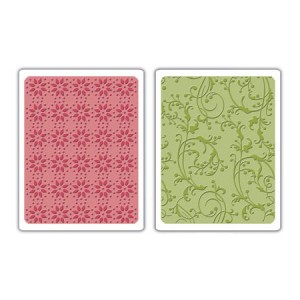 And last but not least is the Sugar & Starry Night set. Both of these designs are very versatile and could be used throughout the year.
So, don't let the names of some of these folders fool you – they aren't just for Christmas or the holidays. They are folders that I'm sure you would find yourself using over and over again.
We have lots of new products arriving right now so be sure to check out What's New to see all the latest.
© Scrap 'n Stamp Canada 2010