Happy Tuesday!
Last Thursday for my Facebook Live I made a last minute change of plans and decided to make cards with the new AALL & Create die cut leaves, which come pre-colored in a package of 62 pieces!  They are colorful & whimsical and are also available in black & white, ready for you to add color… but I decided to try some for a little something different and they were so much fun!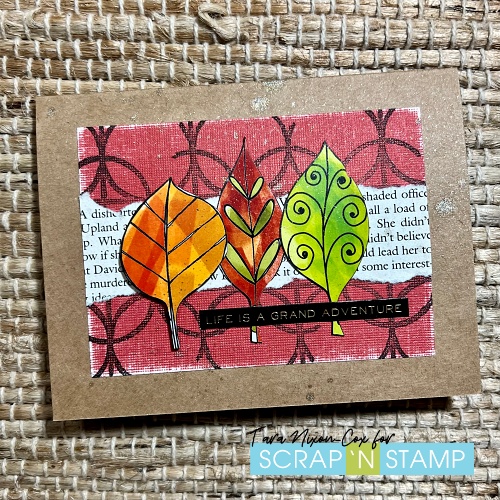 Today I'm sharing a card & tag which I put together using the die cut leaves, a framework background stamp that is also by AALL & Create and metallic sticker sentiments by Tim Holtz.  I used the stickers because they are what I had… but I definitely want to purchase some more ephemera by this company, including sentiment strips in three colors (black, white & Kraft) and themes like "bite me" and "sharp tongues" they look like fun!
For this card, I lightly sanded some white core cardstock then stamped the background twice in black to give a repeat design.  I adhered some torn book print across the middle and selected three leaves to adhere.  Two were adhered flat to the card surface and the third, on the left side, was raised up with some foam adhesive.  I chose a sticker based on it's length, so it would cover two of the stems and once I had everything adhered, I spritzed the entire card front with some mica spray to add a touch of gold/ bronze shimmer!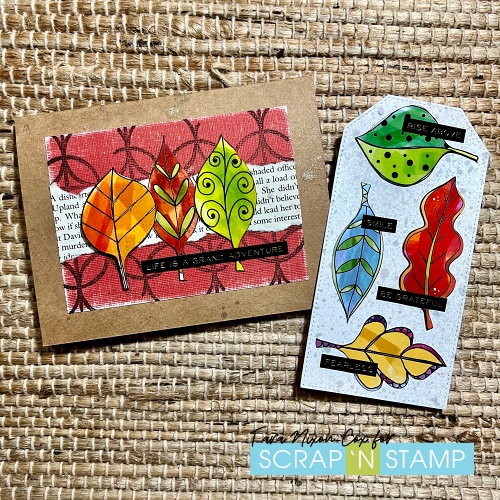 The tag was a really quick project- the hardest part for me was selecting my leaves!  I tried really hard not to be too 'matchy' with these and since I was using a pre-inked & die cut tag, I also tried not to overthink it!  I selected short, one or two word stickers and ended up loving how it came together.  I'm still debating if it's going to end up on a card front- this would fit really nicely on a mini slimline 3×6″ card.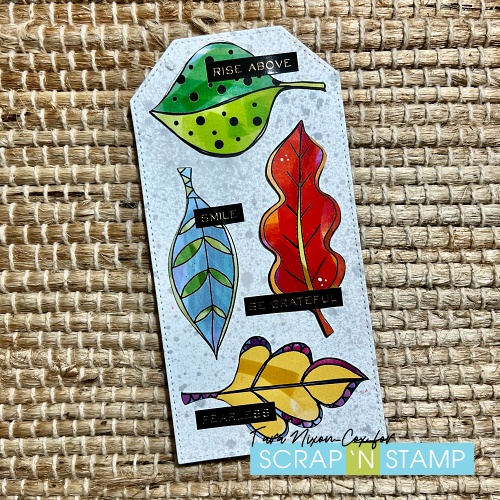 I made two more cards as well- one of them I've already shared on Instagram, so please stop by there and see it!   These leaves were really fun to play with and I look forward to more projects with them soon!
Inky hugs,
Tara