Happy Tuesday!

I challenged myself to make a quick card for today… and I pulled it off in ten minutes! I started with a challenge on Instagram (AAA Cards "one corner") and decided to use only materials I could find leftover from other projects on my desk! Here's what I came up with…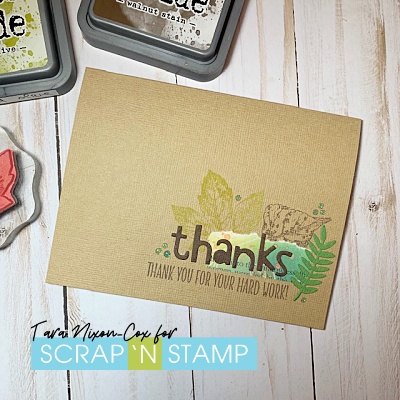 I used the die cut letters from the card I shared last Tuesday and a scrap of inky paper from the card I shared in our blog hop as my starting point. I found a leaf I'd die cut and never used and played around with the layout a bit. After selecting some wheat colored card stock, I stamped a couple leaves from Tim Holtz's Nature's Wonders stamp set. Of course, I used Distress Oxide- Crushed Olive and Walnut Stain. The Coffee Break stamp set by MFT has a great mix of sentiments, so I was happy to find one I could pair with the "thanks"!
It's just a simple little collage in the corner… finished off with a few Nuvo Glitter Drops to highlight the blue tones in the inked scrap. I'm not sure if it's still in the 'clean and simple' category, but it sure was quick to put together! Hope you like it- it was a fun challenge to use just supplies on my desk! I've got to get it tidied up so I can make the move to my larger space I just finished painting!
Inky hugs,
Tara