Happy Friday! Father's Day and the Summer Solstice are on Sunday, but I hope you'll be able to find a little time to craft this weekend, too. And maybe you will do some ink smooshing! A fun and simple technique that can lead to great results.
For my first card today, I used a smooshing technique that gives a little more control than usual over the end result.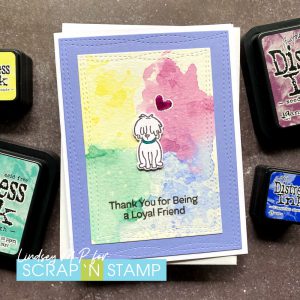 All you need is a craft mat or similar waterproof surface (I use a laminated half sheet of cardstock) and a piece of clear acetate – as a former teacher, I do seem to have a few sheets still lying around. 😀 For colours, I used four distress inks: seedless preserves, blueprint sketch, evergreen bough and squeezed lemonade. For each colour, I smooshed the ink pad, spritzed with water, then used the acetate to pick up the ink and transfer it to my watercolour panel. This way, you can see exactly where you're smooshing it! It also keeps the colours from blending too much, if that's the look you want. Once I had my background the way I wanted it, I set it aside to dry and stamped this cute guy from My Favorite Things' Puppy Kisses. Since I wanted him to really pop against the background, I didn't worry about adding any shading or shadows, just coloured his collar with a couple of green Copics. I also die cut a few extra shapes, so I could layer them together and add a bit of dimension.
Once my smooshed panel was dry, I die cut it and a coordinating blue cardstock panel with MFT's wonky stitched dies. For the heart, I stamped with Versamark and embossed with white, then watercoloured inside with more seedless preserves to increase the intensity. (As you can tell, I couldn't resist adding a little Glossy Accents at the end. 😀 ) The sentiment is stamped with the same grey ink as my pup.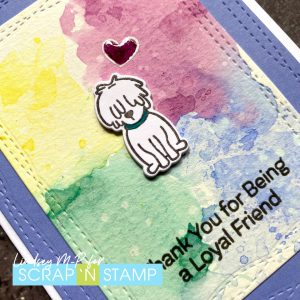 If you've received any happy mail from Scrap 'n Stamp recently, you may have found a fun journaling card tucked in with your order. I decided to turn mine into a Father's Day card for a work-from-home dad: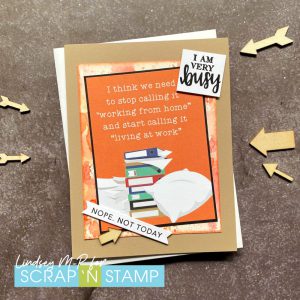 Of course I never throw away the leftovers from smooshing! I had a panel I had previously used to die cut an autumn leaf, but look how well it works with this journaling card! I matted the card in black and edged the smooshed layer with some of the same carved pumpkin distress ink I'd used for smooshing. "Nope. Not Today" is a snarky sentiment strip, while the busy stamp and the arrow are from deep in my stash. 😉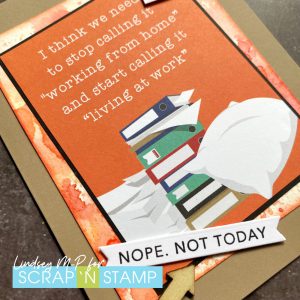 I hope these have given you some inspiration to get smooshing! Have a great weekend!