Happy Tuesday!
Today I had the best intentions of sharing a new card featuring a new-to-my-stash product… but I've been sick with a super fun bug (ha) during the time I would have had to create!  So, I'm sharing a throw back post!  My challenge word for today is "lift" and I came across this fun art journal spread that's a bit interactive, so I thought it was a good one to share!  I hope you like it- it's from way back in 2017!
Hope you enjoy the throwback!
—
I hope you've had a great week and that you enjoyed our Freaky Friday Blog Hop (if you missed it, it's not to late to check it out and comment for a chance to win a $25 gift certificate to the online store!  We'll announce the winners on Friday!).
While the hop was happening, I was making a hot mess in an all day Art Journaling class with Dina Wakley!  We had such a fun time, and I tried some new things and stepped out of my comfort zone… it was fabulous!  Today I want to share with you the 'big' project we did in her new Mixed Media journal– a six 'page' spread with one continuous theme.  Wow!  Since this was a class, I'm not going to be giving you any step-by-step details, though I will encourage you to take a class with Dina if you ever get a chance, she's a really great teacher!  If she doesn't teach in an area near you, she's got classes available online and some great youtube videos to check out as well!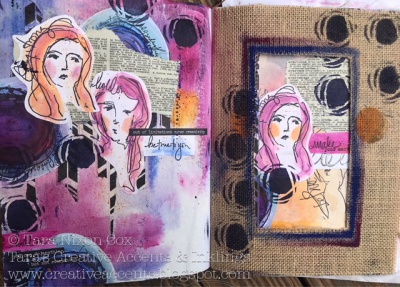 As I said, we worked in the new journal and our spread started with a page of watercolor paper, then burlap (2 sides) then a large tag (2 sides-inserted with her Printed Paper Tape) and finally another page of watercolor paper.  I used images from the 'Words in Faces' stamp set as my focal point.  My color scheme was primarily Lapis, Fuchsia and Cheddar paints from her collection.  I also used a variety of other stamps & stencils from her collection… lots of fun stuff to work with!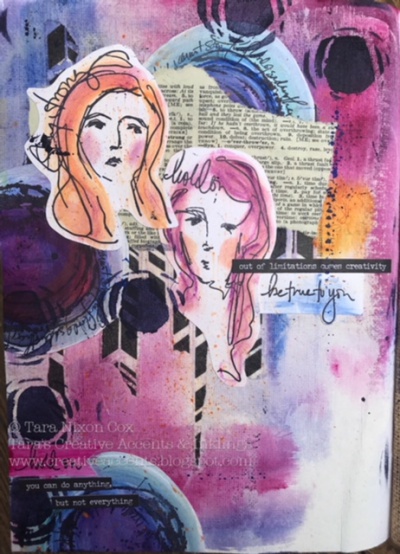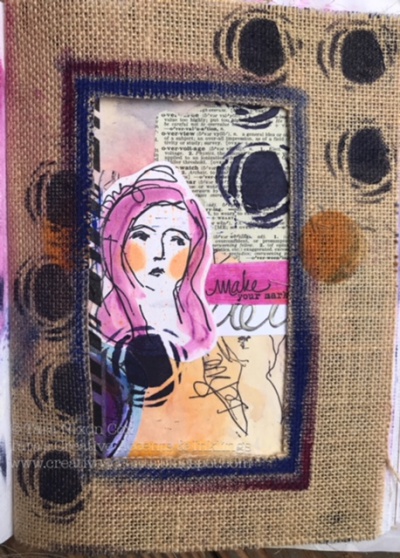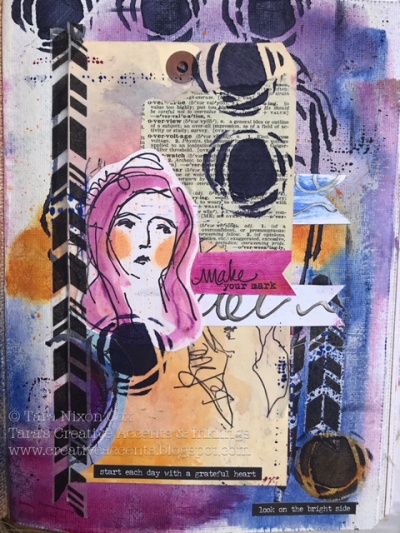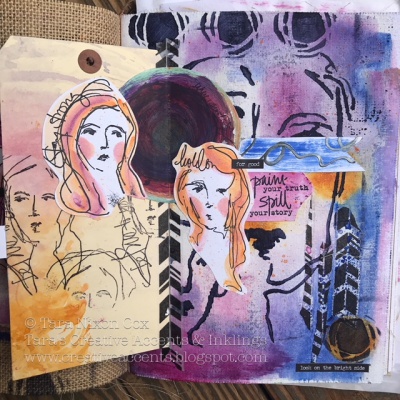 Space doesn't allow for me to share a ton of close up photos… but I hope you can get a taste of the creative fun I had!  So many things about this stretched me out of my comfort zone, and I loved it!  Hopefully it inspires you to move out of yours this week… and make a hot mess 🙂
Inky hugs,
Tara