Happy Tuesday!
(This is a Throwback Tuesday post, originally shared August 15, 2017)
Today I'm celebrating the beauty in simplicity… with a simple floral card and a fun technique with Distress Oxide Inks!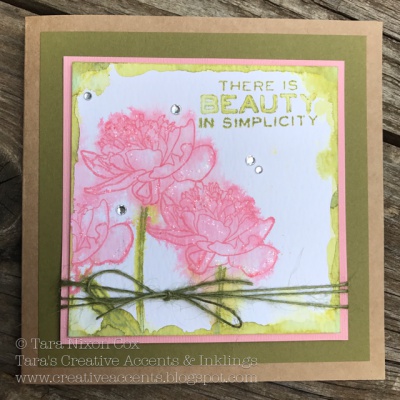 Today I used a floral stamp by Tim Holtz.  Both the image and the sentiment are from the Distress Crayons Watercolor Kit, which was a great way for me to get some of beautiful images I didn't have yet and try the Distress Crayons.  The technique I used would work with any open design image & Distress Oxide Inks.
I started with very simple stamping on Watercolor Cardstock.  These stamps have floral tops & stems separate, so it was easy to use two colors.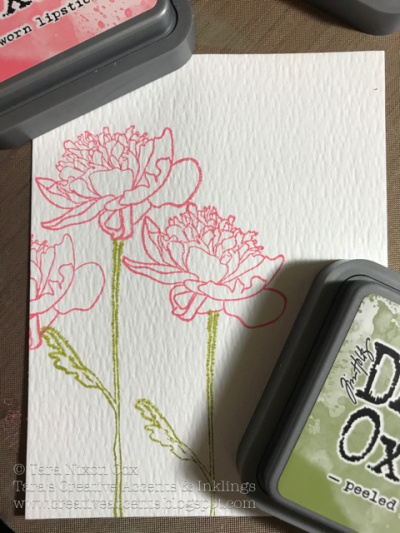 I then took my mister bottle of water and spritzed the images… got some beautiful wicking from these Oxide Inks!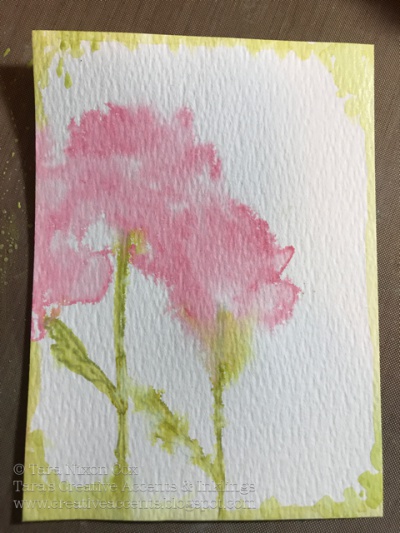 I did a bit of extra blending with a wet paint brush, adding some color around the edges of the card stock as well since it looked so pretty puddled there… I then heated it with my heat tool and re-stamped the images over the blurred background.   I decided to crop my image down to 4×4 so I could layer it onto a square card.  My inky edges were finished by rubbing some Peeled Paint Distress Oxide Ink on my Craft Sheet, spritzing it with water and dragging the paper through the puddles.  I love how the oxide inks sit on top of themselves with new layers, rather than combining together (since pink & green would make mud if they blended)!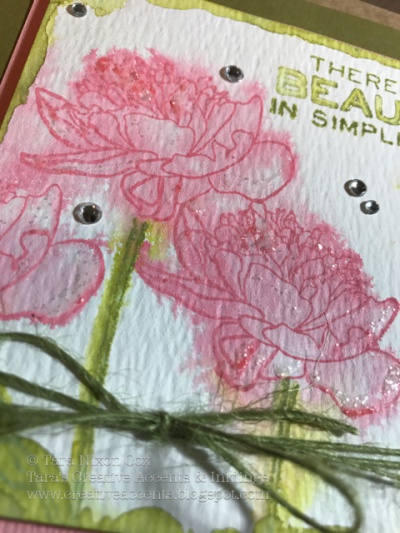 I took inspiration from the sentiment and kept things simple… a bit of twine, Stickles & bling finish it all off!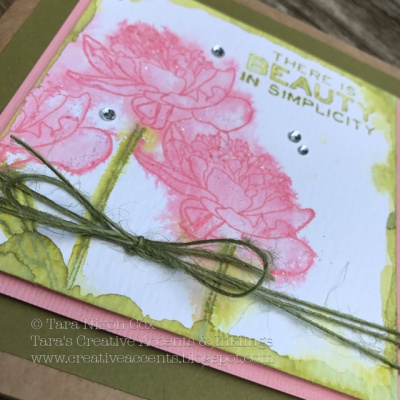 I really like the softness of the watercolor look with this flower- hope you do too!
Inky hugs,
Tara
 
Materials Used
Watercolor Cardstock
Tim Holtz stamps (mine are from the Distress Crayons Watercolor kit, but the same images are in the mini bouquet set)
Distress Oxide Ink in Peeled Paint& Worn Lipstick
Mister bottle
Non Stick Craft Sheet
Cardstock- kraft, olive green & pink
Bling & Twine
Rock Candy Distress Stickles (pretty sure these are discontinued… but I have a stash!)