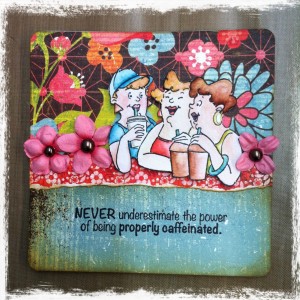 girlfriends… coffee… pumpkin spice latte season!  Happy Tuesday!
Sorry about the late post this week, hope y'all had a great long weekend (I worked most of it, which has thrown off my days-of-the-week radar!) and if you have Starbucks nearby, hope you've gotten a chance to enjoy some PSL!    This is a quick little card featuring a GIRLFRIENDS image by Art Impressions, which came with the sentiment 🙂  It's been coloured with Distress Markers and trimmed (removing the fourth lady whose skin tone was a bit… off.  ha) then layered on a card base which is layered with some double sided paper from my stash.  A few Prima flowers & pearls finish things off!
Have a great week… see you next Tuesday!
Inky hugs,
Tara