Hi Everyone!  My name is Nancy (I'll be Nancy E on the blog as there are two of us) and I am super excited to be joining to design team here at Scrap 'n Stamp!  I live in Calgary AB, am a Mom of two grown boys who still live at home and have been married to Bruce since 1991.  My Mom introduced me to stamping in 1996.  My Mom was the queen of crafts… she did everything from sewing to knitting to crocheting to needlepoint to ceramics to paper toile to beading to jewelry making…. I think she tried it all!  So when she told me about this new craft she had found, I admit I rolled my eyes and though "oh no, not another one".  She showed me heat embossing and I was hooked!  Over the years my style has changed and the amount of time I have to spend on my creativity has ebbed and flowed.  I am very fortunate that a turn of events in 2017/18 led me to find that my creative side was something I wanted to nurture regularly instead of once in a while and I have been creating like crazy since then.
My style is mostly clean and simple… and I hope you'll find a little inspiration from what I do that might challenge you a little in your creative space!
I don't often make Valentine's cards, but I thought that since my first post here was getting close to the big day that I would play a little with some heart shapes.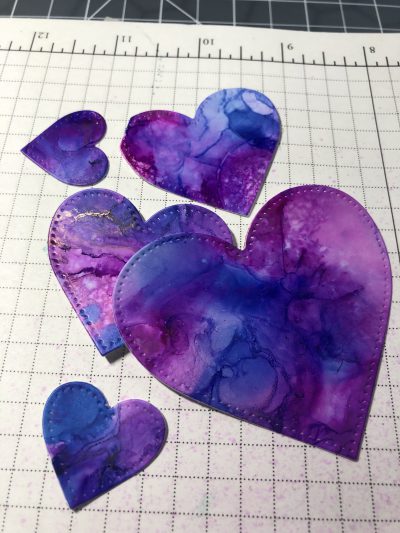 I started out with a piece of Yupo Paper and some Alcohol Inks in Sailboat Blue, Raspberry and Pink Sherbet.  I don't have a large stash of these inks so I used a couple of shades of red/pink and a blue so I could get some purple in there.  I spritzed and played around with colours, alcohol and my heat tool until I got a look I was happy with. I cut out some heart shapes (these are from My Favorite Things but you could use any dies or punches, or even free hand them if you're talented with scissors!) and then let it all sit for a little bit while I decided what I should do next.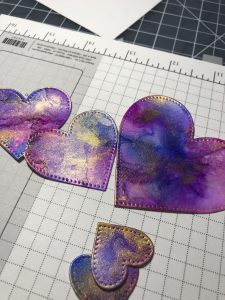 I didn't have any of the metallic mixatives to add, but I wanted these hearts to have some more dimension so I used my Versamark ink pad to create some stickiness on the hearts and then I lightly brushed on some gold Perfect Pearls and let them sit and dry while I went off to work.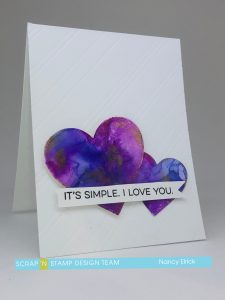 As you can see, I didn't use all of the hearts I had cut…  I added some random lines to my card front with my ScorPal and then finished it off with a My Favorite Things sentiment from Essential Sentiments stamped in black VersaFine ink.
I hope you'll find a little inspiration to make a valentine for someone you love this year!