Happy Tuesday!  I think I mentioned previously that I'm struggling a bit getting into Christmas card mode (but I'm aiming towards sharing as many as I can starting next week!)… So, when I pulled out this stencil I thought "candy cane stripes" and decided to give it a pink twist.  And then somehow I ended up abandoning that idea altogether and I paired it with some delicate skeleton leaves for a rather fall-ish card, with a feminine twist!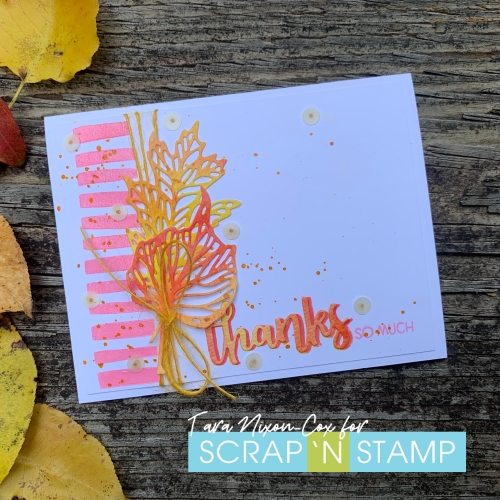 One of my favorite things about autumn is that my photo props for autumn cards can be found just laying around in the yard… I didn't find any pink or coral leaves (though I have seen them!) but there were plenty yellow, and enough red that I just had to sneak one in.   This card is inspired by our challenge word, PASTE and I used some clear embossing paste on the striped design over some Distress Ink.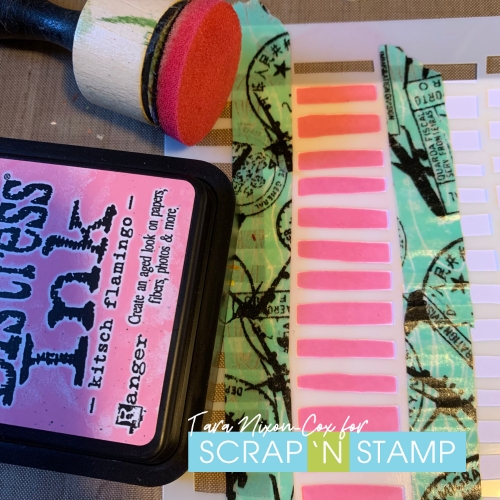 This stencil (another from the Vicki Boutin set I got) has rows of uneven stripes, which I love but I just wanted one along the edge for this card.  As you can see, I taped it off with washing tape and then inked through it.  I then swiped embossing paste over it before lifting the stencil to let it dry.   The gloss of the paste gives a nice sheen to it, similar to what you might get with clear embossing powder.
These skeleton leaves dies are some favorites of mine, and I couldn't resist cutting them from a watercolor background I'd made and discarded during another project- there was just enough left to cut these 2 leaves and the 'thanks' as well!
Die cutting the 'thanks' sentiment happened out of necessity… I really wanted to stamp it with an ombre using the same kitsch flamingo ink and a yellow, but after getting a blah blend and then overstamping in a darker color that I didn't line up quite right… yeah, I gave up and layered the die cut word over it to create a shadow effect.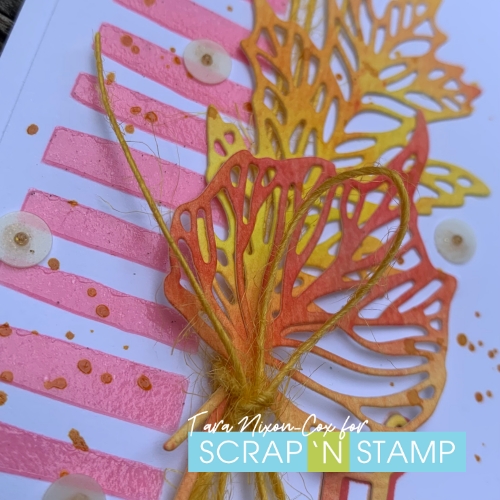 Since I was aiming for an ombre color scheme here, I splattered some orange gloss spray (Cheddar!) over the card and tied it all together with some yellow twine.  I used some gold glitter glue to attach my sequins for a bit of extra fun.
I hope this fall-ish card makes you smile today!  Thanks for stopping by!
Inky hugs,
Tara