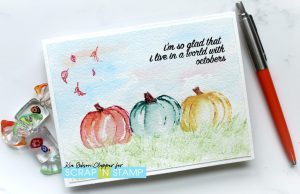 Hello to you all and happy October. This is my favourite time of year hands down. I just love the abundance of colour out my living room window.
I am also playing in the Scrap'n Stamp Random Acts of Cardness, and this is day 16, which is watercolour.
I thought I would share with you an easy way to achieve a watercolour look as well as a no line watercolour.
For my card I am using Picket Fence Studios A World of Octobers stamp set. I first did the centre pumpkin, where I painted the pumpkin with my watercolour using more pigment than water and stamp. I do not do the stem, just the body of the pumpkin. Using a #2 paint brush I then pull the colour from the stamped points to where I want the colour.
This stamp normally has a leaf bottom to it, but I did not transfer it as I wanted to do my own grass. I therefore extended my pumpkin with the watercolour.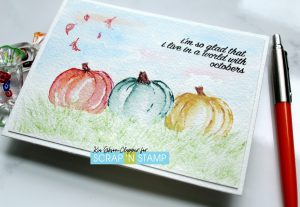 When doing this be sure you don't do the pumpkins all the same, you want each to be different, and you want white space, which will add reflection and give the stamp more dimension.
You do not need watercolours to do this. You can use your distress inks, just be sure to use more pigment than water. Ink up your image well to ensure you will have a good impression and just before stamping lightly spritz with water from higher up. Then pull out the ink with your damp paint brush remembering to leave white space.
I have a paint brush with different heights of hair that I use to do my grass. You can also use a small brush and do the sweeps, or a fan brush will work as well.
When doing the sky I added in two of the colours that I used on the left pumpkin, which was a transparent orange and pink. I then added some falling leaves from the set stamping with VersaFine Clair inks in glamorous and tulip red. I then stamped the sentiment using pinecone.
And to finish, I splattered with a mixture of water and ivory perfect pearls.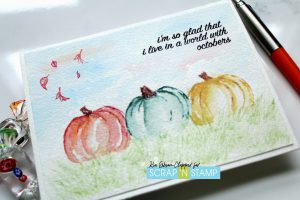 Following are links for a few of the products I have used for this card today. Of course you can do this technique with just about any image that gives a good start to watercolour.
Thank you for visiting today. I will see you next time.