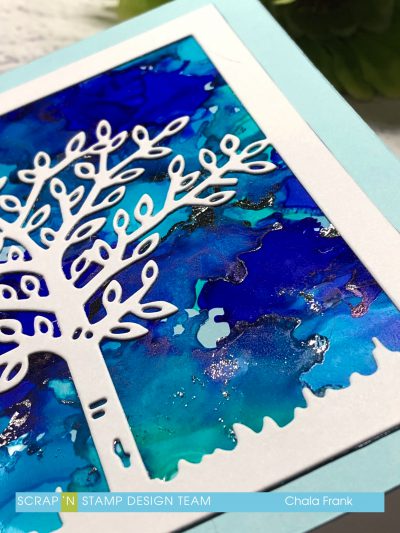 Hi Again, Chala here for today's blog!
I was looking around my craft area and realized I have a lot of craft supplies that I have not even used yet!  Something new will come out and I just HAVE to have it….but, sometimes the chaos of my life takes over and these supplies will sit for weeks, months and sadly even years before I get a chance to play with them.  That is how I feel about my alcohol inks.  I have used them a bit, but not nearly enough!  So, I decided to pull them out along with some acetate and a few stamps and dies that I have purchased but have not yet used.  Some of the dies have been sitting so long I don't even know how, when or where I got them from!  But I am glad I am using them now!
To start, I gather all of my alcohol inks.  The colours I currently have are Patina, Pool, Aquamarine, Amethyst, Coral and Flamingo.  (However, I have also seen the new Pearl Alcohol Inks and I think I might need to purchase some of those!!)  I also grab my Blending Solution and my Starbucks reusable straw to help mix the colours.
I have some acetate cut down to standard A2 size (5 1/2″ x 4 1/4″).  I start to drop colours onto the acetate.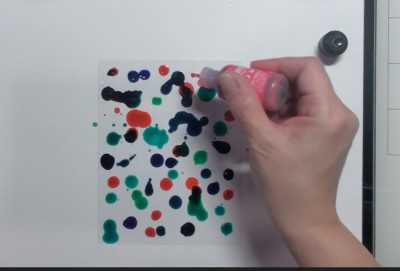 I then add some of the blending solution to help move the colours around. I will pick up the paper and move it back and forth to get things flowing.   I also grab the straw and blow air to help move the ink in particular areas  (To see how each background was created I suggest you watch the YouTube video). I add more of the alcohol inks and blending solution as I go along until I get the look I like. This is not something you can necessarily "teach".  I recommend you just play around until you get something that you like.  Each person will have their own preference of when to stop or keep going.  If you absolutely hate the result you can do one of two things.
1.  Set it aside!  Chances are once it dries you will like it.
2. You can use some rubbing alcohol and a paper towel and wipe it all off and start over!
 I suggest you try to set it aside first.  That is what I did with some of mine.  I will even show you in my YouTube video what I did with the ones that did not work out or I did not particularily like as a background.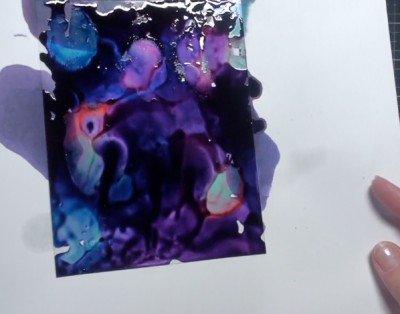 I will make a few backgrounds using different colour combinations and blowing techniques with the straw.  I will also add silver and gold deco foil to a couple of them before they dry completely to add a little shimmer and shine!  Here is a close up of one of those backgrounds.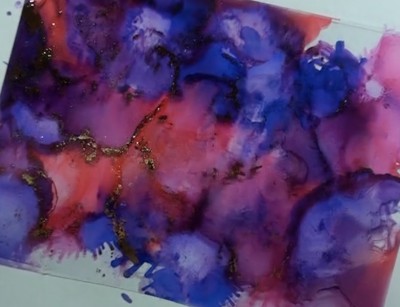 The picture just does not do it justice!  They turned out super cool!
From here there are SO many things you can do!  I begin trying out the Alcohol Lift Ink.  I tried using some detailed stamps and some with larger surface stamp areas.  I like to use the Tonic Stamp platform because you can turn the lid around to use with clear or cling rubber stamps.  I apply the Alcohol Lift Ink liberally onto the stamp, close the lid down onto the inked acetate and apply even pressure.  I then open the lid, slide out the acetate and re-stamp onto white cardstock.
Then I bring back the acetate and with a paper towel I dab up the excess alcohol ink and then buff the surface with a clean area of the towel.  The detailed stamp didn't give me the results I had hoped for on the acetate… but the stamp with larger surface area turned out well.  Here is how that one looks.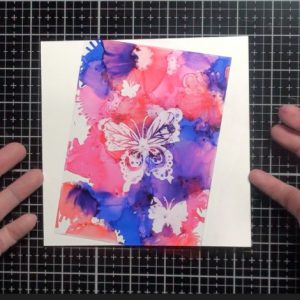 I encourage you to take a look at the stamps you have and play around!  I even tried using a stencil and  lifting the ink with a foam ink blender and the Alcohol Blending solution.
The possibilities are absolutely endless!
I was also able to put some of my unused die cuts to good use!  I created some trifold cards (a Jennifer McGuire technique) as well  as some window cards to give a stained glass feel!  Here is how those cards turned out.
This first one is with silver deco foil and a trifold card.  I used one of my "not so good" backgrounds to stamp a sentiment on the inside using the Alcohol Lift Ink.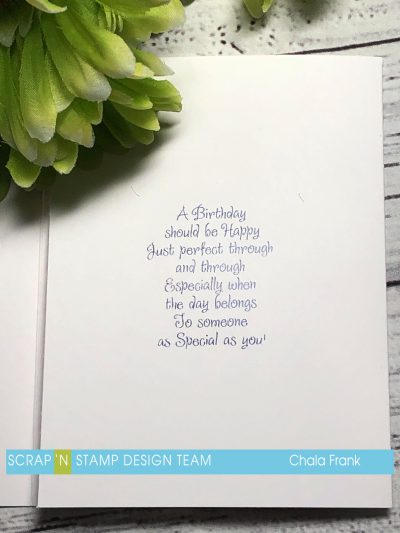 This second card I used the stencil background and a top folding A2 size card.  I sandwich the acetate between two pieces of cardstock so that when you lift the card it has a stained glass look/feel.  I left enough room at the bottom to adhere a die cut sentiment and this will also allow me a space to write on in the inside of the card and not be seen through the window.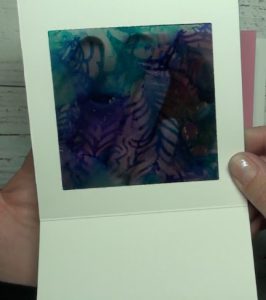 The last one I am using is another background with deco foil, this time in gold.  These colours reminded me of Easter….and I had a die cut that reminded me of a Ukrainian Easter Egg design.  So, I pulled out an oval die set I had, some gold foil cardstock and made a card that used the window card and trifold card ideas together.  Again, I sandwich the acetate and the gold cardstock between the card base and the card panel.  I heat embossed a sentiment with gold embossing powder on a banner and popped it up with foam tape.  Here is how the last card turned out.
I kept these cards simple, but if you like you can add embellishments such as sequins and pearls.
I will save the other backgrounds and stamping that I did to create cards at another time.
I encourage you to watch the video below as it gives greater detail on this technique and the assembly of the cards.
Thanks for stopping by for today's post!
Remember to check out all the amazing products and sales at the Scrap 'N Stamp site!
Happy Crafting!
~ Chala
Tags: Acetate, Alcohol Inks, backgrounds, deco foil, ps.iloveyou.bychala