Hello Everyone! It's Susan and I'm back at Scrap'n Stamp Canada sharing one of my favorite things to make.  A galaxy sky background. It looks awful while you're making it but then when you put that last color on it magically changes into a beautiful sky right in front of your eyes. This is a pic heavy post so as to be able to show you each step.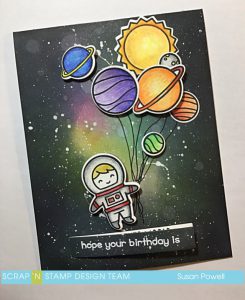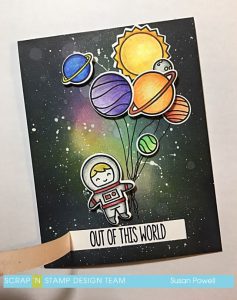 I started with Mustard Seed Distress ink and randomly added some sections of color. Another thing I love about this technique is that you don't have to worry about perfect blending – just get the color onto the paper. Next I added Picked Raspberry.
Then comes Dusty Concord, Cracked Pistachio is next. I bet you're wondering how is this going to be a galaxy sky? Don't worry, the next two steps is where the magic happens.
I added a layer of Chipped Sapphire over most of the paper but making it lighter in the center. Now it's starting to look like the sky.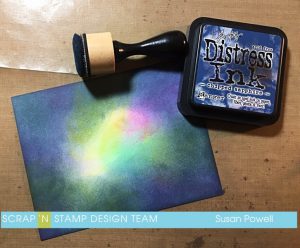 Now for the Black Soot. Add a layer all over the page, being heavier near the edges and lighter in the middle.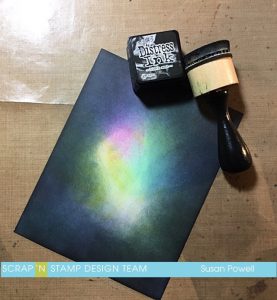 Voila, night sky. But we still need some stars. That's easy and fun too!
Squeeze a little white acrylic paint onto a craft block, add a couple spritzes of water and mix it up. For the first layer of stars I like to use a toothbrush. It's great for getting a lot of little stars. Just load up the toothbrush with ink and drag your finger along the bristles. That's it. In seconds you've got a sky full of stars.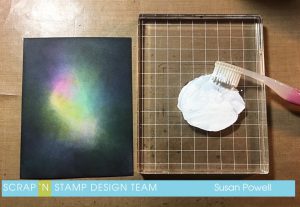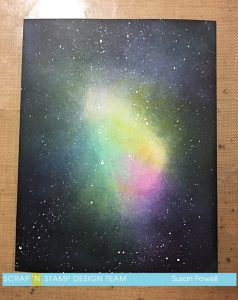 For some bigger starts I use a paint brush. Load it up with the watered down white paint and then knock the brush against my other hand. This gives me bigger stars.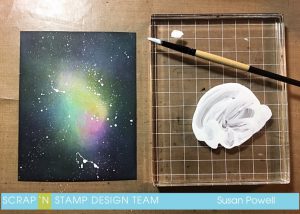 I also added a few droplets of water and then dabbed them with a paper towel. I should've done this step before the paint but it still worked.
I used the Interactive Rectangle Word Dies from My Favorite Things to do the sentiment. It cuts all but the left edge leaving a flap for the recipient to lift to see the rest of the sentiment. The sentiment on the top of the flap is stamped with versamark ink and then heat set with white embossing powder .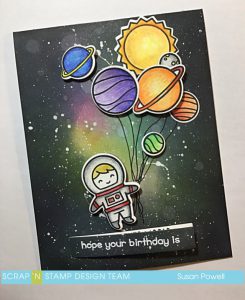 The sentiment underneath is stamped with black ink.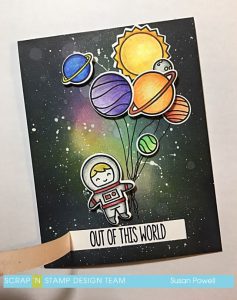 I used my Prismacolor pencil crayons to color in the space boy and all the planets from Lawn Fawn's Out of This World stamp set and the cut them all out with the coordinating dies I added some of them to the card panel with craft foam and some were adhered directly to the panel. The strings are drawn on with a thin black marker. I didn't show any of that because I just did simple coloring. If you'd like to see that done, leave me a message and I'll do a post on that for you.
I hope you're inspired to try this technique. If you don't have these exact colors or these inks, that's okay, just choose similar colors in whatever inks you have and give it a go. If you do try it and share it, please tag me as I'd love to see.
Happy Stampin'
and thanks so much for visiting!
Shopping list:
Click on the picture below to be taken to the store. These are affiliate links which means I will get a small commission if you purchase. There is no additional cost to you and helps with the running of my blog. I appreciate your support.
Tags: card, Cards, Design Team, distress ink, Lawn Fawn, MFT, ranger, Sizzix Tim Holtz