Happy Tuesday! Today I'm sharing an art journal spread I did while I was on vacation at the beach recently. I had packed a tote with my Dina Wakley paints & a few other supplies, along with my Media Journal, Scribble Sticks & some Collage Sayings, which ended up being a foundation for these pages.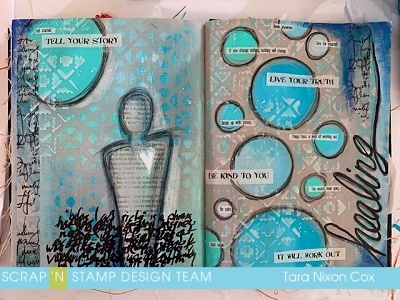 I was inspired by the many shades of blue when I looked at the ocean… it was stunning, so I chose to work almost completely with blues for these pages (I didn't have ALL the Dina Wakley blues… but I've since ordered the ones I was missing! LOL.) You'll see on these pages: Sky, Turquoise, Lapis & Night together with Elephant & Mineral). I also used some modeling paste I had packed (similar to this one by Ranger) Washi Tape & a Glue Stick. I neglected to pack gel/multi medium and white paint, so that challenged me a bit… but I managed to make it work.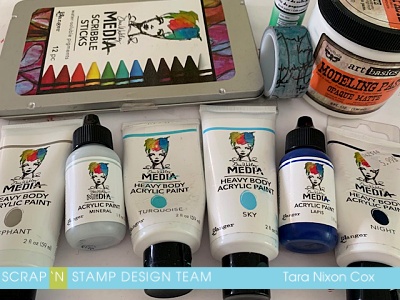 When I started I just knew I wanted to work with blues… so I just started to randomly apply blue paint to a page, overlapping and blending colors as I went. I had some stencils with me, so thought I would lift color off the background with a baby wipe afterwards (I had a mixed blue background, painted over it with elephant, then placed the stencil on top while it was still slightly wet and lifted color through the stencil with a baby wipe). I selected some sayings from the collage tissue and decided I would work with those on my pages, so placed them (not glued them!) on the first phase of my background before continuing on. Here's step one of the left page: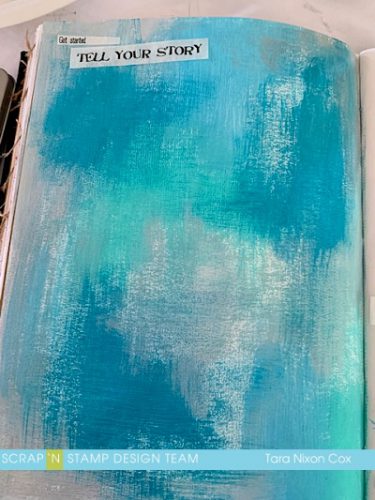 I decided to sketch out some rough circles for the facing page, filling them afterwards with different shades of blue. I then selected collage sentiments and sorted out a rough layout. I typically forget to snap progress photos when I work in my art journal (especially when it's been so long since I've done it, as was the case this time!) but I wanted to remember where each piece fit, so a quick photo on my phone was a great reference tool 🙂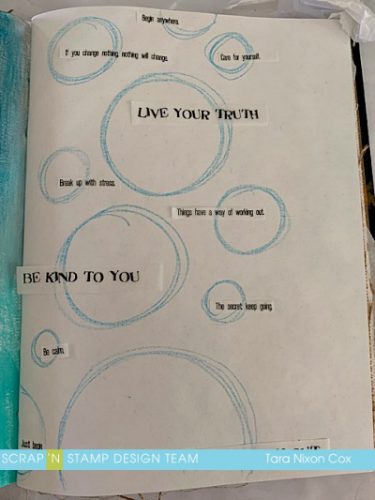 After filling in the circles, I painted around them with elephant to tie the pages together, then decided to add a circle to the left page to anchor the collage words I had chosen for that page. I added black outlines to my circles with a combination of Scribble Sticks and Stablio Water color pencil. I sketched my title 'healing' the same way, then went over it with a black alcohol marker to really make it pop. Details like washi tape and texture paste through the stencil were added to both pages.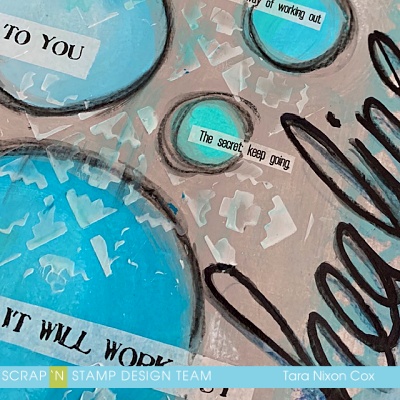 I also decided to try my hand at sketching out a loose figure similar to the ones Dina draws. Because I had no white paint, I cut some book print in roughly the same shape and glued it down inside my figure, adding some shading with Scribble Sticks.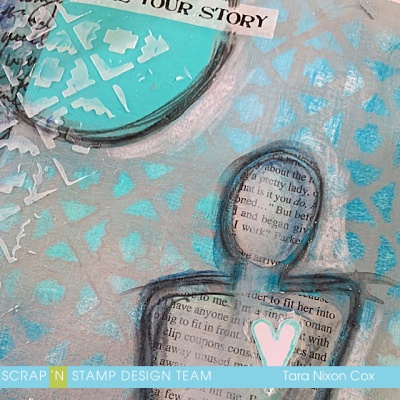 I finished with some 'scribbly journaling' which overlaps so it's more of a design element than being actually legible.  I only had a chisel tip marker with me, so I'm not thrilled with my writing… as Dina says, "done is better than perfect" so I made it work. For me it was just a bit of therapy text about my journey of healing so far, since I was recently diagnosed with an auto-immune disease. You can visit my personal blog to see a closer look at each individual page of this spread if you'd like!
Inky (& painty) hugs,
Tara
Tags: art journal, Dina Wakley, Paint, Tuesday with Tara