Its Nancy F on the blog today with this fun, dimensional, and very whimsical card featuring the Mushroom House die from Lawn Fawn and some distress oxide sprays. I hope you enjoy.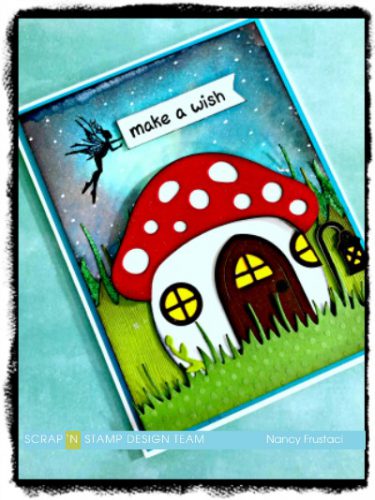 It's been hectic lately, and the worst time for my creativity to take a hike. But that's what it did till the very last second. Agg! Talk about working under pressure. As per usual I was working on the fly with no real plan until I started playing.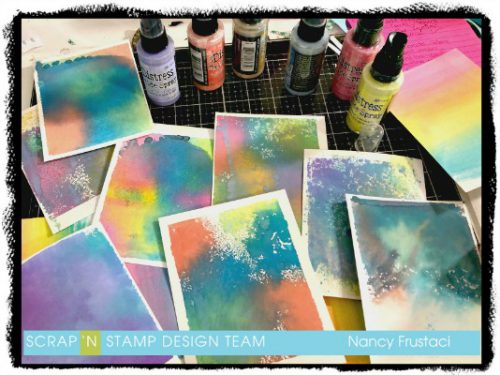 I had recently taken a class on distress oxide sprays where we made fun fairy cards with five awesome backgrounds, and well, I felt very inspired and wanted to play around more with the sprays. Sometimes it's just nice to get messy and have fun with no real plan in mind and that's what I did with these background panels.
I started redoing the techniques I had just learned with several colour combinations, and the one at the bottom right made me think of a night sky, and I knew right then and there what I wanted to do. That panel was a combination of abandon coral, twisted citron and peacock feather I believe. I sprayed it on to a big acrylic block and then squirted water all over it and placed my water-colour card on top of it. Let it sit for a few seconds then pulled it off to dry.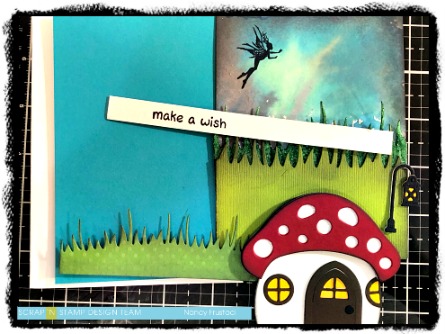 I set the background aside to dry and went on to figure out the rest of my card. I decided to use this ADORABLE mushroom house die from Lawn Fawn. I die cut all the elements multiple times from each of the coloured cards stocks, I cut out numerous roofs, bases, windows and door jams. All would eventually layer and be popped onto the little mushroom.
While I had been die cutting, I created some grass from a few shades of green cardstock using the Grassy Border dies and Into the Meadow border die. I really wanted it to feel like you were down in Fairy or Smurfland with this card.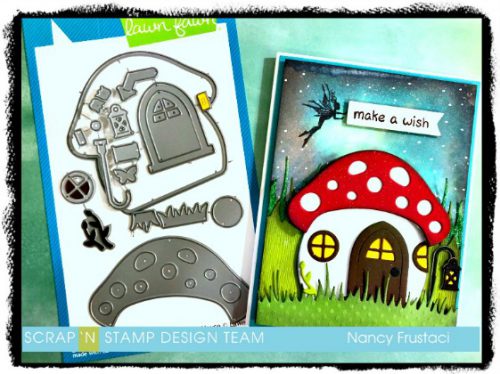 To bring the scene together, I ended the distressed panel with black soot, as well as the mushroom and all the elements, this really helped to give it a little dimension and shape. I also decided to distress the grass. This would give it some continuity, dimension and add to the illusion of nightfall.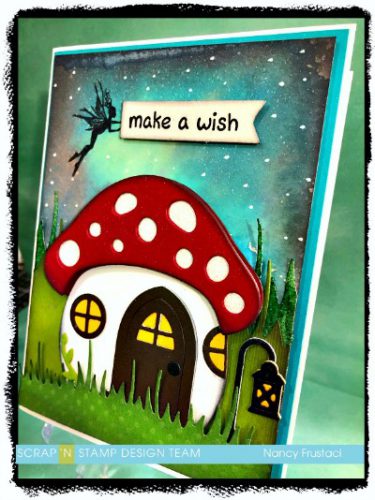 I set all the elements aside and created the card base, which is just a standard A2 – 5 1/2 x 4 1/4 . From there I trimmed down the inked background to 3 7/8 x 5 and then some peacock cardstock to slightly bigger to layer under the oxide background. I adhered two layers of the grass flat to the background as well as the mushroom house, I found it had enough dimension it didn't need more foam tape. The roof has numerous layers plus foam tape. Then I popped up the last portion of the grass in front of the little house. I thought it just finished it off nicely. I stamped a little fairy from a set I had in my stash, and the sentiment was from an old Lawn Fawn set I thought worked so nicely. I stamped it and cut a little banner and popped it up. Once that was finished I popped the whole panel onto some peacock cardstock then flat onto the base.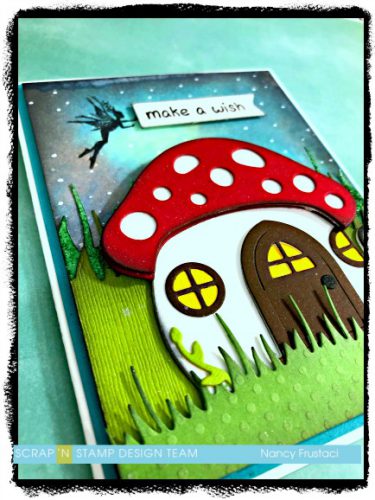 For some finishing touches I took a white sharpie paint pen and added some little stars to the background, let that dry and then took my Mini Mister filled with white Perfect Perls and spritzed the whole card. I felt it just needed that extra little sparkle.
I hope you enjoyed and found inspiration with my little card. I have linked to all the products below.
Have a wonderful week.
~Nancy