Hello and Happy Wednesday, Nancy F on the blog sharing a set of cards I created out of necessity due to a family member passing away not too long ago.
I am featuring the Crafters Companion Peony Trio 3D embossing folder, Tim Holtz Distress Oxide Sprays and Nuvo mouse along with some extras polishes from my stash.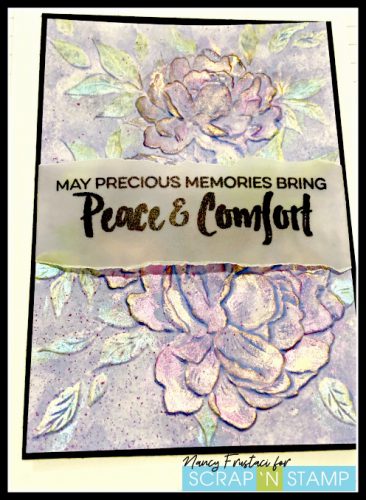 With all the cards I make over the year you would think I would have had something in my stash, but alas I did not and so I needed something quick and simple yet elegant and thus my cards were born. I hope you like and find some inspiration. 
How I came up with this design was really a "happy accident" as Bob Ross would say. I wanted to figure out a way to make the 3D image stand out and get my colouring done in a quick and simple way.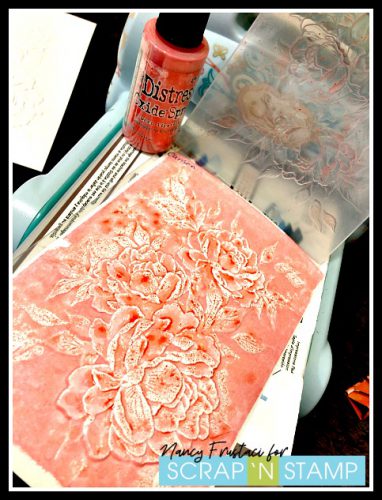 What better way to add color then with distress inks. Since I have been on an oxide spray kick as of late, I thought hey why not continue with the theme and try them with the embossing folder, so that's what I did.
I pulled out some cardstock from my stash in both black and white, and cut it down to fit in the embossing folder. I sprayed the folder directly with the oxide ink and then I ran it through and the end results were very cool.
Some I did just with the oxide spray and some of the panels I would add spritzes of water as well, just to see what kind of effect I would get. The look was so cool in fact that I went on to make about 20 or so different backgrounds with both oxide sprays and mica sprays. Stay tuned, as you will see these later in other blog post.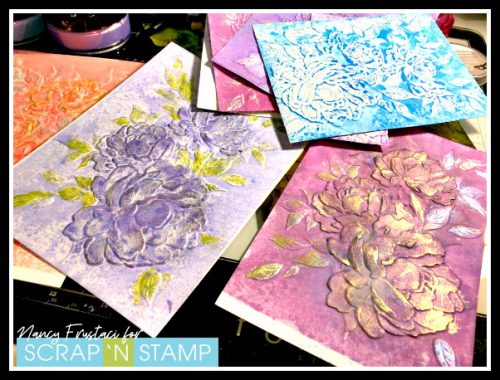 Once all my backgrounds were completely dry it was time to play around with different products from my stash that sadly aren't carried in the store but I have linked to something very similar.
I used Opal Gilding Polish, Nuvo Mouses, and Prima Mattalique waxes to bring out the flowers on the backgrounds. I applied all of this with just my fingers which allowed for more control over the different products. For finishing touches, I pulled out my trusty black soot distress ink and went over all the details gently just to bring out the flowers even more.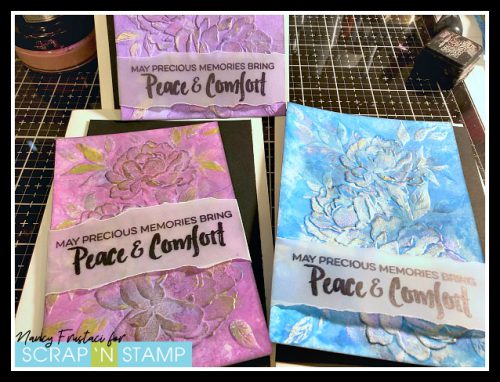 For the cards itself, each measured differently as I would trim them down to different sizes to make up for certain little blunders, so this time I won't be adding in the measurements. I do apologize.
The sentiment I decided to use was from the Deepest Sympathy set from My Favorite Things. I used Archival ink as I stamped them onto vellum. I heat set each of the sentiment strips with my heat tool so I would not smudge the ink. I have had issues with stamping on vellum as I am always in a rush and forget to heat set.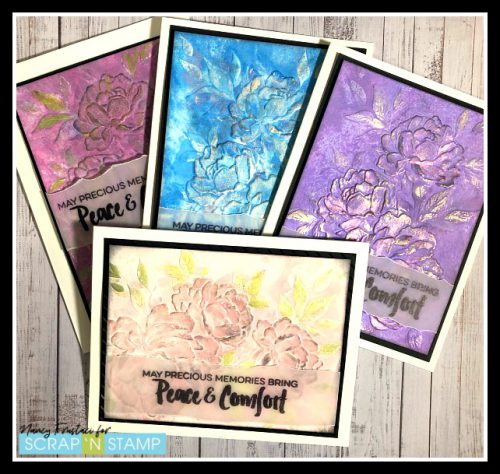 To assemble the cards I wrapped the vellum sentiments around the floral image, taping into place on the back. I then added fun foam to the back of the panel and adhered it onto the black layer, and flat onto the card. I kept it very simple this time around as I really wanted the focus on the main images.
I am sorry if this is a bit rushed, both kids are sick, whiny and clingy, which means this mama is on very little sleep and a lot of caffeine and crashing slowly. I hope you were inspired I really love this embossing folder and have some other fun cards in the works for you. Stay tuned,
Have a wonderful week
Nancy F

Tags: 3d Embossing folders, Cards, Distress Oxide Sprays, handmade cards, Scrap 'N Stamp