Hi Everyone. It's Susan and my card today was a lot of fun to make – if you like water coloring – if you don't then this may not be for you. I made one exactly like this a few years ago and I knew I wanted to make it again. It features the Berry Kissed stamp by Penny Black and the Zig Clean Color Real Brush Markers.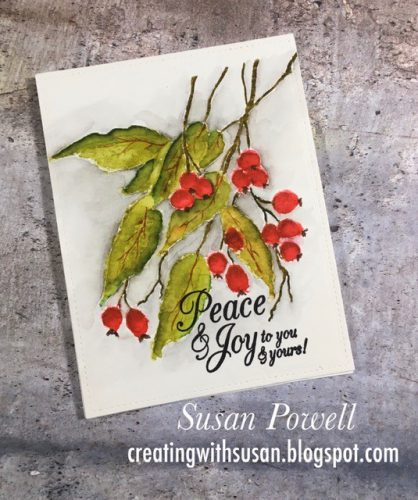 This is an easy technique to do but it does take some time. I made a video showing how I did it. It actually took me about 80 minutes to make this card but I can't share an 80 min video and no one wants to watch one so in order to fit it all in so you get the idea of the technique I had to really cut it back and speed through some things.
Basically, for the base layer of color I added ink directly to the stamp, stamped it onto the paper and then used my water brush to move the ink around. When that first layer was dry I would go back in with a darker shade of the first color to add ink to the areas that would be shaded. You could either do this the same way as the first layer or what I prefer is to add the ink directly to the panel where the shading would be and then using a water brush I would move the ink out.
To finish the card I did more of the same technique but this time with 2 shades of gray ink. I started with the lighter one and added ink to all of the edges of everything in the image. I used my water brush to pull the ink out. When this is dry I use a darker gray marker to do the same thing again but this time I don't pull the ink out as much as the first color. The gray background is my go-to for water color backgrounds.
This is really an easy technique. If you try this I'd love to see it.
Happy Stampin'
and thanks so much for visiting!
Shopping list:
Below are links to all the goodies I used, just click on the picture to be taken to where you can purchase the product. I use affiliate links whenever possible which means I earn a small commission at no additional cost to you. Thank you for your support – I truly appreciate it!