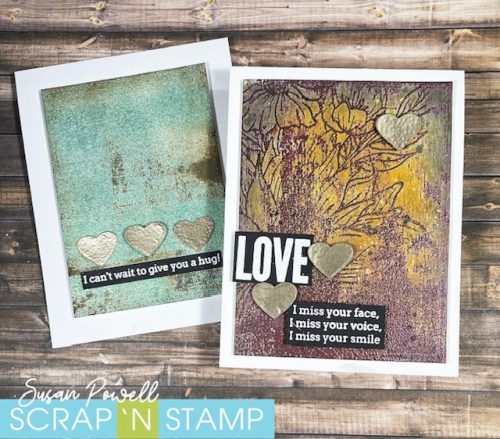 Hi Everyone! It's Susan here (a little late in the day but I made it) with a couple of cards featuring the Random Act of Cardness prompt for today. The prompt is EMBOSSING and I made two cards that are full of embossing.
When I started this card I had zero idea on what I would do. I video taped the process but don't worry, I won't make you sit through all my humming and hawing about what to do.
I have a filming tip for you. I film with my iphone and I learned that if my battery is low it will switch to recording in slow motion. Part way through the filming it did that and I ended up with 484 minutes of film. So, my tip is make sure your phone is fully charged when you start filming.
Click HERE to see the video.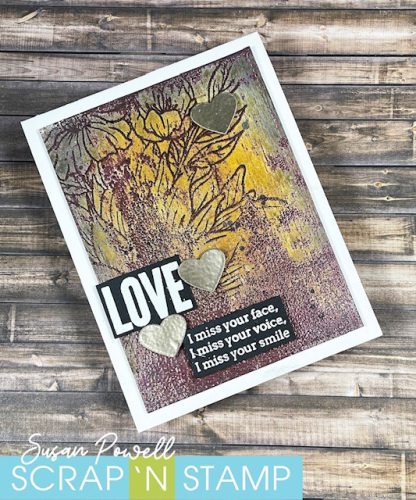 These were extremely fun to make. I forgot how much I like doing cards like this – a little mixed media and grungy looking.
This would be fun to do with bright colors too.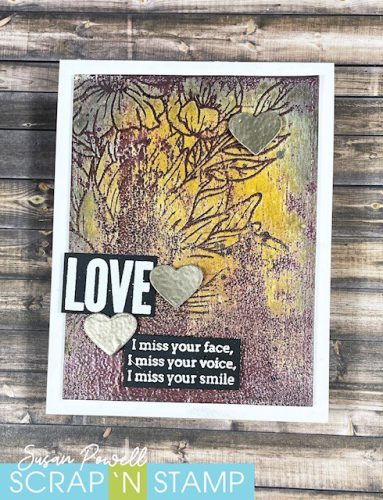 I have a bonus card for you.  I showed the embossed Sage background piece in the video but not how I put it together.   I used Walnut Stain Distress Ink and Iced Spruce Oxide ink to add some depth to the panel then cut it down with the 2nd largest die in the Lawn Fawn Large Stitched 4 Bar Rectangle Die Set. I added it to a card base with craft foam. This really helps to flatten the panel. I embossed a simple embossed sentiment using the Pinkfresh Miss Your Smile Stamp Set and a few of the embossed hearts I cut out in the video.
This one was much simpler so it came together much quicker.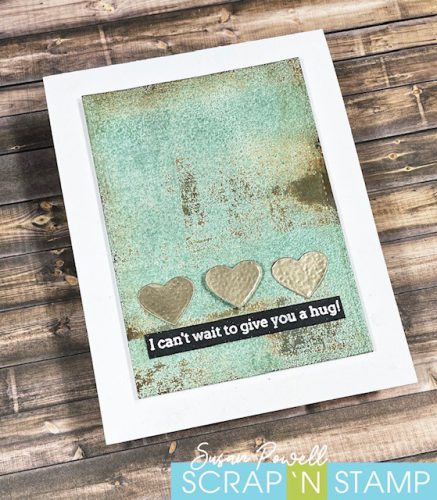 Happy Stampin'
and thanks so much for visiting!
Stay safe everyone!!
Susan
Shopping list:
Below are links to all the goodies I used, just click on the icon to be taken to where you can purchase the product.
If you use my affiliate links when shopping there is no additional cost to you, I want to say thank you and that I appreciate it and you very much.