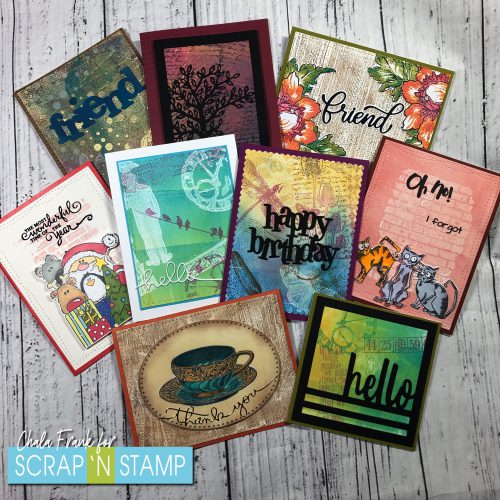 Happy Thanksgiving! Chala here and I am so excited that you are joining me today for this fun technique using the Gel Press and Distress Oxide inks.
I have run into some technical difficulties with my computer and the video and am very disappointed with it's outcome. In the meantime I will do my best to describe what I did to create these 9 (that's right 9!!) fabulous cards.
The Gel Press is new to me and I was excited to open it up! They come in several different size, however, I chose the 5″ x 7″ as I usually create A2 size cards. It is like a big blob of firm jello! I removed the two protector sheets and laid it down on my clean Tim Holtz Glass Media Mat which was perfect! Laying it on this mat made it so the gel plate would not move around.
I used a TON of stamps! Look around in your stash to pull out your unused gems and follow along!
I will admit I was a bit overwhelmed staring at this clean, clear blob of jelly. But, I dove right in and started smushing ink direct from the ink pad onto the surface of the gel plate. Right now you can purchase the first 36 Distress Oxides Ink colours at an incredible deal. Click here to check it out!
You can use swipes, swirls, or use your brayer or blending tool, etc. Just know that if you don't work your ink into the gel plate it will stay that shape.
What I mean by this is, if you simply stamp down the square ink pad you will get that exact shape when you press down your paper. I think I will be using the gel plate a lot to create mirror images of certain stamps.
After I smooshed the ink onto the plate I used my brayer to move the ink around. I wanted to get a smooth transition between the colours. Don't waste the ink on the brayer! Grab another piece of cardstock and brayer the leftover ink onto it to create another background!
Grab the stamp set you want to use and stamp the image carefully onto the gel press. I used acrylic blocks to help with this process. Then stamp that image onto another background. What we are basically doing is layering images and colours to create one of a kind backgrounds.
Once I stamped the amount of images I wanted onto my gel plate I grabbed a blank piece of cards stock and laid it on top of the gel plate and gently pressed down. I tried several techniques from rubbing my fingers on the back to using the brayer to help transfer the ink. My favourite technique was grabbing an acrylic block and dragging the edge along the back. This seemed to give me the best transfer results.
When you pull up the piece of cardstock you will notice you get a negative image of the stamps you used. So, some of the stamps that had words on them actually appear backwards on my gel pressed piece. I don't mind this, but you might want to keep that in mind when you are choosing your stamps.
I repeated this process using a variety of stamps and using both Neenah White Classic Crest cardstock as well as Canson Watercolour paper. Each paper gave me a different look.
I noted some stamps worked better than others. My favourite was the Concord & 9th Barnwood Background. The textured look was amazing. If I didn't like how something turned out I just continued layer on colours and stamps until it worked out. Even the pieces that I cleaned my brayer off on created interesting results. I didn't let anything go to waste. Using a piece of cardstock that I also pulled up any residual ink after my first presses.
I didn't get to use all the backgrounds I made but I can save them for another project. The ones that I am not "In Love" with I can use to die cut sentiment from our cut them down into strips to create a different look.
The great thing about the gel press was that it was so easy to clean! After I pulled up all the ink I simply swiped a microfibre cloth over top. I double checked how clean it was with a baby wipe and was surprised that there was little to no ink left over.
You can use a variety of mediums with the gel press including acrylic paint. Many people don't even clean their gel press as they like the unique images they get by continuing to layer the paints or inks and like that each "pull" gives a new surprise.
I am not that person…I like my materials clean. LOL! Maybe over time I will give up this control…but not today my friend!
I highly recommend adding the gel press to your arsenal of craft tools! I was able to create many backgrounds in short order which I love!
Here is a look at all the cards I created.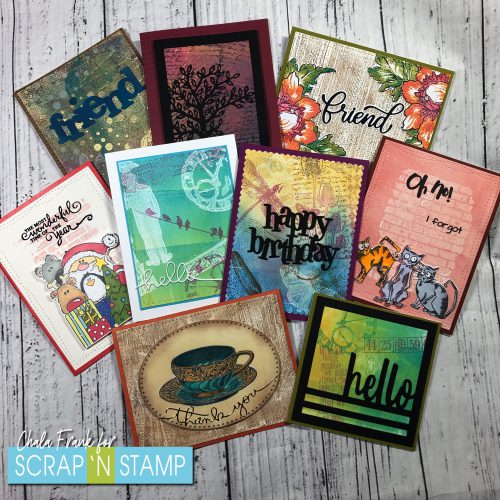 Head over to my personal blog by clicking here to see individual photos of each card.
After much deliberation I have decided to share the video even though the quality is not the greatest. For that I apologize. However, after putting in that much work I did want you to have the opportunity to be able to see how easy this process is. If you can stick it out you can see all the cards at the end!
I am so thankful that you shared your time with me today and I look forward to be able to share with you again soon!
~Chala
Tags: Distress Oxide Inks