Hello lovelies, I am back today to share a set of custom cards I created for a client, using the Concord and 9th City stack stamp and die set. I have been very fortunate to do some work for real estate agents and even customized a sentiment for one, hence the Home Aversary. It's such an honor to know my cards are out there in the world.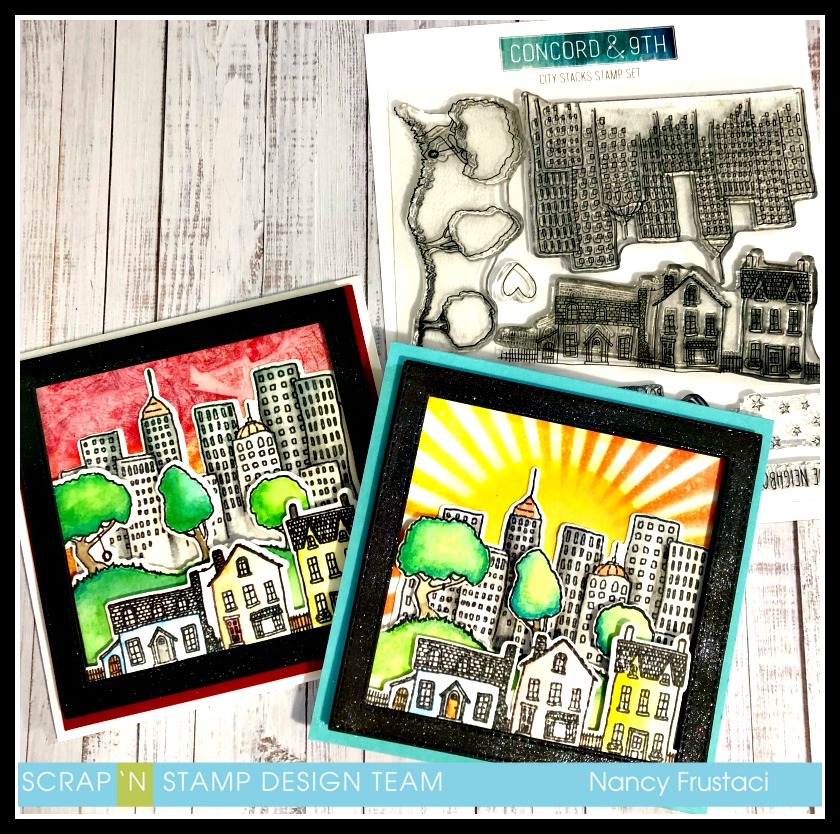 When Concord and 9th released the city stack set I knew this would be coming home with me at some point. I think there are just so many fun ways to use these stamps and dies. Here is my take, I hope you enjoy.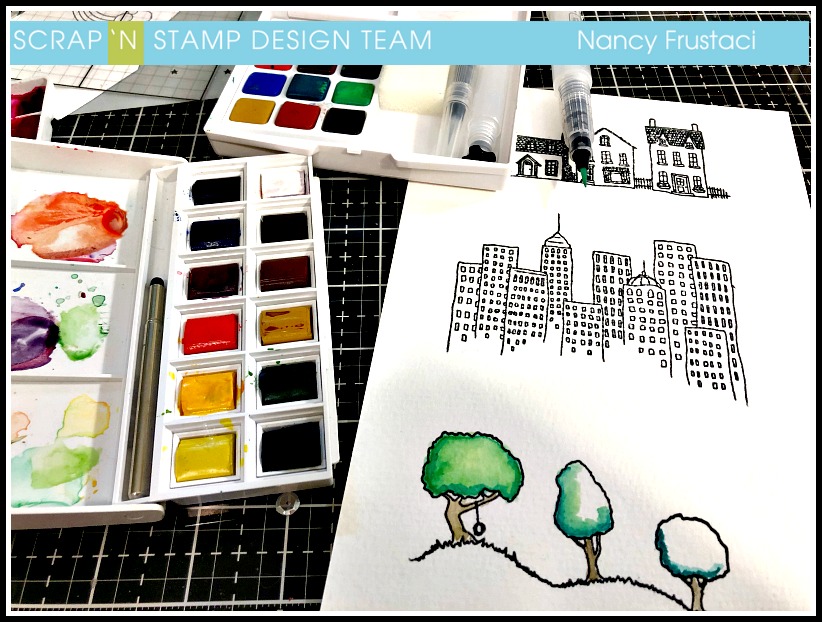 I started out by stamping the images out on to watercolor paper using Versa Clair Nocturn ink and then heat setting it with some clear embossing powder. I love doing this when I am going to paint as it helps contain the paint a little more and allows for a better result, at least for myself as I am no pro when it comes to painting.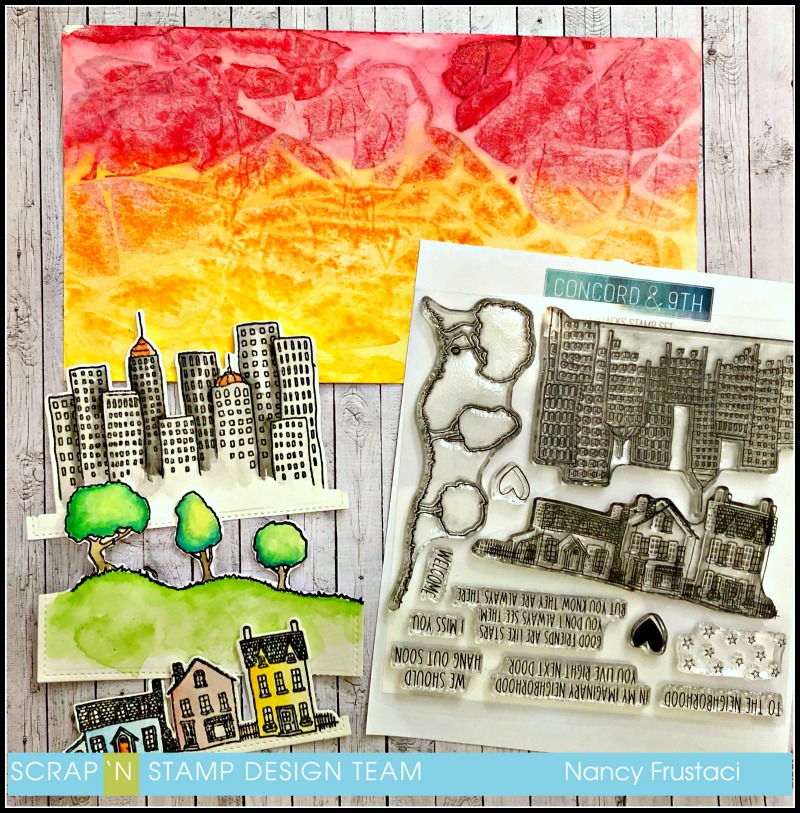 So I made a vow to myself that I wasn't going to create any more backgrounds until I finally used up a lot of the previously made ones. So to stick to this I rummaged around my stash and found two I liked, one was created with Gansi Tambi watercolours and some plastic wrap. This was a Jennifer McGuire technique, and as usual with her fabulous techniques you can't just stop at one or two backgrounds. I made probably 6 or 7 and I have finally used the last one up for this card.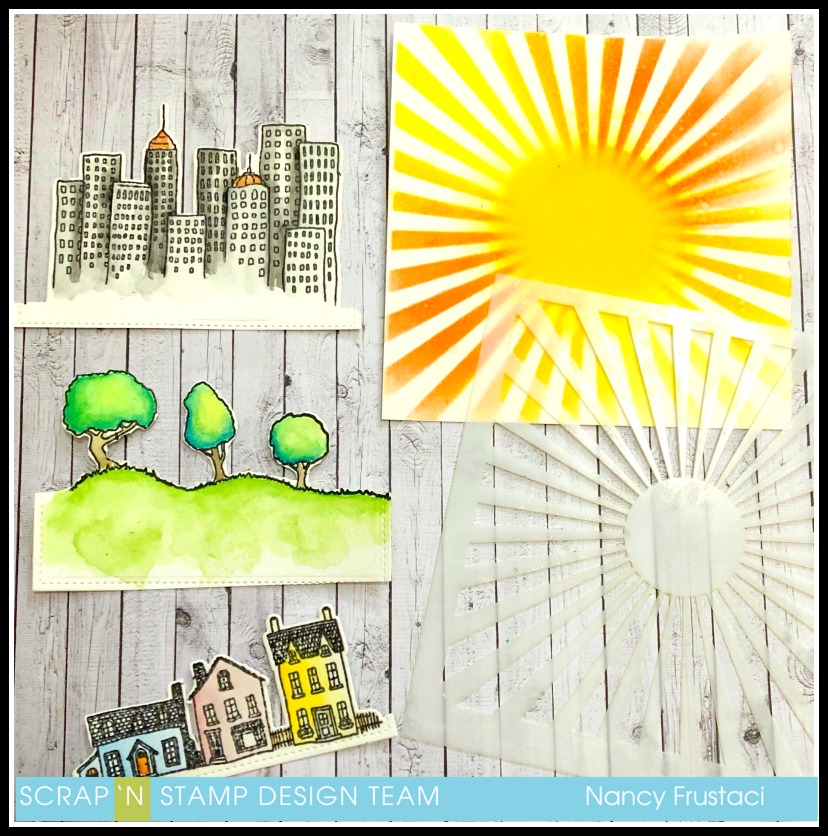 The second background I used was the sunshine. I created it with the My Favourite Things Sunbeam stencil and some distress oxides. It was a bit flubbed up but you know what, I just rolled with it, and I think it looked really cool in the end.
Once I had the backgrounds I thought would work and all the painting was dry it was time to move on to the die cutting. I used the coordinating dies to the City Stack stamp set to die cut the houses, trees, and buildings. I decided I wanted to make square cards, so I took the largest of the Lawn Fawn stitched square dies to cut out the backgrounds, as well as the scenic portions of the card. I wanted to make sure everything was the same size when I went to adhere it together. I also die cut 6 black frames out of heavyweight cardstock. I needed something sturdy to hold all the layers together.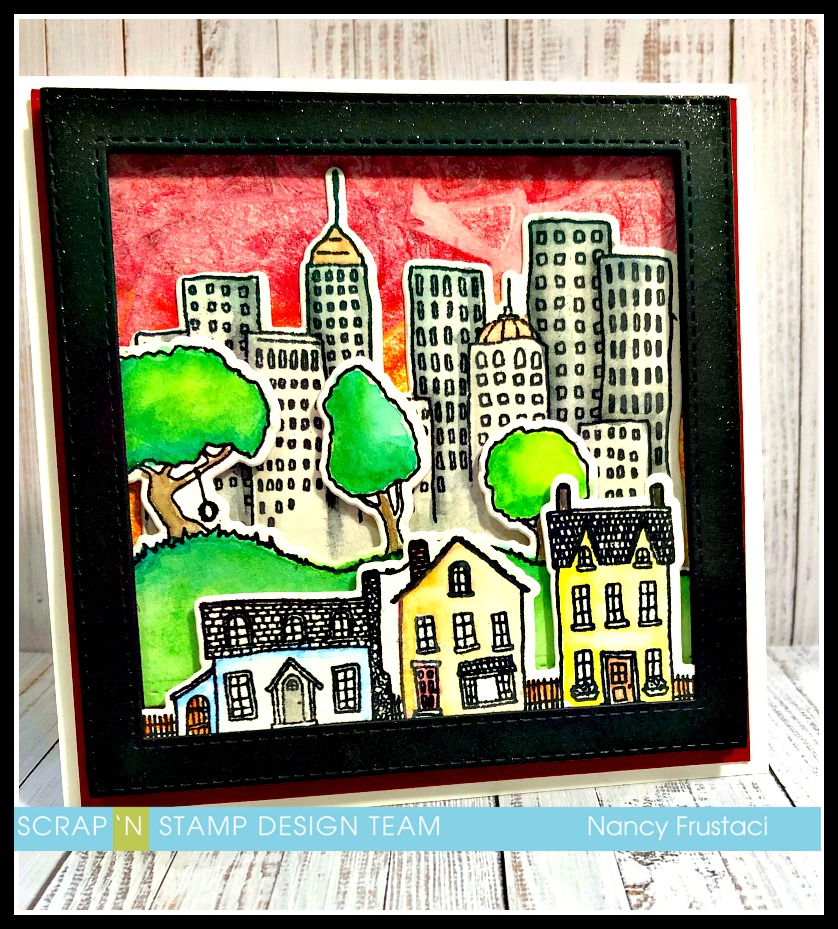 I created my own cards bases from Lawn Fawn peacock and white card stock. The bases measure 5×5, the backgrounds measure 4 1/2 x 4 1/2 as do the frames. I glued the background down flat to the card base, then added the buildings flat to the background. From there I had to be strategic and make sure I watched where I was placing everything so I didn't have portions of the die cut showing through. I used the two frames to glue on the trees adding foam tape behind and around the frame, I repeated that with the houses. I added some Tonic Aqua Shimmer on to the black frame which really made it all pop.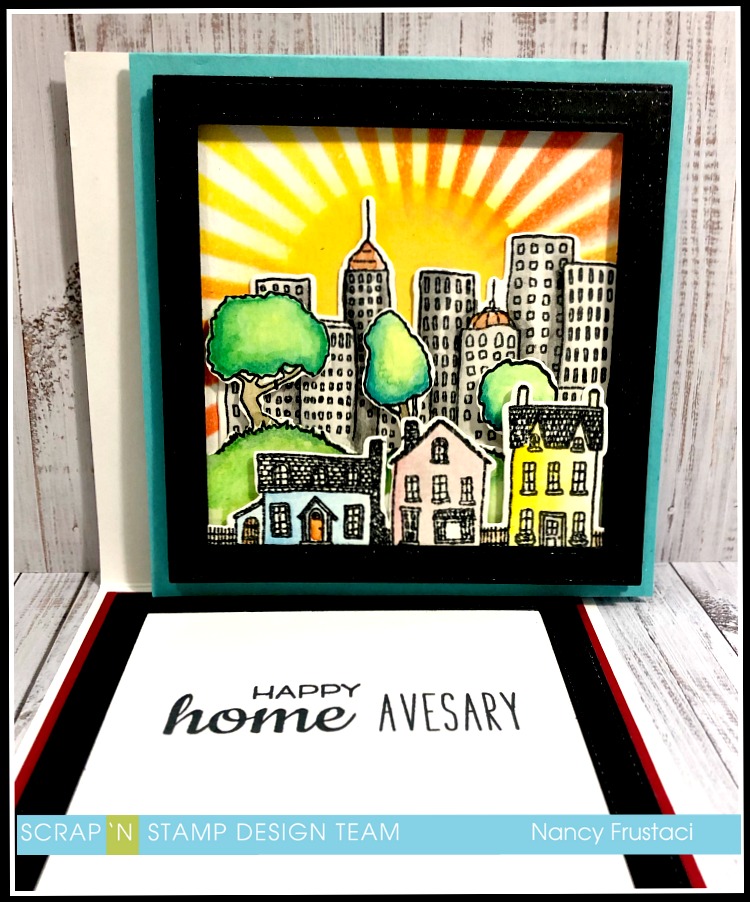 For the inside portion of the card, I created my own sentiment with some older Lawn Fawn Letters stamps and the Happy Happy Happy set. I initially had cut apart the anniversary sentiment from that exact set but sadly I lost part of the word, eek. So I had to create something else. And as I am editing this now I realize I forgot one of the R's in AVERSARY. F***** !!! Oh well, at least I've only made two so far.
I really had fun with this set of cards and have an order for 6 more, so I will be busy painting and cutting and stamping for the next little while.
Have a wonderful and crafty filled weekend.