January 1, 2012
Congratulations to our December 2011 Sketch Challenge winner!
NanaConnie
Please use this form to contact me and put December Sketch Challenge winner in the subject line so that I can send your $10 Scrap 'n Stamp Gift Certificate to you.
A big thank you goes out to everyone that participated.
Kate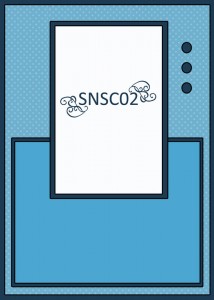 Hi everyone! I'm back again with another Sketch Challenge. I know it's a really busy time of year but I hope you get a few minutes to get out some of your things and play. We have some awesome prizes to give away and it's really easy to enter (see all the details below).
The inspiration for this sketch came from a card that a friend made for me. I loved the layout and thought it was so versatile that I asked if she would mind if I used her design for our next Sketch Challenge and she said 'No problem!' So here is my take on this sketch…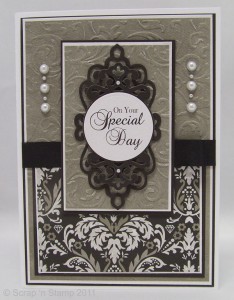 Since I needed a card for an upcoming anniversary I thought I would use the beautiful damask paper and coordinates in the After Five Paper Kit. They layered together very easily and the only extra texture I added was on the grey with the Crafts Too Scrollworks embossing folder. The design is subtle but it mimics the shape of the damask pattern so I thought it worked well.  The die cuts were all done with Spellbinders (S5-030 Fancy Tags Two, S5-034 Parisian Accents and Standard Circles) and everything that I used was in the paper kit including the ribbon and pearls. It made it so easy to put this card together.
And here's a seasonal take on this sketch that Kim made with the new Sizzix Holly & Berries die (657363) and papers from the 25 Days of Christmas paper pad. Just a few changes and you get a totally different look.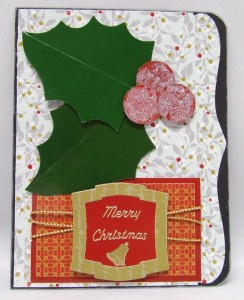 Okay…now it's your turn to show us your stuff. Have fun! We can't wait to see what you create.
Just a few things to keep in mind as you play…
Everyone can PLAY! And anyone can WIN! Create a card or other paper crafted project using the sketch as your inspiration. You can use the sketch in any way you want. Feel free to flip, rotate, change or replace the shapes in any way you want but the general layout of your finished project needs to be recognizable as the sketch.
PRIZE: Each month Scrap 'n Stamp will be do a random draw for a $10 Scrap 'n Stamp Gift Certificate. The draw will take place the first day of the following month. Your name will be entered once for each card that you upload to that month's Sketch Challenge Gallery and you can earn additional entries by sharing a direct link to your creation on your personal blog (put the link in the File Description when you are uploading your picture to the Gallery. The link must go directly to the post with your creation in it and not just to your blog in general) or by listing the products that you used that you have purchased at Scrap 'n Stamp (list the products you used in the File Description when uploading your picture to the Gallery). You don't have to use products that you got from us but we sure love it when you do and this is an easy way to get more chances to win.
The name of the winner will be posted on the blog the first day of the following month and must contact  us as directed so that we can arrange for them to receive their prize. We will also update the sketch challenge post for that month with the winner's name.
You have until midnight (PST), the last day of each month to upload your picture to that month's Sketch Challenge Gallery and put a comment on the sketch challenge post for that month to qualify for the prize draw. Please make sure you put your name or username in the File Title when you upload your picture to the Gallery so that we know who is participating and can enter you in the draw.
You can upload as many pictures as you want. The more pics you share the more chances you have to win!
Please make sure that you read and follow the step-by-step instructions (below) for uploading to the gallery. IMPORTANT: The first time that you participate you will need to Register to use the gallery. This is completely separate from your registration on our website and will allow you to upload pictures to the Sketch Challenge Galleries, add comments and ratings.
Click here for Instructions on How to Upload Pictures to the Scrap 'n Stamp Sketch Challenge Gallery