Hi Everyone. It's Susan and I'm sharing some simple yet very effective ways to add color and depth to your cards when you don't like to color. Not everyone likes to sit down and spend a couple of hours or more on a card. Even those of us that do don't always want to – sometimes you want to make a quick and simple card but you want some of the depth that you can get when you color a card.
For my first card I stamped an image that I would normally get my pencil crayons out and color. This time I reached for some colored cardstock instead. I cut 5 different colors into 1 x 4 1/4″ strips. I pulled out my Distress Oxide inks and found colors that were similar but a darker version of the paper. (All the supplies I used are listed below for you)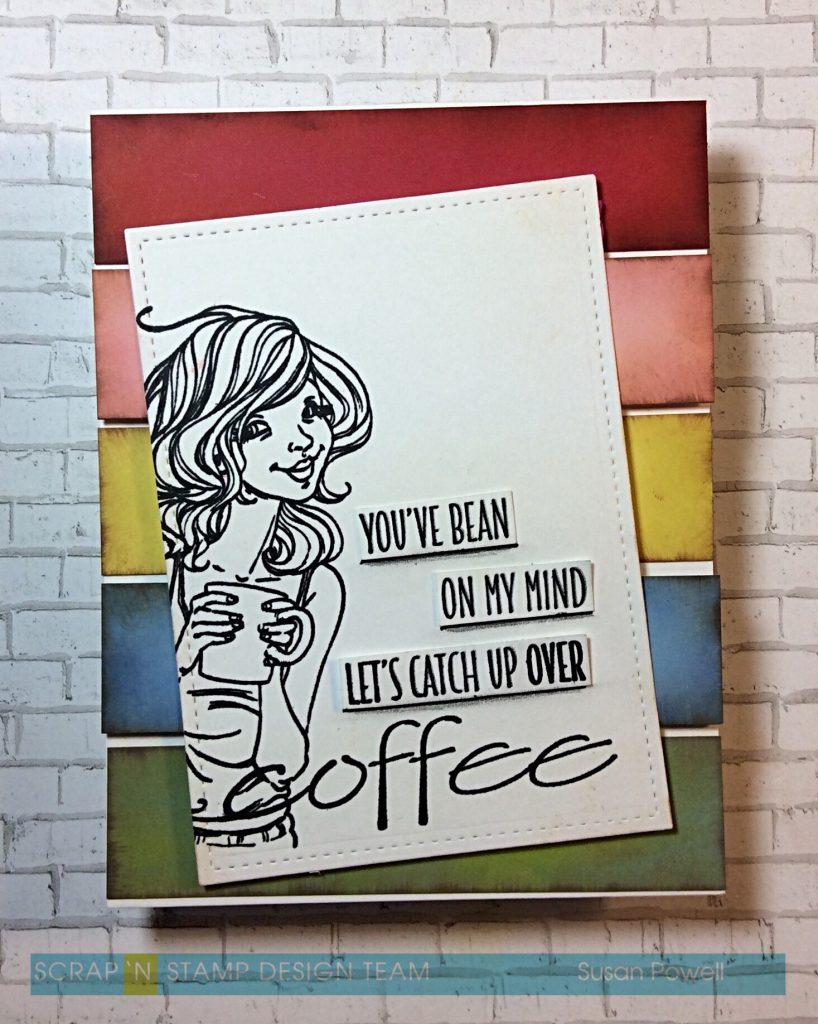 I used a Life Changing Blender Brush to add some color around the edges leaving the original color of the cardstock in the middle. For a little more depth I went around just the outer most edges with some Vintage Photo Distress ink – this darker edge is what really gives the cardstock some depth.
I added 3 of the strips directly to the card base and 2 of them were added with craft foam for some dimension. I kept the stamped panel void of color so the background didn't have any competition. I stamped the 'coffee' directly onto the panel and the rest of the sentiment was stamped on scrap cardstock and cut into strips. To give the strips some depth I used a gray pencil crayon to add some shadow – lightly scribble on some pencil and then use your finger to smudge it – this is the easiest way to create shadow and it works every time! For some additional depth I used a Copic multi liner to draw a line right under the sentiment strip. This helps to give it some dimension.
For the next card I die cut the word Cheers from 3 different pieces of cardstock and blended on some Distress Oxide ink in a darker version of the cardstock to the bottom half of the word.
After adhering the words to the card panel I used a Copic multi liner to outline each word and then with a gray pencil crayon I added a bit of shading to the top of each word. The picture doesn't show it that well but in real life it makes the letters look very 3D. A simple 'For You' added to the bottom of the card panel and I've got myself a '3 Cheers For You' sentiment. I used the same inks and stamped some blocks down the side and the black dots are just for fun.
So, if you're not someone who likes to color in the images that's okay, there's always another way to add color to a card.
Thanks so much for visiting!
Shopping list: