Happy Saturday AND Happy First Day of Summer! I'm not sure where you live but if you are in Manitoba, it definitely has not felt very summery. Or Springy, for that matter! It is currently 7C here right now (it's about 10:30pm) and we've had the heat on in the house. In fact, we haven't yet turned it off for the season :(. I really hope for some improvement soon!
Anyway, today's card is a slimline card which measures 8.5 X 3.5 inches and fits nicely into a regular business envelope. It's also going to be a graduation card for my niece who is graduating tomorrow! They've put together a very interesting "drive-in" grad with social distancing rules in place. I'm interested yet can't help but feel sad at the same time. These kids have been dealt a crappy hand this year. But they will no doubt make the best of things!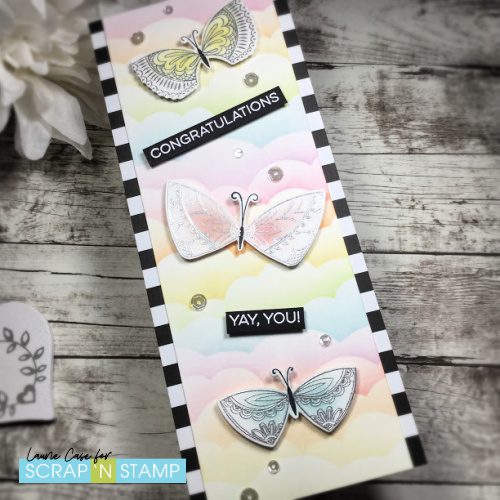 What's really awesome about making this card size is that after you trim your 8.5X 11 piece of cardstock to make this card, you're left with a piece that makes a great layer. I trimmed half an inch off this strip. This left a nice space to add some patterned paper. This particular paper came from my stash. I've had it for years and think I got it at Micheals.
On the layer, I used the Cloud Stencil from MFT along with a rainbow of Gina K inks! I worked my way down the panel which resulted in this super pretty background. The butterflies come from the newer stamp set, Brilliant Butterflies, also from MFT.  I used this set in a different way. It is a stamp layering set but I only used the detail layer along with silver embossing powder. I did use the co-ordinating dies but just trimmed the excess off.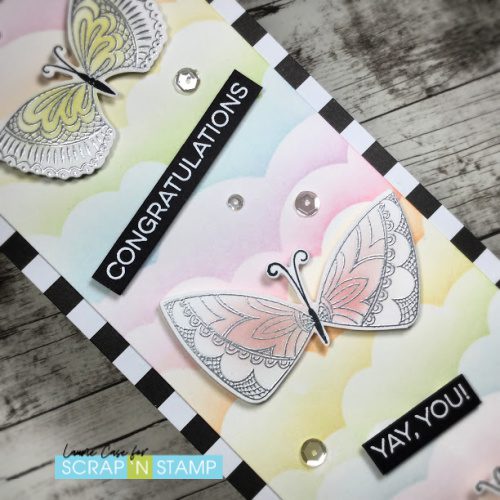 Not using the solid layering stamps resulted in a much "lighter" butterfly. I didn't want them to overtake or compete with the background. I did add a little bit of colour to the centres of each butterfly.  I foam mounted each butterfly. The sentiment comes from the a set called Essential Sentiments (MFT) which unfortunately isn't available in the shop…so sorry!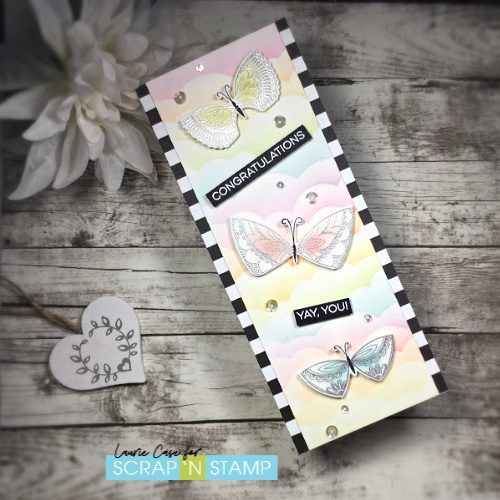 I white embossed the sentiments onto strips of black cardstock and used foam adhesive to adhere them. I added a spattering of sequins to finish the card off!
Thanks for stopping by today. I hope you're first day of summer is spectacular!
See you soon!
Laurie
Tags: Brilliant Butterflies Stamp Set, DT Laurie, Heat Embossing, MFT Stencils, slimline card