Happy Tuesday! Today I'm sharing a couple simple cards that once again feature the Hello Lovely stamp set by Concord & 9th and another simple watercolor technique. Mine is a variation of the technique Nancy E. used in our blog hop, so be sure to check hers out for some great tips!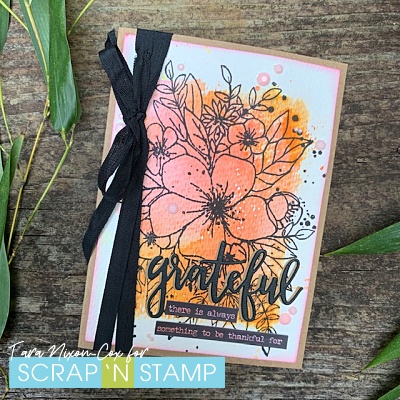 Watercolour Technique
When I did my cards for the blog hop, I used an acrylic block as my palette, applying Distress Inks to the block and picking up the colour with a water brush. Instead of cleaning off my block with a cloth, I misted it with water and 'stamped' it onto a piece of watercolor cardstock. The shades of orange/coral on my block made such a pretty print, I knew it would make a great base for another card! I did add a bit more colour to fill in one of the corners, but otherwise loved the rough rectangle it created.
Details
I decided to keep everything else pretty simple… a black ribbon, die cut word and some bling. I inked the letters of some small talk stickers in the same colors as the background for a softer look. A kraft layer of the grateful' die cut adds a bit of subtle dimension and ties it together with the card base.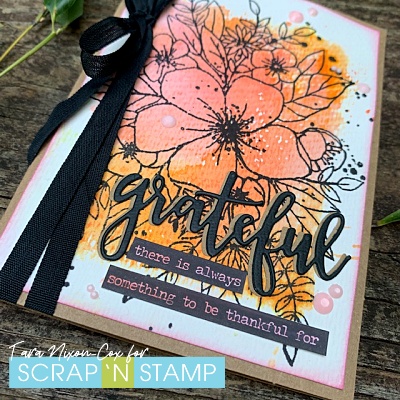 Abstract Watercolour
My second card used an even more abstract background that covers almost the entire panel, rather than a block of color. I literally just used the watercolor paper to clean off my acrylic block after painting with the Distress Ink on it. There was not as much ink left on my block, so I stamped off multiple times to cover the panel. I started with just the yellows and oranges, then added the greens from another block to get this pretty mix of colours!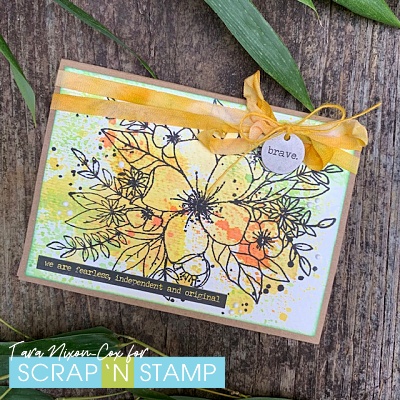 Details
Yellow crinkle ribbon (which I had dyed previously), a word charm and another Small Talk sticker are the little details that finish off this card.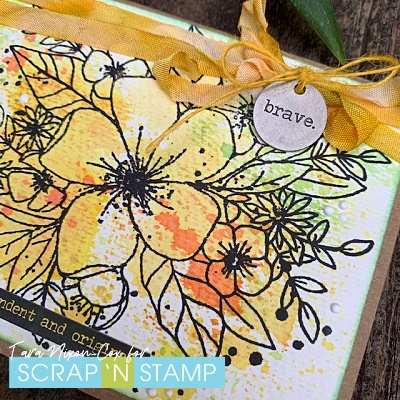 This lovely stamp really is a versatile image, perfect for creating cards to show you are grateful or encourage someone who is doing something brave! I hope you enjoyed this fast & easy technique and will try it out yourself soon!
Inky hugs,
Tara
Tags: Concord & 9th, distress ink, tim holtz, Tuesday with Tara, watercolour