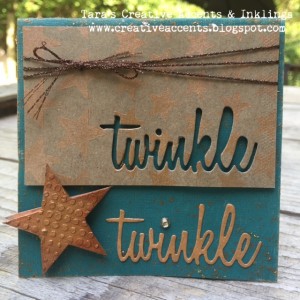 Twinkle Twinkle and happy Tuesday!  This is a simple & small card that would make a fun non-traditional baby card.  I wanted to show you a fun way to create your own embellishments with some basic supplies and stamps or dies that provide the shape you are looking for, so here it is in pictures…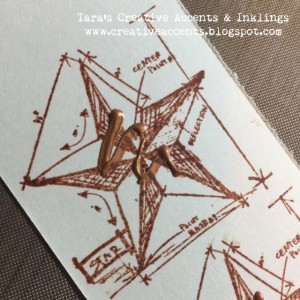 I stamped this mini blueprint image 3 times because I wanted to get some dimension.  A die cut shape would have been great if I had a star the size I wanted, but you can use what you have to fit your project!  Each stamped image was painted with Penny metallic paint by Dina Wakely.    yum!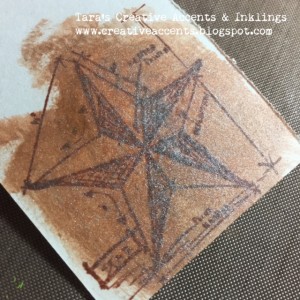 My top layer was treated to something extra with Texture Paste through a small detail stencil.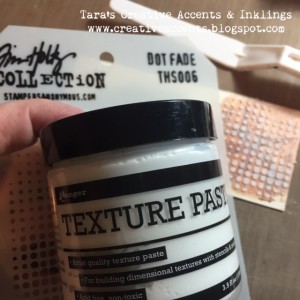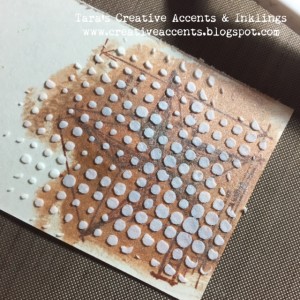 It was *almost* dry when I added another layer of Penny paint over it… sometimes I'm not so good at waiting for things to dry 🙂  I used tiny foam squares to layer my pieces together, and added some paint on the white squares so they wouldn't stand out on my project.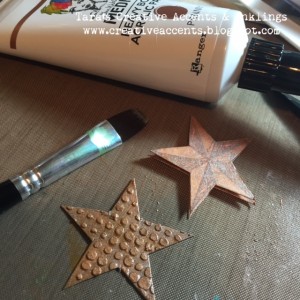 I used a sepia Archival Ink to add some depth around the edges of my star.  It was applied with a foam inking tool.  I wanted just a bit more shine and thought I should try something besides the crackle paint I seem to always use lately… so I grabbed some transluscent texture paste and wiped it over my star.  I had to walk away this time… dry time is a bit longer, but once it's clear it's ready to go!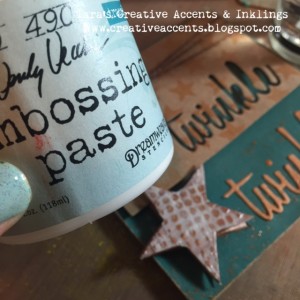 Yeah… that added some nice shine to it!  I think I'd try an even thicker layer next time!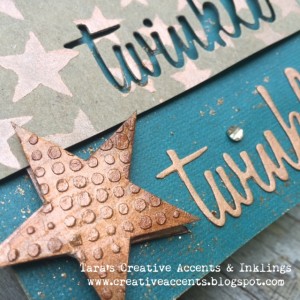 The same Penny paint was applied with an inking tool, through a star stencil, onto my craft cardstock before I diecut the 'twinkle' word from it.  I then painted a couple layers of it onto the cut out shape before gluing to my card with Matte Medium.  Extra copper touches were added to finish off my card… a generous smear of Distress Stickles to the card base had already dried before I assembled everything.  Copper Thread (from We R Memory Keepers Sew Easy collection) tied around the kraft added another metallic touch.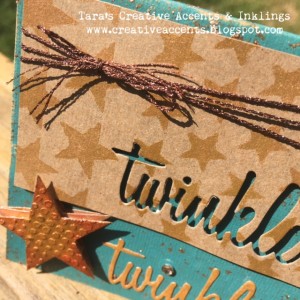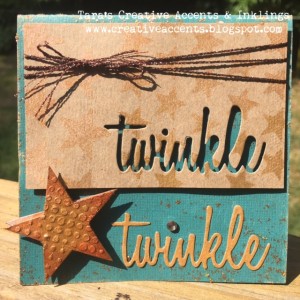 It's a simple card with lots of fun metallic touches that really do add some twinkle!  This card is just 4×4, so it's a perfect size to send a quick note or attach to a gift!
Hope you have a creative Tuesday!
Inky hugs,
Tara