Coffee.  Craft.  Repeat.
I love creating anything with a coffee theme… so pairing the Papercut Cafe Sizzix dies and this coffee ring & sentiment stamp by Altenew definitely made me happy!    Today I'm sharing the two cards I created on my Facebook LIVE on Saturday, both have the same design but different color schemes.  We focused on the process of cutting and assembling these mini Tim Holtz Colorize dies and just how cute they are!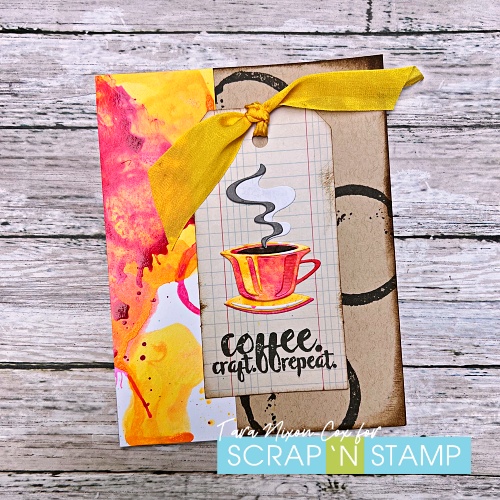 My first card, in shades of pink, orange & yellow, was composed with a painty background I created with Dina Wakley Gloss Sprays!  It wasn't particularly pretty as a large piece, but the smaller elements were perfect for cutting the coffee cup layers as well as for the border strip on this card.  I finished off the pre-printed tag with a wide yellow silk ribbon.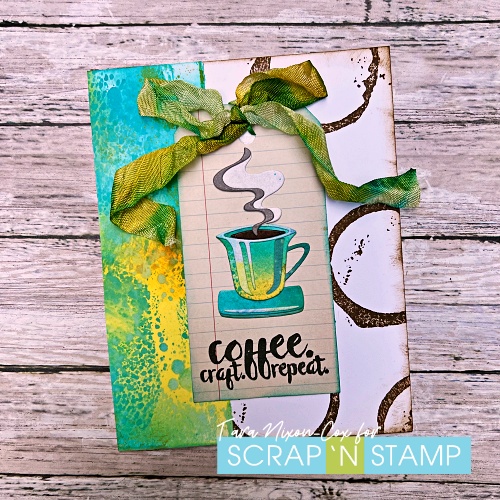 My second card was made from an inky background I made during the live, which included Distress Inks & Distress Oxide together in shades like Squeezed Lemonade & Peacock Feathers.  I finished it with a piece of crinkle ribbon I had previously inked up in shades of green.
I love seeing the same design in two different color schemes, and had so much fun creating these whimsical coffee cups with bold colors!  Please follow me on Instagram this week to see more completed cards I made with the other cups that were assembled on Facebook live!  If you missed it, you can also catch the replay on Facebook HERE.
Hope to see you soon!
Inky hugs,
Tara