Happy Tuesday (or Wednesday in this case, since I decided to wait until after Halloween to share this card) friends!  October was a busy month, with a lot of things to celebrate.  At the top of the list in our family was my parent's Golden Anniversary, celebrating 50 years of marriage!
I had a special card in mind for them, which I wanted to represent them in some way in addition to having some touches of GOLD.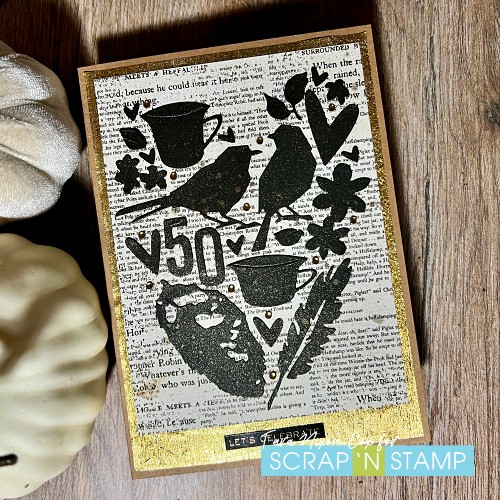 I made a black on white collage with a variety of dies from an assortment of Tim Holtz Sizzix sets (I'll list them all below).  I started with the dies themselves and arranged them in a heart shape.  Once I had the rough shape, I took a picture and traced a heart around them on some scrap paper.  I started with the larger dies, which I tried to do in pairs (like the birds & the coffee cups, and then a leaf & feather) and added in numbers, flowers & hearts.  I cut everything out of black card stock and then trimmed a piece of patterned paper (this is from the Classic Pooh paper pad!) and began assembling my pieces, starting with the birds and then forming the heart shape from there.
The small hearts and bling were the finishing touches to form the final heart shape.  I misted the entire collage with Mica spray for some shimmer on the black pieces.  Once dry, I mounted this on a 5×7 Kraft card base, with a layer of gold paper between the layers.  Since the text print was only 6″ tall, I left room at the bottom for a sticker that says "Let's Celebrate" in gold on black.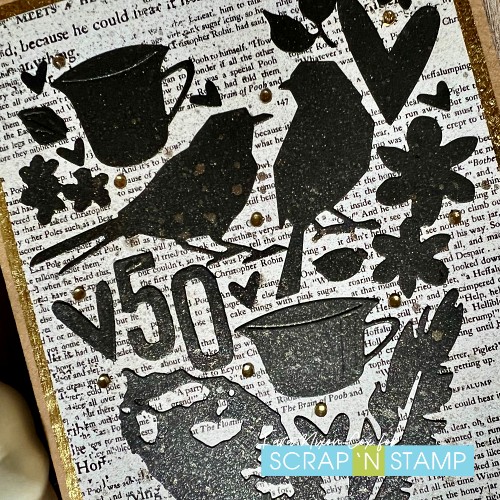 Before layering onto the gold, I die cut the birds & the '50' from it to use on the inside of the card.  I adhered these to a tag and added a handwritten sentiment and a few more hearts.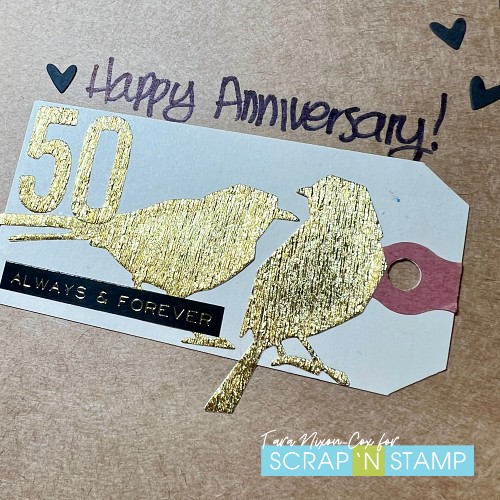 This is a fun way to create a personalized card and use a variety of dies in a new way!  It also gets you looking at the individual pieces in your die sets differently… maybe you'll discover something new!  Here's a list of the dies I've used:
I hope you enjoyed the card and it inspires you to try something new with your collection of dies… or maybe stamps!
Inky hugs,
Tara