Thanks for stopping by to check out our 'Getting Fab with Foil' Blog Hop!  I'm so glad you came to check out our projects, each of which will feature Shiny Transfer Foil by Ranger!  I know I'm looking forward to see what everyone did with this fabulous product!  I had fun, but look forward to experimenting more with it and the ladies are sure to bring inspiration!  The fun bonus on this hop is that each blog along the way will be giving away a package of foil!  So be sure to leave comments here and at each stop… we'll be back next Saturday to announce the winners (who will have two weeks to contact the store to claim their prize).  The full list of creative ladies in todays hop is near the end of this post- for now, check out the cards I made…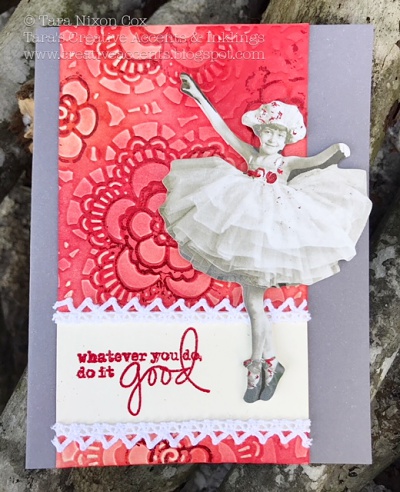 First is my little ballerina card 🙂  I actually started with a large (size 8) manila tag, embossed with a doily pattern by Sizzix/Tim Holtz.  I inked up the tag with assorted shades of red/coral Distress Ink, leaving some spots lighter than others for dimension.  I then embossed a sentiment (Mama Elephant) on a strip of ivory card stock and figured out my placement with the paper doll (Tim Holtz) I selected.  I used a fine tip Sakura Quickie Glue pen to trace some of the design on my background, then placed the foil over it and rubbed over it (I used an old gift card as my tool).  I repeated this in several spots on the tag, experimenting with dry time to see what gave me the best results.  I was looking to get a sort of rough look to it, not a solid foil design, and for the most part that's what I got.  These foils will work with a variety of tapes and glues, and since this glue pen is a combo temporary/permanent glue it really made a difference how long I waited to apply the foil!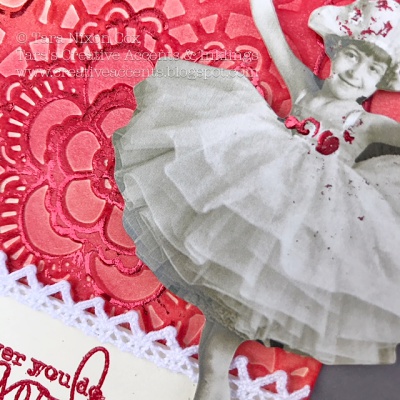 I added a little bit of foil accent to the paper doll as well.  I had to wait a long time for the glue to dry on this surface – and some of the flaky bits you see are simply because there was some adhesive stuck to the foil (instead of the foil sticking to the adhesive).  It's kinda fun though 🙂  As you can see, I finished it off by adhering my tag to a card and trimming off the tag top. A bit of thin lace from my stash and foam adhesive to place my doll finished off the card quite nicely.  I really like the look of the red foil on the red background.  You could almost say it was subtle if it wasn't flashy. lol
My second card uses the same elements, but this time I used a black tag that had only been embossed, not inked.  The foil is much more visible on this card, with all it's imperfections… it gives a tattered lace feel that I love for this one as a wedding, anniversary or Valentine's Day card.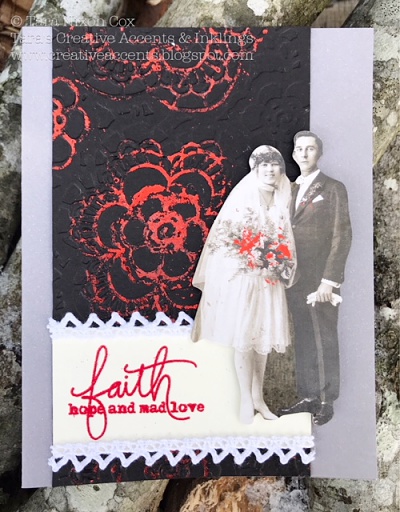 Again, I added a bit of foil to the paper doll… I kept the pieces very abstract as I didn't want it to overwhelm the image.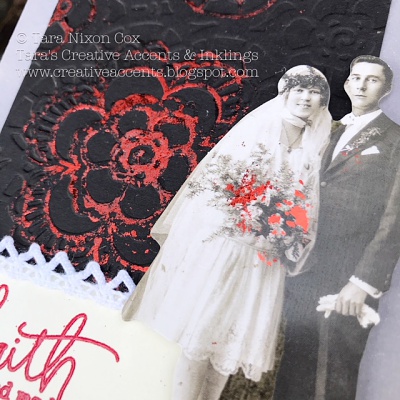 It's hard to photograph, but it really is shiny 🙂
Here's my two cards together: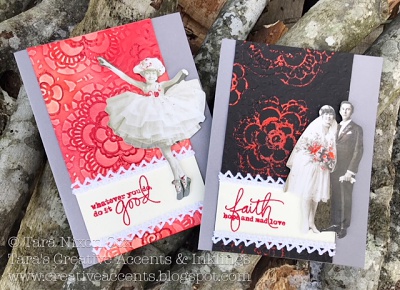 Now… have fun checking out the rest of the 'Getting Fab with Foil' projects!  And don't forget to leave comments for a chance to win some foil of your own!
Materials Used:
Ranger Shiny Transfer Foil- Basics
Ranger Shiny Transfer Foil- Holiday
Tim Holtz Embossing Folder
Distress Ink (assorted shades of red & coral)
Lace Trim from my stash
Everyday Sentiments by Mama Elephant
Grey card stock
Manila Tags- black & manila