Happy Tuesday!  Today I'm sharing a card that started out with inspiration to create a one layer card… which changed into something else.  I did keep a one layer version to share with you as well though 🙂  I'm using some older, but new to me, color layering stamps by Hero Arts.  (check out this awesome sea turtle set which IS available… you could totally create cards with a similar vibe using it!)  As I said, I wanted to create a one layer card, revisiting a torn paper masking technique I really enjoy.  I mixed things up this time, masking off two edges of my card, blending shades of green & blue to create my ocean background, which I wanted to face as I moved away from the masked corner & edges.  I used Distress Oxide in Peacock Feathers & Cracked Pistachio for the base layer…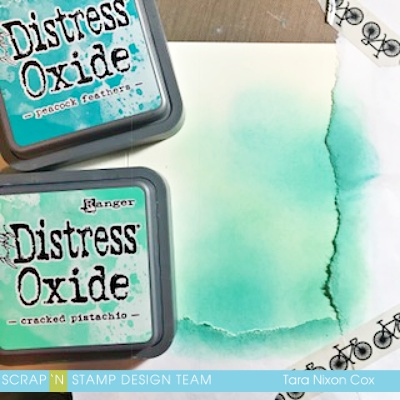 Then I lightly stenciled over the masked layer with Iced Spruce and a Tim Holtz Doodle Stencil…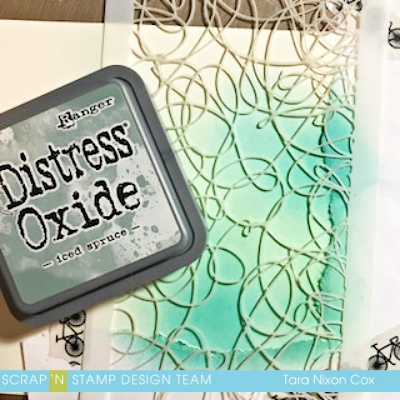 Here's how the background looked when I removed the torn paper masks: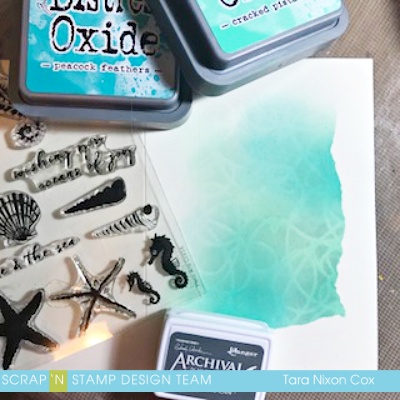 This was my second attempt at the background, and the one which ended up remaining a one layer card.  For my first, I masked the top left corner and I found the balance just didn't feel right… which is why I decided it needed some extra layers added!  For my stamping, I used the same colors of ink, with the addition of Watering Can Archival Ink and Salty Ocean Distress Oxide.  Watering Can didn't quite give the intensity of color I was looking for, so in some spots I stamped over it with Salty Ocean.
I added some shimmer to the stamped shells with a clear Zig Wink of Luna Pen and a bit of glitter with Nuvo Glitter Drops.  Here's a look at my finished One Layer Card.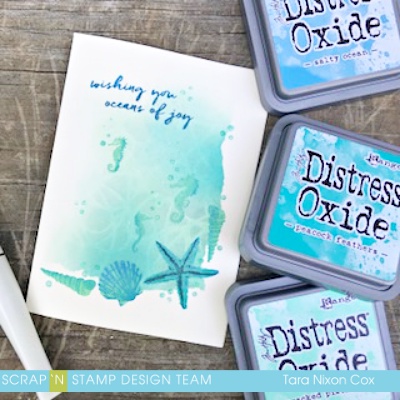 And here's version 2.0- I added some additional stamped images (another starfish and the large seahorse) and some mesh ribbon and thin jute.  The sentiment was also layered up and additional bubbles were stamped in the Salty Ocean ink to balance the mix of colors.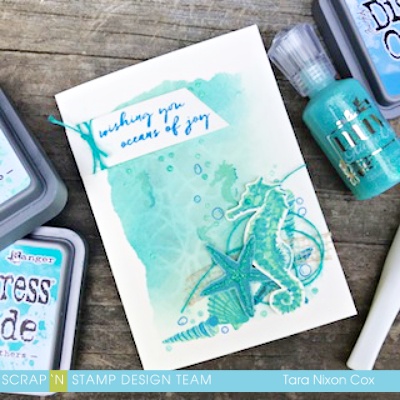 I saw a quote by Picasso that made me smile considering this card making experience…
"I begin with an idea,

and then it becomes

something else."

-Pablo Picasso
Works for me!  And I don't know about you, but for me it happens all the time!  Here's a close up of the layers on my second card: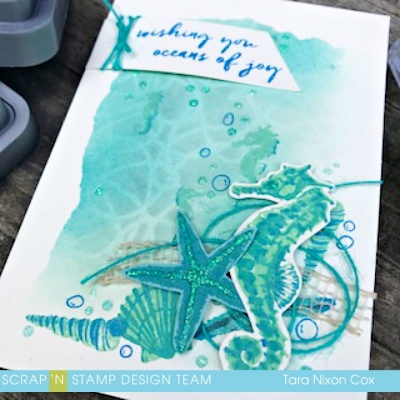 Lastly, here's a look at the two cards together so you can see the differences between them.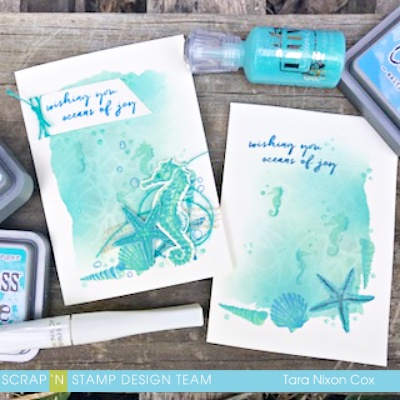 Hope you found some inspiration here today… and maybe you'll try a one layer card this week (and maybe it'll even stay a one layer card!  ha!)
Inky hugs,
Tara
p.s. see you back here on Saturday when we're bringing you some Christmas in July with our next BLOG HOP!  Woohoo!