Archive for the 'Cards' Category
Friday, July 1st, 2022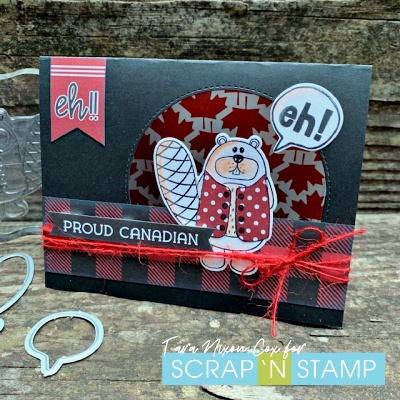 Hope you have a fabulous Canada Day!
(card details can be found in this post in 2020)
Tuesday, June 28th, 2022
Happy Tuesday!  Today's card took an unexpected turn and I really had to use my 'wings' to wing it and make it something I could still share with you today!  LOL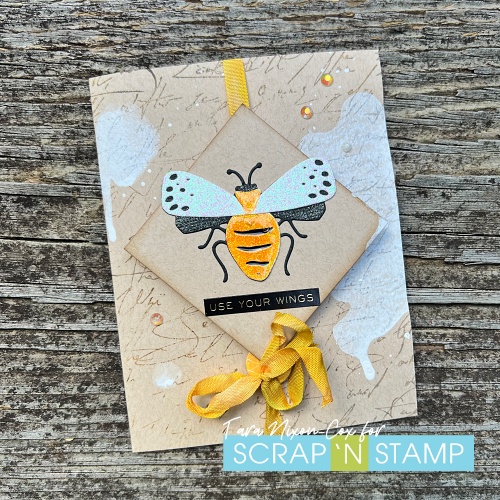 You see I was well on my way to finishing my fairly clean card design with a fun folded surprise for the SNS Challenge theme of the day 'LIFT', when I decided to finish things off with just a few splatters of white paint…
Do you see where this is going?  (Check out the reel I shared on instagram yesterday!)
First, let me introduce the star of my card- this funky bee by Tim Holtz.  I cut the body and wings from white glitter card stock and then colored the body with a bright yellow Copic marker.  Once everything was assembled, I added Glossy Accents over the body as well for some extra shine!  I paired it with a metallic sentiment from this sticker book (and you'll see another sentiment later on as well!).  I mounted him diagonally on a light Kraft square, the same color as my base card and inked the edges with Pumice Stone Distress Ink.  I stamped a script background (by Impression Obsession) in the same ink on the card base.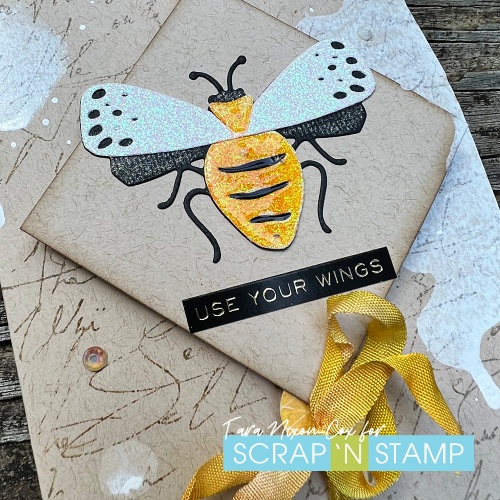 The fun hidden 'lift' is under that square panel: a simple square of patterned paper folded to create a pop up element.  I had every intention of sharing a simple tutorial of that but this card took a turn on me!   Once I assembled everything, ribbon and all, I decided that a bit of bling and a few white paint splatters would be a perfect finishing touch.
I pulled out my white Dina Wakely Media Gloss Spray and removed the lid to splatter a touch of paint.  And the next thing I knew that paint was in a puddle on my desk and all over my "finished" card!   Yikes!
It was about half a bottle of paint, so after I cleaned up my card the best I could (putting paper towel inside it so it didn't stick together) I searched for random pieces of paper to dip and drip in it… who knows, maybe some fab technique will come of it?  LOL.  Once I'd used up all I had time or energy to do, I added a few more spots on my card to try to balance it out and it almost looks like I meant to do it.  Except I forgot about my folded bit and it totally stuck together and tore when I went to open it for a photo!  C'est la Vie, right?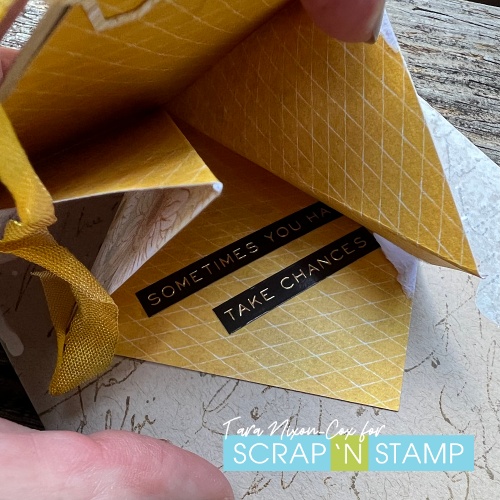 I kinda had to laugh at my choice of sentiments, after the fact… and here I am, taking a chance and sharing my mishap with you.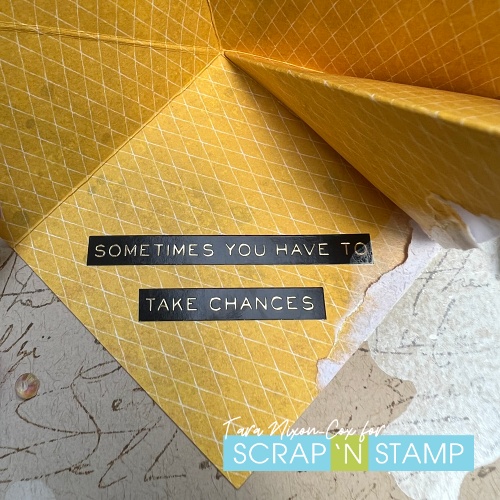 The card itself is warped from all the paint and I'm not sure there's really a good way to flatten it out, but I'm gonna tuck it under something heavy for a while and maybe it can still be useful to brighten a creative, but messy, friend's day!  And if nothing else… I hope it makes you feel a bit better about your day!  ha!
Inky (& painty!) hugs,
Tara
Monday, June 27th, 2022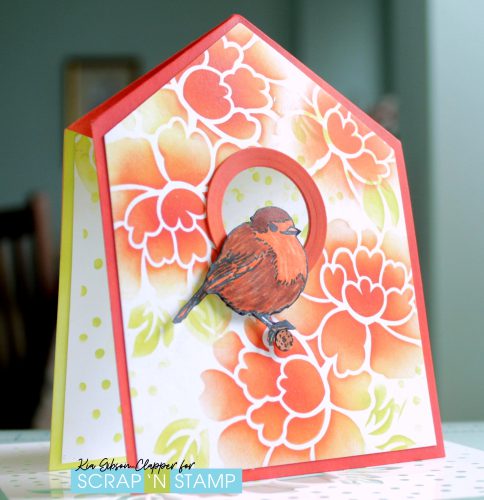 It is Day 27 of the Random Act of Cardness event, and for my card today I am doing a delightful Birdhouse Fold card. I saw this card while browsing YouTube awhile back and thought it so cute, and so me.
First I followed the instructions from the video which I had written down. Following is a drawing with the instructions for ease of reference.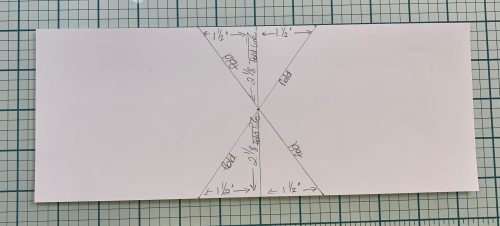 I am not one to buy designer paper, instead I like to make my own using stencils, which I have done here using Paper Rose Big Bloom along with Candied Apple distress oxide, Crackling Campfire distress oxide and Twisted Citron distress oxide. I also sponged on the reds to the card base front.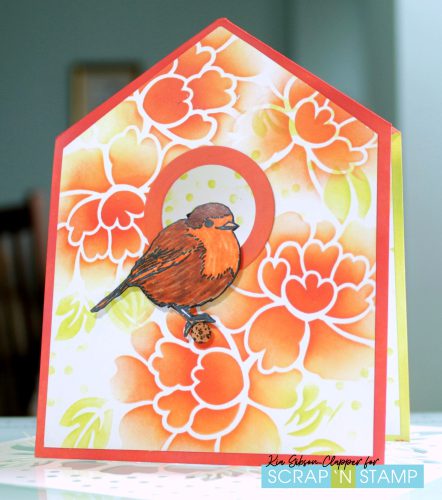 When finished with the front panel I did the panel for the inside, using the dots from the stencil along with a few of the leaves in Twisted Citron. Also, I sponged on the Twisted Citron for the inside of the card base.
Following the instructions I did the folds and attached them in place. I then die cut the circle for the front of the card using 2 sizes of Spellbinder circle dies and sponged on the reds.
Next up was the bird. I stamped using Memento Ink and coloured using Copic markers as follows: Breast  YR01, YR21, YR02; Feathers E15, E29, YR09; Beak YR23, YR21.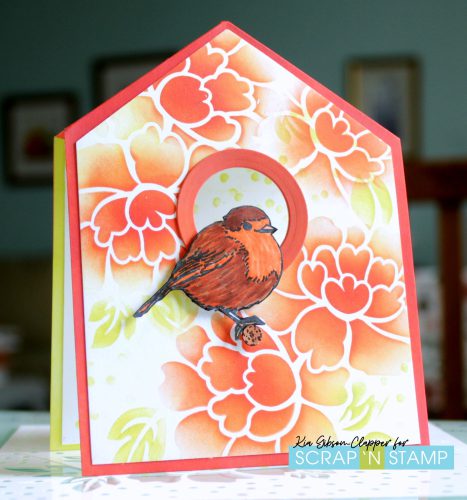 Using a tiny hole punch I made the perch for the bird to sit on colouring a piece of cardstock with the browns. I attached foam squares to the bird and the perch before attaching it to the card front.
This was such a fun card to make, and I hope you will give it a try.
Thank you for joining me today, following are Affiliate links for the products I used for this card, at no extra cost to you.